Mississippi Travels
Well in this Spring of 2018, although it was April, we were still bogged down in snow. We had the last snow – and biggest of the year – starting April 13 and continuing into April 16. 17 inches in Richfield and even more in other places. Yuk. We wondered if Spring was ever going to show up. We were so happy to get on the road south on Friday April 20. Enough was enough. Somewhere we hoped to see green trees, blossoms, and warm weather.
In March of 2017, I had a hip replaced. In September, Bev had an operation; and then again in early April of '18, she had a hernia fixed. We had been not done any traveling since 2016. Too many doctor visits, recuperations, PT, etc. Bev and I just decided to go south with hardly any destination in mind.
[As a sidelight to that mid-April period, there was lots of snow blowing and shoveling. Unfortunately for some neighbors who had contracts with plowing companies, those contracted ended on March 31. Plus, the City of St. Paul who had towing contracts to facilitate towing during snow emergency plowing had contracts that also ran out at the end of March. ☹ St. Paul towed 0 cars while Minneapolis towed over 500. Things should change before the winter of 2018.]
On the road at 8:38 AM with odometer at 149507, Bev just noted that a few ducks had been seen swimming as we drive out of Minnesota. "The rest were waiting for the ice to melt."
We drove through Hastings, MN and jogged left on US61 to US10 to drive into Prescott, WI. The bridge into Prescott crosses the St. Croix River at the point where it joins the Mississippi. Turning right through the quiet downtown, we proceeded along WI35 which is subtitled the Great River Road.
Bev was busy at her maps and she mused that we were currently 491 miles from the Quad Cities. That helps to indicates how flexible we were. The Quad Cities might have been a potential destination – although there were a little too far for our one-day driving history. But as this day – and each day -- wore on, initial plans would get modified based on things like progress, weariness, or time of day. We had no reservations at motels. We were free spirits.
Bev calculated 1740 miles to the Gulf – a potentially 30 hours of driving. That estimate was based on 60 mph and I found that driving under that was better for our back roads.
The river bluffs of Wisconsin were impressive as usual. They were scattered along the road as we travelled through Diamond Bluff, Hager City, Bay City, Maiden Rock, and Pepin.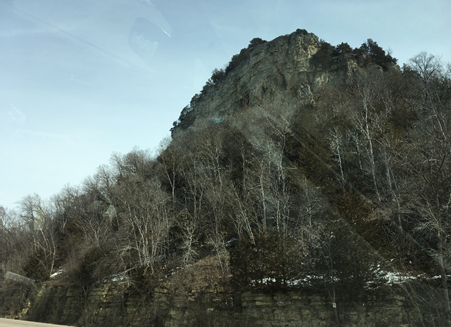 The image may be Diamond Bluff although the bluffs are not marked by travel information signs. Notice that the trees are still bare here is Wisconsin. Snow is prominent in the woods, but none appears on the fields.
Just before Hager City, I decided to re-live one of my 1990's bike adventures. The Pepin Pooper 100-mile ride began at the Harbor Bar in Hager City. To make a circuit of 100 miles, they added a loop north of town to the rest of the ride which circled south of the city. So, I traveled that extra loop as I had with Beverly at least once before. A little less than 3 miles from Diamond Bluff, you turn left on at County Road O, a tree-filled bluff is close on your left side. To the right is a very pastoral scene of pastures, streams and woods. It is a drive of several miles. I always worry about finding the next left, but it turns out to be the first left -- onto 370th Ave. I don't know if there is a sign. It is a health uphill heading west to the next County Road OO where you turn left again. Within a quarter-mile, you turn toward the southwest and the road drops off in front of you. I remember finding that drop-off on the bike. I'm sure it was the reason for the loop being added. All I did was get my bike positioned in the middle of the road and hold on. I know that my speed was in the high 40s. When was able to look at my speedometer and no longer watching for pot-holes, I was at the bottom of the hill and still zooming at 45 mph. Today was a nice retracing of the route. The whole circuit was beautiful.
When Bev was not checking maps, she looked out and took little notes about what she saw.
Many calves in the pastures.
Another train
Red Wing airport is in Wisconsin
Open pit sand mine --- one of the fracking sand mines
In Lake Pepin, many groups of birds swam.
50 or 60 geese fly by in a large V formation
At Maiden Rock, we saw pelicans in the lake
Stockholm…cute town.
Pepin – larger group of geese circling.
Chippewa River – very wide – source of Lake Pepin
10-15 cars parked along the road – might be some fishing event – no sign of people.
Alma – big town with a huge coal-burning power plant and Lock and Dam #4.
We drove through Nelson, WI which sort of ends our Lake Pepin viewing. Nelson was near the end of the Wisconsin portion of the Pepin Pooper Bike Ride. That trek turned off and crossed over to Wabasha, MN and returned up the Minnesota side of the river and crossed back to the Harbor Bar in Hager City.
Keeping track of dams, I mention that at Trempealeau, WI, we passed by Lock and Dam #5.
Just after Onalaska and La Crosse, we stopped in Stoddard, WI at the Thirsty Turtle Restaurant. Beverly's pendulum "recommended" it by suggesting an establishment beginning with "T". This was our first spot to eat on the trip. It was not our first stop. Throughout the trip we tried to stop every hour or two to stretch our legs and walk. For Bev who had just had a hernia operation it was sort of prescribed. The walk did not hurt me either. Too much driving without a break makes my pace maker sort of slow to pick up the pace.
The Thirsty Turtle provided a gyro for Bev and a catfish sandwich for me.
After lunch, Bev noted the first tug pushing a barge. She also noted that we found that walleye fishing was open year-round in the Mississippi River.
Heading south once more, we went by Lock and Dam #6 at Genoa, WI. Incidentally, there looks to be a power facility there that has had three lives. The original one was a coal consuming power plant commissioned in 1941. Then in 1969, it was converted to nuclear and was called the La Crosse Boiling Water Reactor. That shuttered about 1991, and is now a coal consuming power plant again with an electrical output 25 times greater that the '41 plant and about 8 times the '69 incarnation. [ Spent fuel for the nuclear plant is still stored on site. A March 2018 article on the Internet articles indicated: "The company charged with decommissioning a shuttered nuclear power plant in Genoa has reported elevated levels of radioactive material in groundwater. "]
Down the road we passed Victory, WI and then stopped at the historical monument (H.M.) commemorating the Battle of Bad Axe. This was the "final battle of the Black Hawk War took place near present-day Victory, Wisconsin in the United States. It marked the end of the war between white settlers and militia in Illinois and Michigan Territory, and the Sauk and Fox tribes under warrior Black Hawk. [If you review the history of Black Hawk, you will come across the name of another chief we will mention later – Keokuk.]
Moving on down WI35 near Desoto, we encountered another H.M. that spoke of Chief Win No Shik, a Winnebago chief. Bev believes she has some Winnebago blood through Pere Pauquette.
Our notes start mentioning the high water. "Three trees uprooted in the water." Maybe they were uprooted from this flooding. It seems like there must be islands that are currently under water.
Seen along the way we saw pelicans, egrets, geese, coots, a gopher, and a dead raccoon.
"Another double barge." At this point in the river, I assume those barges were inline with the tug – not side by side – as we will see later. This high up the Mississippi the locks are only wide enough to hold single barges.
At Prairie du Chien, the Wisconsin River joins the Mississippi. This town of about 5900 persons is the second oldest city in Wisconsin where Green Bay is the oldest. Green Bay dates to about 1634 whereas Prairie du Chien (translated "Dog's Prairie") dates to somewhat later in that century. Early French visitors to this area found it occupied by a group of Fox Indians led by a chief whose name Alim meant Chien in French (Dog in English).
Bev reports that it is 3 PM and 57 degrees. There were occasional patches of snow in wooded areas, but none in the fields. Road kill was a possum or woodchuck. There were many trailer parks and several rock quarries were seen. A culturally political sign – meant to be funny said: "Gun Control: Hold with Both Hands."
We drove inland for a while. WI35 disappeared and we took several different roads in route to Cassville back on the river. Basically, we drove WI133 for quite some distance. Our trek down the river changed its number quite a bit. It went over federal, state and county roads. Often the driver was affirmed to be on the correct route by a sign designating the route as the Great River Road. This continued all along our journey south. We tried to stay on the Great River Road most of the time.
[I have just finished two pages of Bev's notes. We are not done with one day of travel and I already have three typed pages. Stay tuned. I am going to change my style for a while. I will key on city names like the next one Potosi, WI and photos. When time permits, I will go back and fill in to make it more of a narrative. We want to give some sort of "presentation" to Sr. Florence when we visit here Friday or next Monday.]
Potosi, WI prides itself on having the longest main street without an intersection in the world – 3 miles. The explanation for that oddity is that the town resides in a valley between two steep hills. There are no other streets behind the main street to the north or south. Temperature was 59 degrees. We took a walk at Potosi to get the blood flowing. Bev got some exercise.
We went through Dickeyville and found WI35 again. We made some good time to head south and cross the Mississippi at Dubuque. (63 degrees at 5 PM) US52 on the Iowa side is the scenic route in this area. We passed through Bellevue and cross back to Illinois at Clinton, IA. Just over the bridge we stopped for the night at Fulton, IL. It was 6 PM and 61 degrees.
In that short drive in Iowa, Bev wrote that she still saw a trace of snow. But at Bellevue we sighted "new growth" – fresh greenery. Four houses along the river were built on stilts. Some few fields were plowed. Six deer were grazing in a bright green field of winter wheat. A willow tree looked to be renewing itself. Its long willowy limbs were yellow as a prelude to green.
Incidentally, Bellevue, IA had Lock and Dam #12 and Clinton had Lock and Dam #13. So we missed a few.
We crossed the Mississippi at Clinton and bedded down in Fulton, Illinois.
End of day 1.
Saturday, April 21
April 21 began cloudy and 46. We got on the road at 8:10 AM. I had phoned Dick Summers just outside of Troy Grove, IL to let him know that we were stopping for a quick visit. Dick told me about a mother eagle and her eaglet that were living in the park in Troy Grove.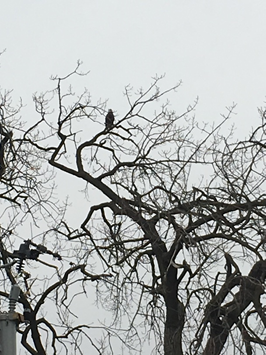 In the left photo, Mama stands watch. Almost a block away is the nest shown to the right.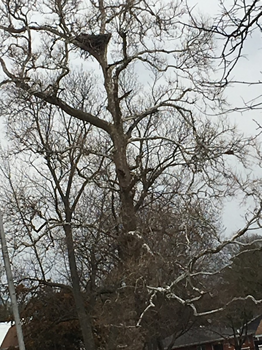 In some of my later shots, one can see movement right on the top of the nest. The eaglet has some size already. It would have been nice to have a sunny day.
We found Dick and Ruby around 10 AM. Dick had given me good directions. [Directions helped even though I had been there once before.] The four of us just had a nice talk for a couple hours. It was good to see them, and they seemed to be getting along pretty well – health-wise. Bev was very impressed with Ruby's doll-making hobby. Harks back to Bev's getting ready for grandchildren visits and her time spent arranging her doll house. [It is still upstairs.]
After the visit to Dick, we headed toward Indiana. It rained briefly as we drove east. Unbelievably, we got the car washed in Manteno, Illinois. [That could have jinxed the trip! ?]
Beverly got us onto IL17 which has a short segment just north of Momence. It connects to Indiana 2 that goes directly into "Bailey Country." When we cross into Indiana, we are just a 5 or so miles from my cousin, Shirley Spry, daughter of Uncle Murray and Aunt Elsie.
Remember that we are still looking for signs of Spring. To the left of the #2 just over the line, we were surprised to see daffodils in a brushy area. No house was anywhere around. Even asking Shirley later on, we could find no reason for those flowers. Clearly, they had been planted sometime in the distant past in an area which has become a thicket. They were there just to make us question their origin. Who planted them?
I cropped the picture to the left to exclude the sight of a windblown plastic bag and what looked like a potato chip bag. Odd that that waste marred the scene. Shirley attributed waste and litter we saw along the road and on unplowed fields were the result of garbage hauling from Chicago (!!!) heading to landfills farther south. Well, I did my googling and so far I discovered that most of Chicago's waste go to 4 landfills – two in Illinois and two in Indiana. There are no names and locations listed in any of the articles I found. However, the best I am able to report now is that one of the Indiana landfills is in Newton County just south of Shirley's area who lives on the Kankakee bottomlands. The other Indiana landfill seems to be near Monticello. Chicago garbage go to "stations" in Chicago and it is transferred to 25-ton (3 garbage truck loads) semis for its trip to Indiana or landfills west of Chicago. Apparently, the transfer trucks are not completely sealed. (???)
This set of markers is just inside the Indiana border at the Westcreek Cemetery were many Baileys have their final resting place. This is looking east. My movie sweep of the area showed Bailey, Hayden, Love, Buse, and many familiar names.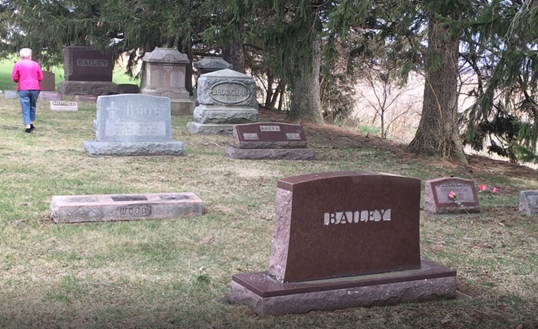 Briefly, Levi Bailey's wife, my grandmother, was a Hayden. Dad's sister, Nancy, married a Love. And Buse was second husband of Dad's Aunt Grace.
After our short visit with Shirley, we left for Merrillville to get our motel for the night. The Super 8 guy tried to palm off his "last available room." We ended up at Motel 6 – and found it require a fee for poor Wi-Fi. Next time try a different place.
We hooked up with Cousin Helen and went for a nice dinner at a restaurant just off of Burr Street and close to the Bielefeld farm. Just like our other visits on that day, the time spent was fruitful but much too short.
Sunday, April 22
Sunday morning began with a trip to Panera for breakfast. We then went down to St. Anthony's in Crown Point where we were able to find Charles Bielefeld, my cousin. Charles was setting up in a wheelchair. He looked well, but too weak for much walking. It was good to see him. I suppose we talked less than an hour. It was getting close to his lunch time.
Driving back toward downtown Crown Point (CP), we drove by the Lake County Fairgrounds. I can barely remember going to the fair way back in my childhood. Fancher Lake which is located at the south end of the Fairgrounds is a place where Pa mentioned he had fished in his childhood. Even though it was early on this Sunday, the grounds were bustling. There was a gun show going on. A gun show!. ☹ [Oh, well, sorry for the editorial frowning face.] We did not stop.
We took a short trip to St. Mary's Cemetery where I viewed Roy's marker which I believe was finally put in place last year or in 2016. I had never seen it.
Finally back in downtown CP in the "square", we viewed the old courthouse that I knew so well from childhood. The new courthouse is just out of town to the north. This old building is now a tourist attraction holding many shops. Grandpa Levi Bailey was treasurer of Lake County in 1906 when the south wing of the courthouse you see here was built. Having travelled through lots of small town county sites, I must say that this building seems pretty impressive compared to other courthouses I've seen.
Did I ever catch the clouds right!!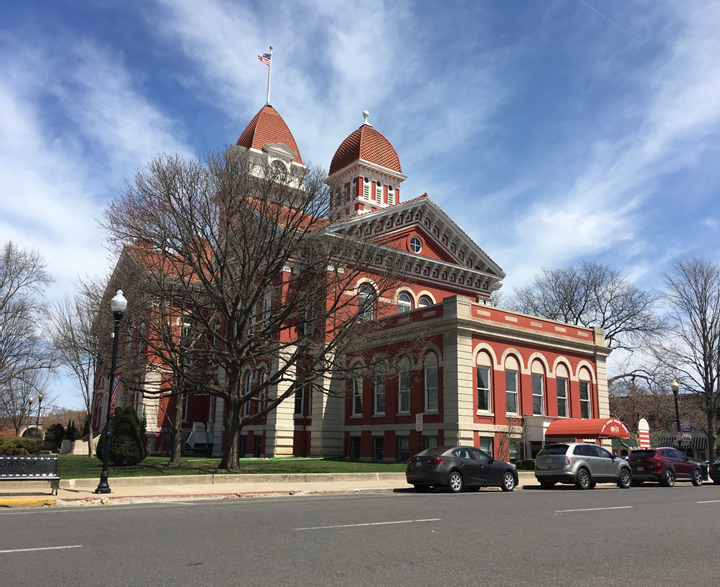 Although this is out of place in the notes, Bev remarked about what we had seen Saturday in Merrillville. As we approached the motel area, we slowed to turn right from our 6-lane US30 to about a 4-lane street that helped service the large shopping mall to the southeast corner of the intersection. Lots of traffic lights and lots of traffic. We say what shocked up. A vet in a wheelchair was trying to cross US30 – or so we thought. We supposed he knew what he was doing, but I don't know if he had "walk lights."
Well, when we left our motel to go to Helen's for supper about an hour later, the vet was still there!!! What he was doing was to position his wheelchair on a white-marked area used to control traffic turns. When the lights stopped traffic, he wheeled himself off the white paint and proceeded down the line of stopped cars to beg for money. Unbelievable!!! What would an Indiana State Trooper do? How could this person continue to put himself in peril in this insane traffic?
Leaving CP, we went by the county roads over toward US41. A few miles south I diverted to the town of Cedar Lake and found the fishing pier upon which Roy, Mom, and I fished many days in the 1950s. It might be fixed up a little, but it has survived.
It was 61 degrees and we could see that a few trees were ready to blossom. Still heading toward US41, we passed a house with a mailbox on a pole about 10 feet above its regular one. The upper mailbox was marked for "Air Mail." Only in Indiana.
Bev noted a wind farm near Kentland in Newton County.
We followed the "old" US41 which I knew from my college days. It was more scenic than the new freeway – I63. It almost seemed like the old US41 route with its curves and dips was just relaxing in its old age. Not much semi traffic. No more coal trucks were coming out of the side roads as I remember in the past.
At Veedersburg, Bev noted green leaves on the bushes. Down by Rockport, four boxy black Amish buggies went by in the northbound lane. One of the buggies sported flashing lights – a good precaution.
The Wabash River flows almost straight south near the Indiana border. But I63 is west of the river and US41 is east of the river. Down just below Terre Haute, Indiana, the Wabash becomes Indiana's western border with Illinois. It serves as that border for about its last 100 miles until it flows into the Ohio.
Down through Terre Haute. We stopped for a late lunch at an Applebee's. The overzealous waitress gave me my second Pepsi when I was barely able to finish the first. We put the second one in a to-go cup and carried it for about two days before pouring it out.
Terre Haute is now almost totally a university town – Indiana State University. Fight on you Fighting Sycamores!!! It looks so different. Very little remains of the familiar landmarks of the early 60s. Good Lord, that was almost 60 years ago!! I look around and try to get a handle on what to describe to Beverly. But there is so little left of my old stomping grounds! I am just unable to say anything other than " xyz is gone." And "abc is gone." And on and on. It seems like a lot of real estate that has not been razed has been acquired for use by the University. No more Terre Haute House for coffee and French fries after evening study. ☹ No more diner for a heated Danish after Mass on Saturday morning.
Dandelions survived the winter. Hooray!!
As we drove through Princeton, IN, we noted oil rigs. I don't remember if they were pumping.
By 6:30 PM, we settled in for the evening in Evansville, IN. It was 59 degrees.
Monday April 23
Still looking for the signs of Spring. Near Henderson, Kentucky and still close to Indiana, we found a spot where I finally stopped to photograph the flowering trees.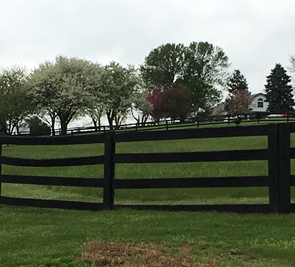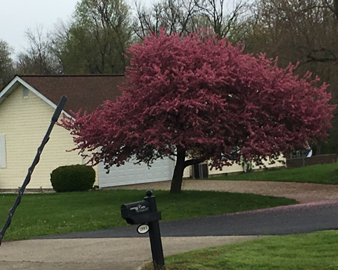 Another sight near Hopkinsville was what we believe is the spring blooming of a canola field.

Dandelions had already gone to seed. They certainly are survivors.
We saw a few more old oil derricks. They were small and dormant. As we proceeded we saw some working derricks like the one shown here.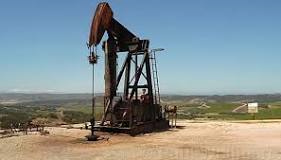 On #109 or #293, we almost hit a flying turkey just outside of Providence, KY.
We went by the Stoney Creek Primitive Baptist Church. It featured the slogan: Salvation – Don't leave life without it.
Bev wrote that in this section of Kentucky we saw a lot of little junky houses, many Baptist churches and no businesses.
Around Dawson Springs, we traveled along on an almost empty highway. Clouds looked threatening out ahead. There was a sudden downpour and then "almost sunshine." It was about 12:45 PM.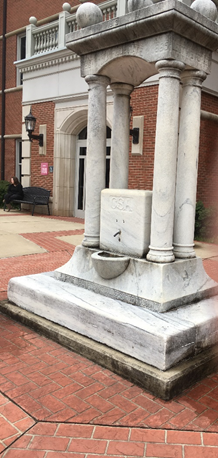 We stopped in Cadiz, KY for another leg stretch. The weather still seemed to threaten rain but we survived without incident. The history of the Civil War seemed to haunt our wanderings. Here in Cadiz we found several commemorations of battles and sentiments expressed in monuments. To keep a memory. Why should they be asked to bury their memories and respect for their relatives who fought as Confederates? To the left is a monument to the CSA.
This plaque stands in front of the current county courthouse in Cadiz.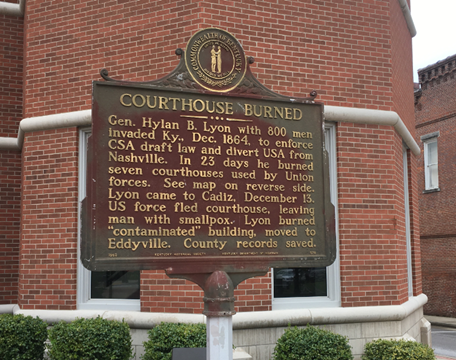 On the lighter side, Cadiz was decorated like St. Paul decorated with Snoopy characters years ago. The Cadiz characters were colorfully painted hogs. They may have been on the streets for several years.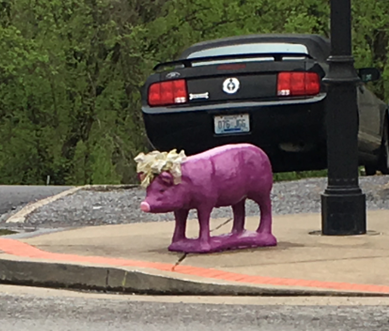 The Little River flowed through town and through the city park. We saw the obviously flooded conditions of the river.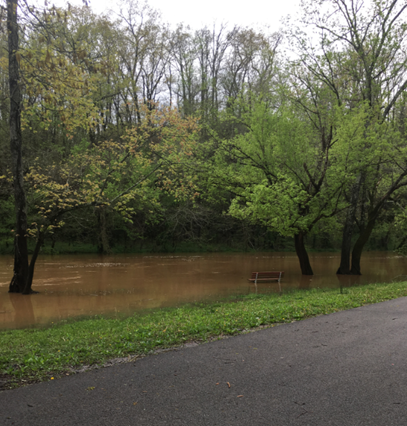 OK, out of Cadiz, Beverly routed us west across Lake Barkley on the Cumberland River and into The Lakes National Recreation Area. There we found a scenic drive called "The Trace" on a finger of land running from Kentucky into Tennessee and sandwiched between the Cumberland River and the Tennessee. We were able to drive 26 of the 50-mile trace since we entered at the trace mid-point.
Somewhere on that wooded drive I stopped to take a token picture of dainty blossoming dogwood. We had been enjoying our sightings of dogwood for miles in the forests of Kentucky. Their blossoms are held up by lean trunks so that they often appear as painted streaks of white with the woods as a background.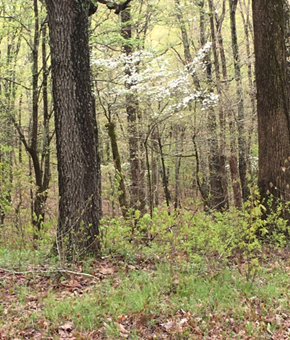 Also, on the quiet drive, our education was enhanced yet again by the sight of a 19th century smelter right next to the road. I don't recall ever seeing such a structure. The sign indicates it was built in 1854 and was a "steam cold-blast charcoal furnace." It was closed in 1856 due to "lack of ore and a slave insurrection." I guess there are a couple more of these in the vicinity.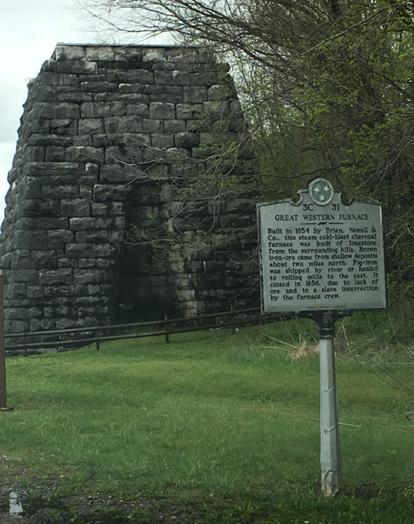 Here, I interject a memory that I might overlook because I have no photo to remind me of it.
"Barn quilts" were a welcoming sight in our rural travels. We had never noticed them before in our travels. They are becoming more prominent. "A barn quilt is a large, hand-painted wooden block typically displayed on the front or side of a barn. ... Created in Ohio by Donna Sue Groves as a way to honor her mother, the barn quilt movement has now spread to over forty states (as well as Canada!)." A tiny sample of a barn quilt is shown here.

Near the end of this Trace, we encountered the Fort Donelson Battlefield. It was the site of an 1862 victory for Grant.
All the way along, I was humorously looking of fixer-uppers that could be repaired and resold. There seemed to be a never-ending supply of such abandoned homes, shacks, trailers, and stores. Here was one such home from the neighborhood of Carlisle, TN. I wonder about the history behind its construction, life and abandonment. The roof was punctured. From this on-the-street vantage point, one could see all the way through the house and out to back. The plywood at the right end seems relatively new. Hum.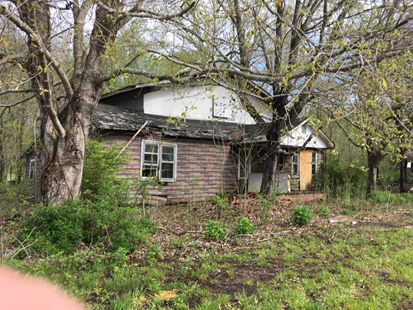 Going through the town of Dover just before Carlisle, we witnessed a lone demonstrator. The sign the man waved asked for "equal rights for whites." Takes all kinds…
Lots of white fencing, but no horses visible. Rapidly flowing creeks, curvy road, and little human life was seen our Tennessee river trek.
We drove through Waverly which had been staunchly pro-Confederacy during the Civil War. The Battle of Johnsonville was 10 miles west of there. It was the culmination of a 23-day raid by a Confederate force. A Confederate victory in late 1864. Heavy Union losses with very little cost to the Confederacy. Lots of "gunboat" activity.
We stopped in Buffalo, Tennessee for the night. The place also goes by the name Hurricane Mills. This unincorporated community was not much more than a road intersection which contained several gas stations and truck stops. [Incidentally, there are four Buffalo, Tennessee unincorporated communities!!!] Our motel parking lot had a section for parking nice big semis. They were all gone in the AM and we never heard them leave.
This area was Loretta Lynn's home base.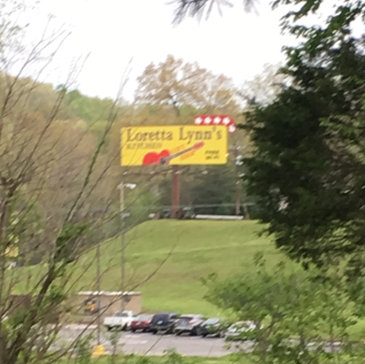 In fact, a lady at the restaurant that evening said she had come from North Carolina for the purpose of touring the Lynn farm or estate. Loretta's music played in the restaurant speakers.
Tuesday, April 24
We drove south out of Buffalo in the morning. We didn't travel too fast and must have caused a pickup driver to practice passing with a roar from his over-sized pipes. There he goes after passing us on the road near Lobelville!!! Read his back window.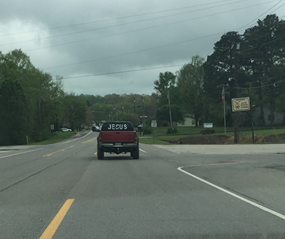 A short way farther on we went through Linden and stopped a Tatum's to see what we might buy. We didn't get out of the car. ?? This was really in Flatwood, TN.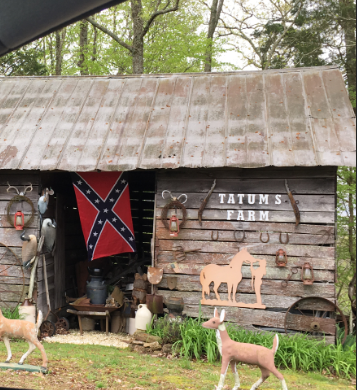 Looking at that town in Google Earth, I found this wayside "store". It sported an American flag in the Google Earth viewing!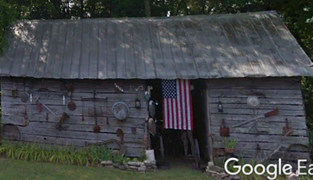 We were traveling on TN13. The road was curvy, up and down, around rocks, lots of traffic, and many EUBANK dump trucks (from Dickson, TN). In the small town of Linden, we were surprised to find a stop light. However, looking at Google Earth, I see that Linden is a very neat little town. TN13 goes through town and is named "Squirrel Hollow Road." Street crossings are nicely painted. In the center of town, there is what looks to be a courthouse and the streets around it that form the "square" are one-way. Like Crown Point, IN. To its credit, I could not find any empty store fronts that were in most other small towns. "Some lovely brick homes among the older double-wides."
Logging in the area. Cautions about logging trucks. Lots of hardwoods.
Waynesboro, TN at 10 AM. Waynesboro is the next town south of Linden that is about twice Linden's population. It has a new modern courthouse in its square. Empty storefronts were visible. [The per capita income in Waynesboro was $4000 less than in Linden. Why?] Inmates were working on landscaping in town.
Next at Collinwood we got off of TN13 and onto the Natchez Trace. It was a highlight of the trip. We drove on this neat highway that stretched from Nashville, TN to Natchez, MS. No semis allowed. Speed limit 50 mph. No towns. Exits were widely spaced so you could get to nearby towns of fuel or lodging. No advertising. It felt like driving in a park – which essentially it was. I took this picture to give you the idea of what we saw for miles of pleasant driving.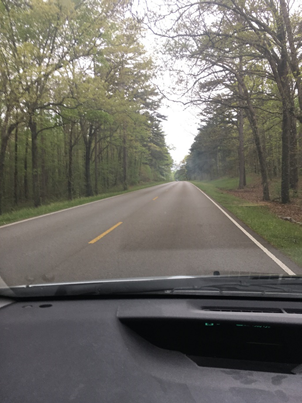 This shot was taken where the nearest town was Cypress Inn, TN just before entering Alabama. We cut off the northwest corner of Alabama remaining on the Trace into the state of Mississippi.
More info on the Trace can be found at: http://www.scenictrace.com/places-to-go-along-the-natchez-trace/
The link shows me that there was lots more to see than we saw in our few hours of driving.
Then in Alabama we stopped to stretch our legs by this causeway which was going to take us across the Tennessee River again.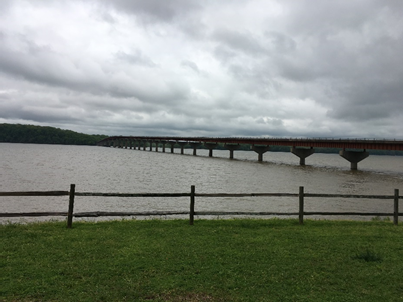 At this park we found a memorial display commemorating the Cherokee Trail of Tears – the name given to the trek forced on the Cherokees and other Native American peoples in the 1830s when the U.S. took their lands. Forced removal beyond the Mississippi.
We continued on.
Into Alabama at 10:35 AM. The sign below shows that we are 328 miles from Natchez. Nearby towns are announced like Tupelo.
Very few signs.
Bicycling is okay on the Trace. Mowers were trimming the grass on both sides. It is just a huge parkway.
The South Terminus was Natchez.
The Trace is 444 miles long. Begun in 1938, the Natchez Trace Parkway was finally completed in 2005.
Mississippi State Line was reached at 12:45 PM. 63 degrees
We stopped along the Trace to take a walking trail up to a high point. From the top, this was the view – affected by the camera's panorama vision or the photographer's lack of experience.
It was an exercising walk. At the top, we conversed with a couple who were traveling in a rental RV. Nice experience. The couple was from Asheville, NC
Now down back to the car.
A "stand" seemed to be the name of an inn just as "trace" was a trail.
Here is a picture of Colbert's Stand. George Colbert was a Chickasaw Chief who operated a river ferry and the inn. He ran the river ferry across the Tennessee River from 1800-1819. Colbert County in Alabama was named in his honor.
We reached the Mississippi State Line at 12:45 PM.
To the left, the photo was taken at Pharr Mound, MS – in the distance by the trees. Not big. I was trying to get a shot of the small red blossoms that colored the green. Red was competing with yellow.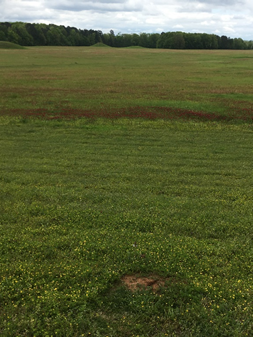 We met more RV friends. That couple spoke of their DNA testing. One was Norwegian and the other Eastern European. However, the company seemed to have switched the reports.
Also while we were at the mound site, a group of Quebec motorcyclists came in. They had covered a lot of territory.
Not to be overlooked, we saw some fire ants in the parking lot. Steer clear of them.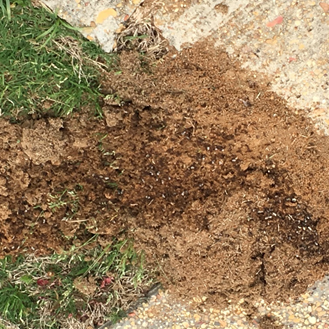 Below is just one of many curves through the Trace's wooded landscape.
[Last night on 5/31/2018, we watched a Nova presentation on Andrew Jackson. It was mentioned that Andrew and his wife-to-be traveled from Nashville to Natchez on the Natchez Trace.]
We were near "Old Town", the name given by whites to a Chickasaw village. Near here in 1795, the Chickasaw defeated the Creeks in a battle described by Andrew Jackson as "When the whole Creek nation came to destroy your towns...a few hundred Chickasaw aided by a few whites chased them back to their nation, killing the best of their warriors and covering the rest with shame." Several of the historical markers we saw on the trip spoke of the various tribes battling with each other. Whites – like British, French, and Yankees – often took advantage of that. I believe the Chickasaws fought beside the Yankees to suppress a group of Creeks. And the War of 1812, they served with the Choctaws in the 39th US Army Regiment. [Even after this military service for the United States, Andrew Jackson and the U.S. government came for Chickasaw land in 1816 and again in 1818, forcing the Nation to cede much traditional homeland to the U.S. Note Colbert's dates.]
We left the Trace at Kosciusko, MS. [Remember Kosciusko (Andrzej Tadeusz Bonawentura Kościuszko) was a Pole who, like Lafayette, served to defeat the British in our Revolution. Read about him. https://en.wikipedia.org/wiki/Tadeusz_Ko%C5%9Bciuszko He was the true man for the people that Thomas Jefferson was not.] He had Polish, Parisian, Lithuanian, Belarusian, and US connections. (Jacques Brygier is almost there!!!)
We could not find a restaurant to suit us in Kosciusko so we got on Hwy 35 and traveled to Carthage. We ate at The Chicken Nugget. I can recall what we had, but the menu included fried green tomatoes and fried dill pickles.
Carthage had trees with fully developed leaves. Spring was sprung. Plus, Bev wrote that the town had some large houses that were brick with tall white columns. Very plantation like. White columns seemed to be the vogue down here even if a residence was only on a small lot.
It was 6:45 PM when we reached Forest, MS, our stop for the night. We stayed at the Apple Tree Inn. Its feature was a very high bed.
Wednesday, April 25
Hooray, it is 64 degrees and sunny. Lots of logging trucks around. Houses that we drove by each had a box out by the end of their drives. Most seemed to be 3'x3'x3'. We ultimately decided that these boxes are where the garbage would be put for pickup once a week. Maybe they put bags in the boxes, maybe cans.
A sign announced that a religious revival would be this weekend. Bev spotted a turtle sitting in the road. Hope it made up its mind and made a safe choice.
Dollar Generals all over.
We stayed on MS35 until we reached US49, a freeway. That took us into Collins, MS.
"Y'all" began a slogan of a billboard.
One hour after Collins, we stopped at a rest stop in Wiggins. It was 79 degrees. Add another hour, we reached Gulfport at 1:15 PM. It is 82 degrees. As road-kill, we saw a dead armadillo by the side of the road.
So we had made it to the Gulf!!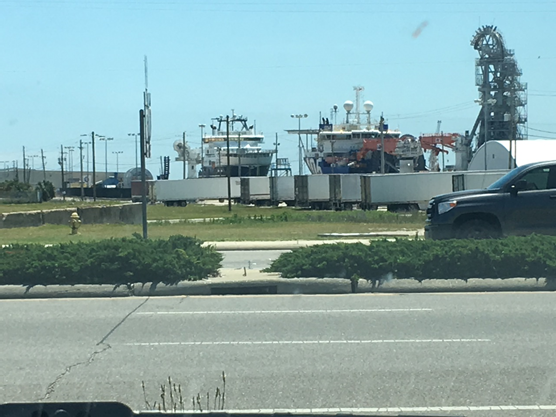 We road west down the shoreline boulevard. We headed away from Biloxi and toward Bay St. Louis (BSL).
We had travelled this road back in December or January of 2006. No sign of Katrina here now. But although the homes to our right were beautiful, I wonder if they are just waiting for the next Katrina.
Most of the nice homes were on posts. But I can guarantee you that doesn't help much against a hurricane.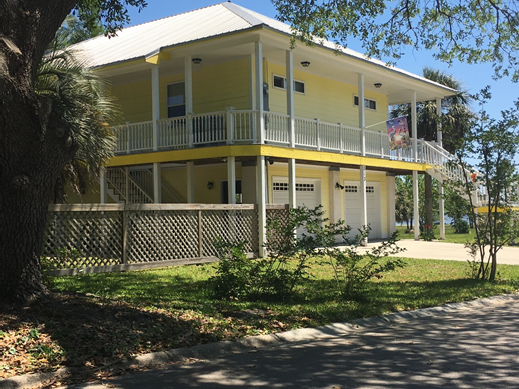 Palm trees made you know you were on the coast. There was a lot of beachfront property that was for sale. But there were also many huge homes under construction.
We drove over Bay St. Louis on the long causeway.
[Bay St. Louis had a naval battle. The misnamed Battle of Pass Christian, fought (1814) during the War of 1812 nearby in St. Louis Bay, was the last naval engagement (a British victory) to take place in continental U.S. waters against a foreign foe.]
On the left is a picture of the causeway across Bay St. Louis. This is a remarkable "after" picture.
The photo below is the "before" shot we took in 2006. No surface remained after Katrina. Just the underpinnings remained.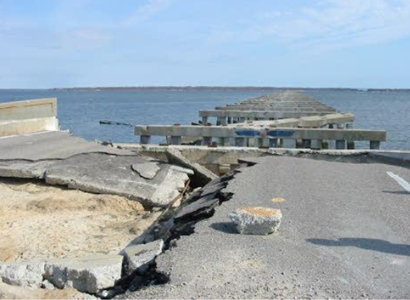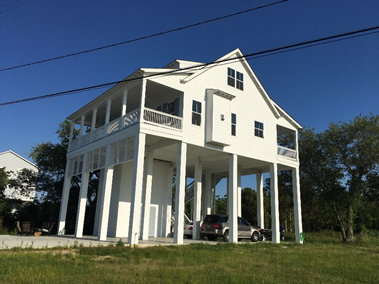 One of the new houses facing the Bay.
To the right, another 2006 picture from the edge of the Bay going down the same street shows the destruction we saw. Notice the FEMA trailer in the driveway.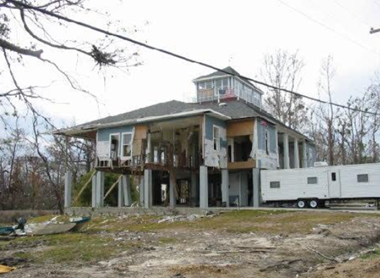 One of the marinas on the bay had some hefty little boats. The one shown here has three 300 hp. outboards. I only wonder which one is the "trolling motor." ?
We went to Da Kitchen and had our evening meal. Shrimp. Sorry, it wasn't very good.
After our evening meal, we went out to walk on the beach. Here is Beverly testing the water. I believe it was too cold for a dip.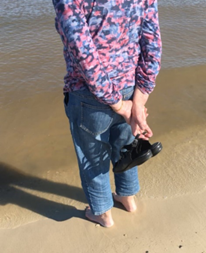 The tree to the right has the signature moss that we have seen in pictures of the South.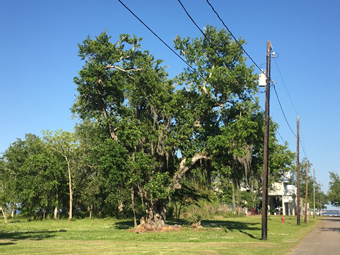 Thursday, April 26
We are on our way home. We got on the road again at 9:30 AM. It was 64 degrees. It was sunny and by 10 AM we were west of Gulfport in the State of Louisiana. Our western route got us just north of Lake Pontchartrain. On the back of a semi was the exclamation: Jesus rocks! In the St. Tammany parish, we turned off from what I believe was one of the brief jaunts on an interstate - Interstate 12. We were moving toward LA25 which would take us north. Our exit got us into Covington, LA. It seemed to be a trendy suburb of New Orleans. With a little sharp eyesight, we spied a Starbuck's and I got my morning mocha. The Starbuck's was super busy.
Outside we enjoyed a nature attraction. A pair of geese were watching their goslings near the strip mall's pond. In all we saw 9 geese (excluding young ones) in this area which was crammed with traffic. We hope the birds survive. I managed a shot of the geese which minimized the busy surroundings.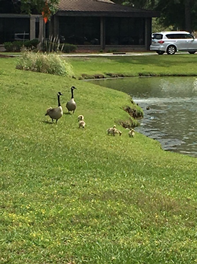 On the way out of the parking lot, we drove farther down a neat and well-shaded drive that serviced a number of nice-looking office buildings. It turned out the buildings were the Gulf Operations of Chevron.
[Once again, Beverly must have restrained herself. Had we not turned off I12 into Covington, LA we would have encountered another Madisonville here in Louisiana.]
[Beverly questioned: Who was St. Tammany? The answer is that Tamanend was a Delaware Indian chief that was highly respected by early colonists. He deal with William Penn. Tamanend got modified to Tammany.]
[A parish is the southern or Louisiana version of a county.]
On our morning trek, we went through Franklinton. Bev wrote that there were paved shoulders on some of the roads like LA25 upon which we were traveling. In Franklinton, there were stop signs or stop lights at every corner. No-turn-on-red signs. "Small towns were very substantial versus those in Mississippi."
Near this town, Bev also wrote about a beautiful brick posted fence with a closed gate with Cox emblazoned on it. Well, I go to Google and find a 2015 newspaper story about a convicted Pentecostal preacher in Franklinton by the name of Cox. Plus, in Google Earth, I did a search for Cox Estate, Franklinton, LA. In Google Earth on LA25, I found just what Bev had written about. See the snippet below. In the distance, you can see the white plantation-like mansion of the preacher.
Lines from the New Orleans paper: "The 72-year-old preacher was arraigned Thursday in federal court in New Orleans, where he pleaded not guilty to a single count of structuring financial transactions in order to evade federal reporting requirements. The not-guilty plea was a formality. His attorney, Eddie Castaing, said that Cox intends to plead guilty. 'He fully intends to tell the truth because that is his Christian duty,' Castaing said."
By helping the feds convict a federal attorney, Cox got 5-years-probation in 2016.
Another nugget in Bev's reporting. She has to stop noticing things or I'll never complete this recap of the trip. ?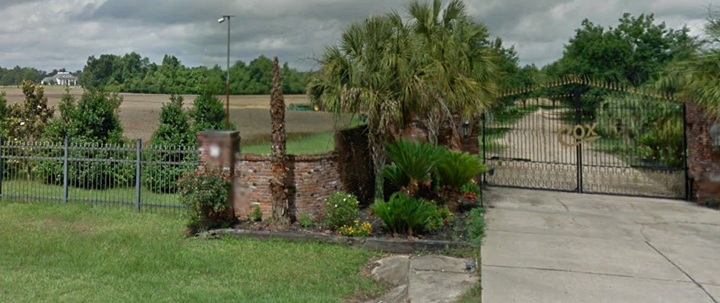 No Prius cars seen anywhere. Mostly pickups, semis, campers, and lots of mobile homes.
We went by a huge tree farm with very tall trees planted in straight rows.
You know that Louisiana is shaped like a boot with its toe pointing east and containing the Mississippi delta. Our route north took us almost directly north from the New Orleans area across that toe, passed Franklinton, and back into the State of Mississippi. MS again at 12:10 PM. It is sunny and 66 degrees.
Bev wrote that she saw "skinny sheep" grazing. We wondered if they had just been sheared. We were approaching McComb, MS. The notes read that crayfish must have been for sale, "only KFC in town, a closed BBQ, a nice store front – empty, Dollar General was not busy, Guns & Ammo was not busy, Ruby Tuesday was out by the I55. We did not travel on I55. But we stopped for lunch at Ruby's and found that they had a great salad bar for $8.99. Plus, we found organic food in a Walmart in Edgewood Mall. Edgewood and Ruby's were right off I55. There was also a J C Penney's and a Marshall's. So McComb provided a bit of modernity or at least the urban setting we were accustomed to.
We crossed I55 and headed toward Natchez on MS570. The purple flowers shown above were along the road at a place called Smithtown.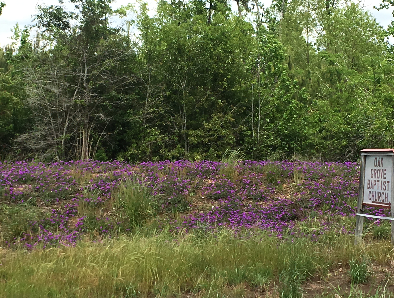 Glory Be! We had to travel on I84 toward Natchez for the last 30 miles. A person has to do what a person has to do.
We got back on the Natchez Trace at its southeastern terminus and traveled toward Vicksburg. We got out of the car where a sign indicated that we could see a remnant of the original trace. This trail had been used for a couple hundred years. I expected to find some remnant of the past as one finds out West where there are remnants of the Oregon Trail. As I approached the wooded spot where I believed I'd see the old trace, I walked through the grass and aroused what I believe was a lot of hungry gnats.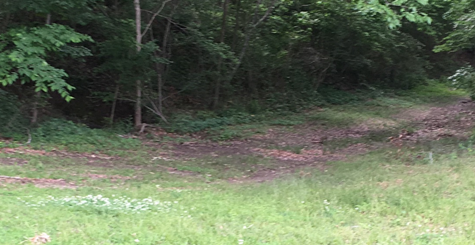 My bare arms got a number of bites before I retreated to the car. I itched for a week.
Bev notes that the trees were full of large vines. Also, it should be noted that the Trace was a bike route – i.e. bike friendly.
We got off the Trace at Port Gibson, MS and got on US61 north. Lots of 1825 homes. In relation to Port Gibson, Beverly noted what she called Disharoon House – a B&B. So, checking out Disharoon,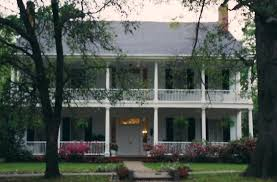 I found that it was a plantation occupied by the Union forces in 1863. The house dates to 1830. Ultimately, Grant "landed" there April 29, 1863 as a part if the Vicksburg Operation from March 29 - May 18, 1863.
The Battle of Vicksburg then continued from May 18 to July 5. The campaign and battle claimed 10,000 Union and 9,000 Confederate soldiers. But the battle was a victory for Grant and 29,000 Confederates surrendered. It was the second Confederate army to bow to Grant. The prior one was a result of the Union victory at Fort Donaldson in February 1862.
Even as the US flag rose over Vicksburg on July 4, the Battle of Helena was occurring near Helena, AR as another Confederate general attempted to relieve pressure on Vicksburg. The Confederates were again repelled.
[A note on war. So, the battle was won by the Union. One thinks of the victorious army marching off to another encounter. But just think of the aftermath of one battle like Vicksburg. Think of clean-up with 19,000 dead. How you deal with 29,000 prisoners? Another note. The victory at Vicksburg occurred the day after the victory at Gettysburg!! One report says the victories were both July 4, 1863. Incidentally, at Gettysburg, the Union lost 23,000 and the Confederates lost 29,000 (A third of Lee's army).]
The Big Black River flows east of Vicksburg and enters the Mississippi about 20 miles south of that city.
A sign along US61 indicated that you should watch for "bear." ?
Vicksburg was about 25 miles north of Port Gibson. The land west of our highway was heavily wooded all the way to the Mississippi about 10 miles west. MS552, known as Rodney Road, would be a great drive in the future. It has a few side roads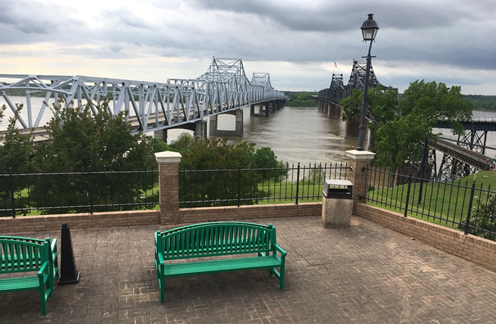 worth exploring. It has very little besides the forest.
We got into Vicksburg, MS and stopped to see the twin car and railway bridges off Warrenton Road.

We drove through along the waterfront and saw the several beautiful murals on the flood wall off Levee Street. The murals are difficult to capture in a single shot. You can see why from the panoramic view above.
Here are just a couple the beautiful murals on the flood wall.
We sat on Levee street and surveyed the pictures. In the park on our right, young teenagers were there for a while playing rap. Seemed like wholesome activity.
[More Civil War. A couple of the historical markers in the park commemorated ships that served in the war. These and other reading made me realize the importance of ships and ironclads during Vicksburg encounter. Actually, the Vicksburg victory gave the Union the control of the Mississippi and separated the states of the Confederacy. As Jefferson Davis said, "Vicksburg was the nail head that held the South's two halves together." It is said that the Confederate loss was partly due to the Confederate's inability to cope with amphibious warfare – not motorized as in WWII, but, I believe, the transport and landing infantry with boats.
Now consider the time setting, Lee had surrendered at Appomattox on April 9, 1865. Except for a couple engagements, the war was over. A historical marker in a Vicksburg park announced that on April 24, 1865, the steamship Sultana – not a warship – was loaded with 2300 Union soldiers and 200 civilians in spite of its legal limit of 375. It exploded near Memphis killing at least 1800.
Another historical marker commemorated the CSS Arkansas which was a Confederate ironclad. Its claim to fame was that on July 15, 1862, it succeeded in sailing through the Union fleet that was besieging Vicksburg. In fact, it engaged and caused damage and casualties by sailing close to the Union fleet on its way to port. The encounter could be considered a Confederate victory. Note that the Battle of Vicksburg was about a year later.]
And then there were trees in Vicksburg again.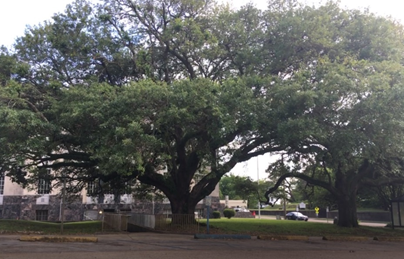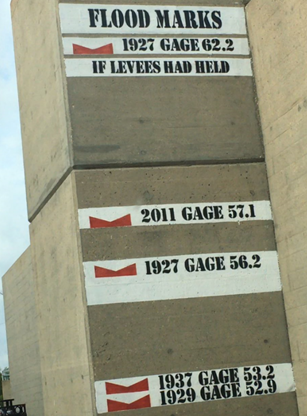 Back at the levee wall, an entrance at the north end allowed you to drive around the wall to the riverside. Heading back south, we saw the markings commemorated floods of the past at Vicksburg. The top mark was for 1927 and, ominously, "Gage 62.2. If Levees Had Held." I wonder if there were two floods in that year. Farther down the next mark was 2011.
Cobblestone street near the end of main commercial street in Vicksburg. This was Washington St. near the intersection with Clay St. This whole street seemed well preserved. Balconies over the sidewalks were common.
We spent a fair amount of time in Vicksburg although most of our time was viewing from the car. We took a couple photos at an old cemetery – the Cedar Hill Cemetery. It is supposed to contain Confederate casualties but we did not know how to find that section. We kept looking for the Vicksburg National Cemetery and we may have found it after lots of driving. By then we did not want to explore any more. [More than 17,000 troops are buried in Vicksburg National Cemetery in the far northwest of the city is the largest Union cemetery in the nation. Of these burials, the identity of almost 13,000 soldiers and sailors is unknown.]
We left Vicksburg about 6:30 PM. We travel the River Road (US61) north toward Greenville MS. Beverly makes copious notes. ? Deserted house in field. Must have been under water once or twice. Field just starting to grow. Crop 1" high planted in straight lines 6" to 9" apart. Some standing water --- recent rain? Another "bear" sign. Egret wading. Tractor with thin metal wheels. Big fruit orchard at Cary, MS. Now 7 PM. Another orchard with 14 rows. Vines clinging to telephone post supports. Motel in Rolling Fork, MS but no diner. 4 grain trucks nestled under a lean-to. Double-wide trailer parks in decay in Anguilla, but good cars. Sun going down at 7:30 PM. Beautiful white house at the edge of Anguilla. What was the heyday of this road – Hwy 61? Has factory farming taken over here? Many small towns around here seem to be barely existing. Arcola, MS. Black folk standing around. All double-wides going downhill.
We got to Greenville at 8:30 PM. Time to stop for the day. We had driven 379 miles that Thursday.
We visited the depressed city 75% African-American. We stayed there for a flat $50 a night and ate in a Sonic drive-in. (Uninspiring.) Significantly, the motel and Sonic workforce was all African-American.
The motel was an America's Best Motel. It looked like it was a facility under new management. Its lobby area was quite large but almost empty. No furniture that I remember. The front desk clerk was Asian Indian and had just moved from Oklahoma. He had no knowledge of the area. The nearest restaurant was across the street attached to a Days Inn. It was a large Shoney's restaurant, but it was out of business.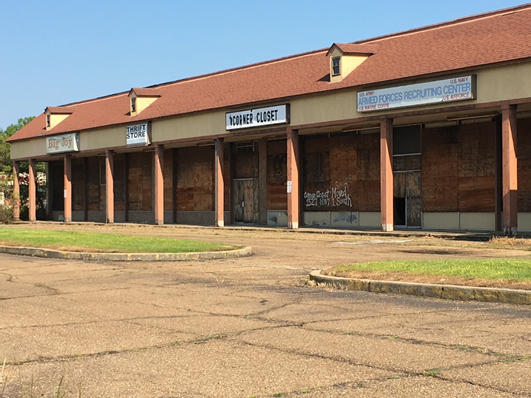 Not seen until the next morning, this particular shopping center was twice as long as shown to the left. It is totally abandoned; and from looking at the architecture of the roof, it is not so old. I haven't included the pictures of the many fixer-uppers that I took. Many abandoned homes. There were quite a few depressed economies around this area of the South. Sad. Maybe these people are hoping for America to become "great again."
There was a casino in Greenville. A jeweler was going out of business selling everything at 70% off.
Friday, April 27
We searched for a pharmacy before leaving town in the AM. In the parking lot of the pharmacy, a young mother parked her car. It back window was broken out and sealed with ripped plastic. Her two little girls with braided hair were without car seats.
Bev wrote that she had seen an upscale house then one that was collapsing and another in disrepair. There seemed to be many empty apartment buildings. One substantial apartment complete had 72 apartments and was called the Delta Towers. 7 stories.
We left for the bridge to Arkansas on US82.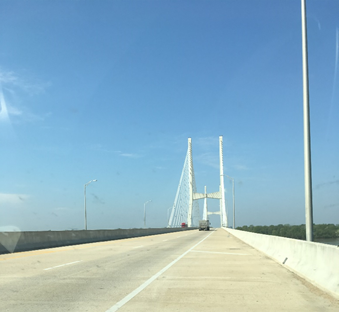 The bridge was white and apparently quite new. It had tall white spires that formed "H"s over the road. On the Arkansas side we were greeted with Fish Bayou and an access to Ditch Bayou. Beverly noted "a tree growing in water." I mention that now because I do not want to neglect that we saw signs of what we'd call mild flooding along the Mississippi and its tributaries. It was mentioned quite a lot as we viewed the landscape on our trek. Nothing real bad. However, in the same period, we heard reports of flood warnings for Shakopee back in Minnesota. So Spring waters were on the move.
Many of the churches in the area go by the name Missionary Baptist.
In our travels in Arkansas, we found the towns more numerous and more "upbeat." There seemed to be a lot more cropland and far less trees. There were many shiny grain storage facilities.
We now travelled up US65. At McGehee, one of our first Arkansas towns, we saw signs indicating the "future I69". The Interstate system just continues to grow. I69 currently goes south out of Memphis, TN and then peters out just over the border in Mississippi with the nearest town being Robinsonville, MS. That is 100 miles from McGehee. [What is motorized travel in cars and trucks goes away? Nah!!! But…] Most of McGehee is off of US65 right now. It has lots of agriculture and some railroad sidings. Can the coming of an Interstate do damage to the town as such freeways seem to do to other small towns? Maybe not, if McGehee has learned to live with US65's proximity to the town. Many of our other small towns die when the highway moves out of their downtown. Hopefully McGehee's downtown does not depend on the US65 artery even now.
Out of McGhee, we had two choices to go north. I see from the Arkansas map that Beverly had to make a choice. I believe we chose to continue on US65 instead of travelling on AR4 and AR1. This alternate route would have been longer. However, I am certain that AAA had no travel-reason to send us toward Rohwer, Duce, and Kelso. However, as I looked at Google Earth, I see that Rohwer was another Japanese-American Internment Area off of AR1 on a gravel road. At least there are monuments left there – but with no tourist information about their presence except for two signs. In fact, on the highway map of Arkansas, the little town of Rohwer is shown just south of Kelso. Rohwer to Kelso is 2.5 miles . Duce is in the middle!! However, Duce which looks to have more of a town than either Rohwer or Kelso does not appear on the Arkansas Highway map of 2011. From Google Earth, Duce seems like it has remnants of the Internment Camp just north of County 220 in town. But all this leaves us in the questions: What the deuce is the matter with Duce?
So, traveling on US65 we turned off on US165 at Dumas to continue on the posted scenic route toward the Arkansas River. We crossed the Arkansas at Pendelton. Just east of our crossing point was the canal that links the Arkansas with the White River and then to the Mississippi. This waterway named the McClellan–Kerr Arkansas River Navigation System allows barge traffic all the way to Tulsa Oklahoma. It was completed in 1971.
Around 11:45 AM, we stopped to stretch our legs again. This time it was at state park called the Arkansas Post Museum State Park.
There were a lot of 19th century artifacts. A young curator was on duty.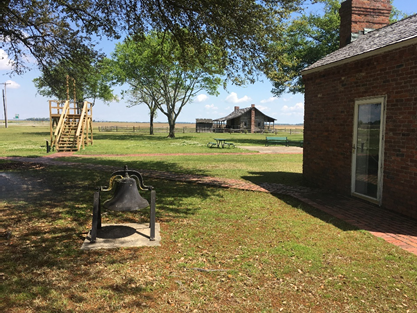 The park exhibited a gallows that had been used for executions until 1913. You can see it in the picture here. There were two other very neatly kept buildings here.
Restrooms were clean and the women's had flowers.
One section of the main building had a neat display of a 19th century living room. Nice museum.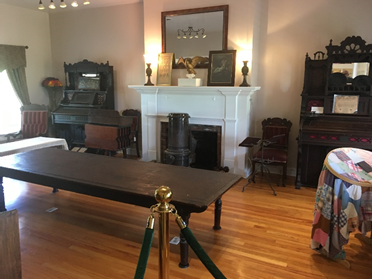 Recapping, towns along our way as we moved north were McGehee, Dumas, Gillett, DeWitt, Marvell, and then Helena back on the Mississippi. We had crossed the Arkansas River just after Back Gate (at Pendleton) and just before Gillett. This was the travel in Arkansas. Roads were a little straighter and flatter. But Beverly kept us following the scenic route on the AAA map that was designated with green dots.
In Gillett we saw St. Paul Lutheran. DeWitt had two grocery stores – a employee-owned Piggly Wiggly and a Kroger. It was rare to see chain groceries.
Near Marvell we saw a huge amount of farm equipment under pole barns. Very long center pivot irrigation devices were seen in the fields. The highway from Marvell to Helena (US49/AR1) was four lanes.
We had lunch in Helena, AR. It was a good stopping point. It was probably 2 PM at least. Beverly mentioned that it had many boarded-up houses. It must be difficult for the city fathers to plan for the city and try to do something that will liven up the business district. What can they do to bring people to town? What, if any, resources are there to bring some jobs to town.
We ate in what Bev's paper calls the Southbound Tavern. Check out the designer tables. But the red seating was snazzy.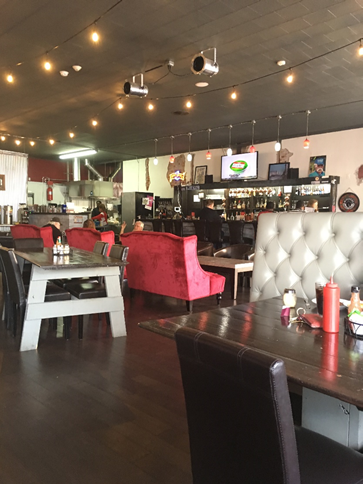 We met a realtor and his wife. He immediately called us, "Yankees" when we introduced ourselves. However, we spoke for a while and we sounded like we agreed on the state of affairs though we did not get down to politics. He was Bill Miles from Marianna. His wife was the city clerk for Marianna. They drove a Prius.
Leaving lunch, we walked back toward our car and sidestepped to visit what turned out to be a big surprise. We stopped to visit the Delta Cultural Center. Here is its website: http://www.deltaculturalcenter.com/
It was part museum for Blues and maybe Blue Grass. It featured a Blues radio program named "Biscuit Time." It sponsored the King Biscuit Blues Festival, and it also sponsored the Arkansas Delta Family Gospel Festival. It supports every couple years an enactment of the Civil War Battle of Helena. It had interesting exhibits especially concerning music of the Delta. Best of all, even though it looked new, it had opened in 1990. It would be well worth stopping to view and spend some time. It was FREE.
Leaving Helena, we messed around finding our route north. We intended to follow the scenic route to Marianna. But what is the road number? We know that we needed to go through the St. Francis National Forest and by the Mississippi River State Park. So, we got on this road which was densely wooded, and moving in the right direction. It was called the St. Francis Byway. I don't remember if we saw the State Park; but as we moved along, it seemed as if we were moving up a ridge (Crowley Ridge) from which we had glimpses of the land in the distance. Well, almost as if Beverly had planned it, the road turned to gravel! Da-da!!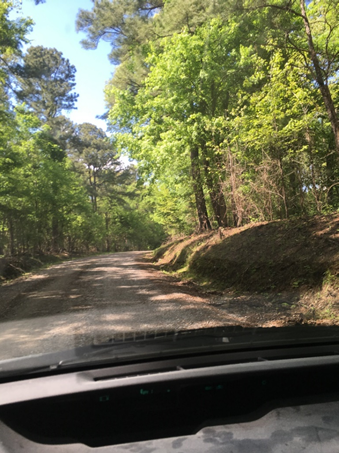 We were far from the last turn-off so we proceeded. Early on our gravel road trek, we encountered some young lady in a sports car sitting at a scenic lookout. Bev asked her about how much gravel road was still ahead of us. She said about 6 or 7. It was actually 15 miles. ? It was a very scenic drive. Deep ravines on each side of the road and vines in the trees. The gravel was dusty but graded so that there were no pot holes to worry about.
After reaching Marianna which was at the end of the ridge, we continued up US61 which skirts I55 on the east.
About 50 miles beyond Marianna we went by West Memphis. I don't remember it at all. Just putting on miles.
There is a lot of money in Wilson, AR. Checking Google and Google Earth, there are some unique things about this tiny town. One of the original sources of wealth was cotton. What remains and well-maintained can be seen west of US61 just north of town. There can be seen in Google Earth, four beautiful estates with massive white houses. We drove off into one of the manors to get a closer look, but I recall leaving when it seemed that we might interrupt a party. Oddly, the first one of the four we encountered had a large grove of neatly planted trees out front. Google's view is better than my iPhone shot.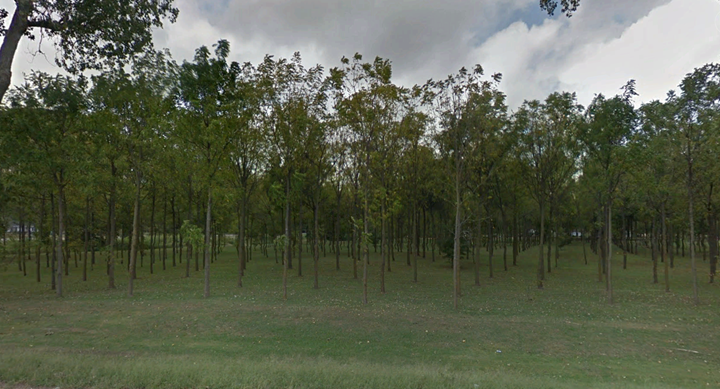 We went through Osceola, AR which is the home of American Greeting Cards. Like Osceola, WI and the St. Croix, Osceola AR is very close to the Mississippi. Beverly is seeing burros with horses in the fields. There were purple boxes hanging in the trees. A search for ash bore? Two police cars with black policemen had stopped a white guy. Trees are leafing out.
We reached Blytheville, AR only a few miles south of Missouri. Many many businesses there are out of business. We ate at a Perkins and we bedded down for the night at a Quality Inn.
Hail to thee, blithe Spirit!
Bird thou never wert,
That from Heaven, or near it,
Pourest thy full heart
In profuse strains of unpremeditated art.
To a Skylark by Shelley
[I note here that Beverly granted me all my wishes. I advocated seeing Cairo, IL, Hannibal, MO, and Cahokia. We saw them all on April 28 coming up. I hope she believed that visiting them were good choices.]
Saturday, April 28
We got on the road at 10 AM. We drove 307 miles on Friday and will drive 309 today. Sunday will only be about 250 miles and then another 340-day on Monday. Pretty consistent driving days.
Saturday morning, we took off up the Mississippi. We were in lower Missouri where the Mississippi River jigs and jags. [Actually, it jigs and jags all the way south after Cairo, IL. It has straighter stretches north of St. Louis. Oh, and by the way, I believe you'll find that Arkansas, Illinois, Missouri, Louisiana and Mississippi each have land on both sides of the Mississippi River. https://en.wikipedia.org/wiki/Border_irregularities_of_the_United_States ] No roads follow that curvy Mississippi path. US61 and I55 follow fairly straight routes just to the west of the river.
Ninety miles across Missouri from Blytheville was Cairo, IL, a place I always wanted to see. From childhood, I had seen on the map that it hung on a small peninsula of land in Illinois where the Ohio and the Mississippi meet.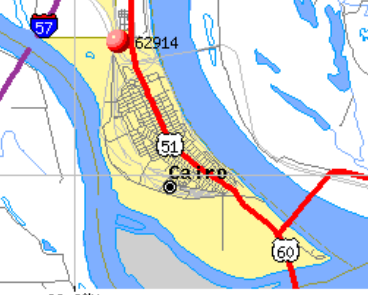 More recently, I have seen documentaries that show the poverty and trials of that city. As recently as May 2, 2018, the Washington Post presented an article calling Cairo "a dying community." [How many other localities we've seen in our backroad travelling that could have that ominous designation?]
We came into Cairo by following US60-62 onto the southern tip of the peninsula. We had the option to head east into Kentucky but drove north into Illinois.
Like Greenville, MS, Helena, AR, and other places along our trip, the city had been struggling for years to find the formula for growth. It seemed as if it had lost the battle when most of the river travel ended. Now it seems that the river contributes to the economy only when there is levee building. [That is a comment of someone who hasn't studied levee building or the local economics.] In the 1800s, the river had been a reliable resource.
The lessons here might begin by looking at the rather narrow bridge that brought us into town. Compare it to the bridge that ushered us into Arkansas a few pages back.
There was lots of history in Cairo. Unfortunately, it is told in the run down empty houses, boarded up housing developments, boarded up buildings, and signs of failed attempts to revitalize.
Beverly muses: "Why do they stay here? Cairo just takes your breath away." This is "old America." There were only a few bits of the newer among all the decay.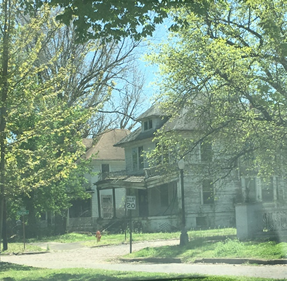 And yet some small bits of the former grandeur remained.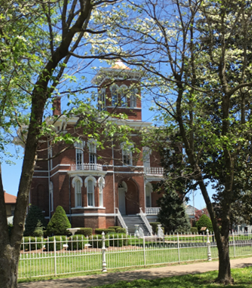 Cairo was last flooded in 2011. The city sports a dike with a flood gate as in Vicksburg. Many river cities have such protection.
One sign of modernity showed up in a residential high-rise which may have opened just recently. It may have been involved the 2017 closing of a housing development that displaced at least 600 people. [I am not sure of that connection.]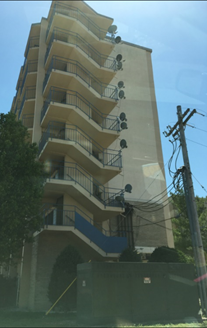 Cairo was a story in itself.
We drove up the Illinois side of the Mississippi on IL3.
At Thebes, about 20 miles north of Cairo, we stopped in a park and caught sight of a barge moving slowly up toward St. Louis or some other northern point.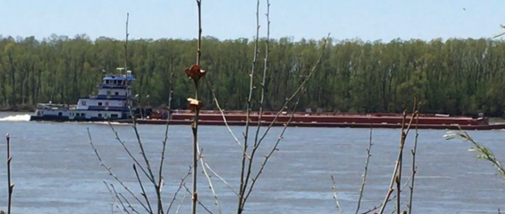 The areas that we visited had respect for the river and its flooding. We saw flood walls in cities and many dikes around farming areas. Practically every field that presented its side to the highway had devices near the road which I believed were there for flood drainage. The devices were different but consisting of some pipe and cannisters, but nothing that I viewed as a pump.
"Pumping stations" entered Beverly's notes for some reason. She spoke of sand bags around a cell tower. Many dikes everywhere. A Dollar General was coming soon to Olive Branch, IL. [In a brochure concerning the 2011 flood, I saw a picture of Olive Branch under water.]
Near Gorham, IL, Beverly spotted a fish farm to the east of the highway.
Chester, IL for lunch about 3 or 4 PM. Chester was the home of Popeye. Fort Kaskaskia State Historical Site is there.
We went to Reid's Smorgasbord. It had been in business for 35 years and was quite busy. They provided the fixings for a wonderful salad.
Looking at historical photos in the lobby, we found out that in 1927 Chester had knitting mills employing 200 – 300 women. Even earlier in 1916, a shoe factory began in Chester and continued to the early 1960s. The knitting mill made it through the 60s.
For a little older history: A historic church founded by French explorer Pere Jacques Marquette still holds weekly mass on the island (Kaskaskia Island). The Liberty Bell of the West, older than the Liberty Bell in Philadelphia, is located near the church on the island and was a gift from King Louis XV of France.
Then on to Smithton and Bellevue.
At 4:20 we went through Red Bud, IL. Along the way we saw an advertisement for swine seedstock. We assumed that they sold baby pigs.
We sighted more sycamore trees. Few crops were up and few fields were even plowed.
At Smithton, we saw a fire house for sale. More closed businesses. We saw some goat farming.
In Belleville, we saw one housing development. There was a bank for lease.
Straight east from St. Louis is Collinsville, IL. We arrived there about 5 PM and went to visit the Cahokia Mound Historical Site. This was the site of a prehistoric Mississippi culture that left about 120 mounds in a 6 square mile area. The museum closed at 5 PM but tourists were free to walk the grounds and visit the mounds. I believe we stayed for about an hour and a half.
The largest mound is called Monk's Mound. Concrete steps went up the south face of the mound to the top. 186 steps. Bev and I walked up. It was a clear day and the view allowed us to see St. Louis on the horizon – 12 miles away. The Arch is visible to the left in the skyline.
We crossed back into Missouri. After a few miles of city driving around St. Louis on I370 and I270, we stopped in St. Peter, MO in the NW St. Louis area for the night. It was now 7:30 PM. The motel was a Day's Inn.
That short spurt of city driving was probably the most taxing of the whole trip.
Sunday, April 29
The next morning, we got on the road at 9:45. The temp was 57 degrees. No coffee shops. Not even a McDonald's.
Leaves were just coming out. Flowering bushes along the highway. Possum seemed to be the road-kill of choice versus raccoons.
We took off north and drove through Winfield. It had Lock & Dam 25 just to the east on the River. The bar/grill was crowded. Was that an early Sunday brunch? The town had deserted houses, but it managed to support a huge car wash.
Elsberry had a little bit of everything (American?). Family Dollar, Dollar General, Shell, Casey (gas), Rexall, American Legion, VFW, a busy motel. Population 1900.
Annada, MO has a population for 29. Ann and Ada were two daughters of an early settler in that town. It had a post office since 1880. But no more. See photo at the right.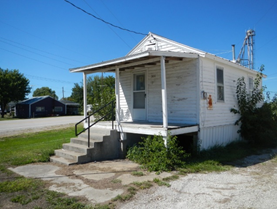 It must have been closed around 2013. The bank was also closed. So much history, so much lost from view.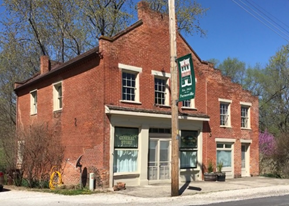 Paynesville, MO had this old, but classic brick building. Paynesville must have been founded in the 1830s. A newspaper article reminisces about a "bygone era." A small white house on a hill is for sale. The "RCA dog" appears in a store window. The brick building above looked very old and very well preserved. There was still some life here. [Kentucky and Virginia settlers came here.]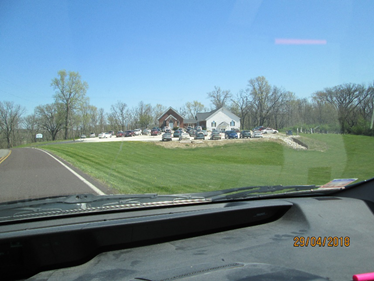 Ramsey Creek Baptist founding in 1816 had a full parking lot for Sunday services.
Clarksville was a good stop. Clarksville was flooded in 2008. There was some references that said they hoped to get a flood wall.
We drove up to Lock and Dam #24. There we were able to watch a tug pushing 12 barges. The tug pushed 9 barges into the lock. That was the capacity of the lock.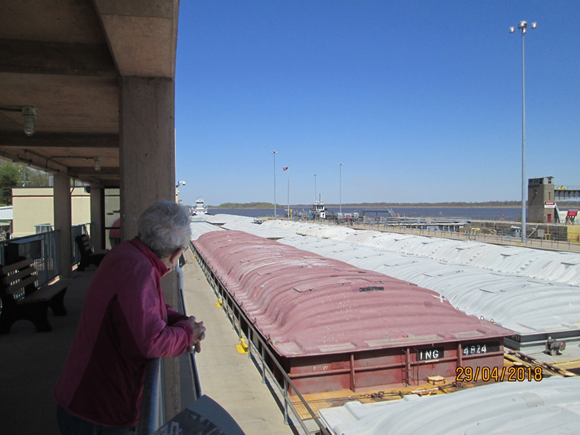 The collection was 3 wide and 3 long.
Once the barges in the lock sank to the lower river level, the gates were opened, and the barges were pulled out by a mechanical tug to start them moving and then momentum. After they cleared the lock, they were stopped by laying attaching a huge restraining rope to a dock cleat. That was the job the the "brakeman" who we were able to talk to from our elevated vantage point.
This collection of barges was assembled along the way from St. Paul and were destined for St. Louis. After reaching there, the tug with new barges would begin the 10-day trip back to St. Paul.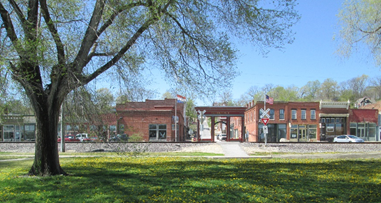 Clarksville was sort of upbeat. I feel like somehow they had a handle on growing their future. [Revisit in 10 years and see. I'll only be 89.]
Clarksville was construction a cable car ride to the top of a river bluff.
We donated one of our tour maps to a couple from Freeport, IL.
Louisiana, MO was reached at 12:30 PM. Its BNSF deport was closed. Another vibrant ghost town of 3300 people.
On we went and reached Hannibal, Mo about 1:30. Bev noted that it was "jiving." We did not stay there long. My photos only include another tug pushing a large string of barges.
Driving took us up through Canton, MO and eventually Iowa. Wild turkeys. Tilling of fields. We crossed the Des Moines River and into Keokuk, IA. Incidentally, Keokuk was another Indian chief and a contemporary of Black Hawk. The city is the location of Lock and Dam #19.
Keokuk has Rand Park National Cemetery which provided burial sites for Union and Confederate soldiers.
Montrose, IA came along. Montrose was a home of Mormon leader Brigham Young. The town was across the Mississippi from Nauvoo, IL were the Mormons had built their second temple before being expelled in 1846. Lots of history related to the Mormons jumps out of these two towns. (Joseph Smith, founder of Mormonism, was killed by a mob in Carthage, IL in 1844 while waiting for trial on putting out an order to destroy a non-Mormon newspaper in Nauvoo.)
Fort Madison was next after Montrose. We were back in "civilization." There was a Starbucks here. It was the home of the Iowa State Penitentiary (The old one is closed and the new one is 1.5 miles away.)
We had a bite to eat. While in the restaurant, we looked at decorations. We asked the waiter what a particular antique device was used for. It was a device to hold the snout of a hog when its tusks were removed. Who would have thought of that? We are too citified.
Heading north we came to Burlington, IA. Burlington is the place which gives its name to the Burlington Northern Railroad which is now joined to the Santa Fe to form the BNSF. We drove around and due to Bev's navigation, we were about to find a Burlington railroad exhibit and the only "switchback" of the trip.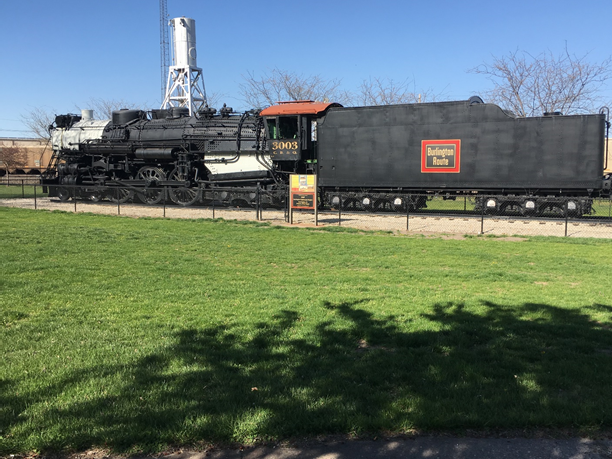 Seeing the locomotive up there, I immediately thought of George Marks and Charles who were railroad fans. I too this photo with the intention of giving it to Charles. [When we returned home we found out the George was in hospice and he died soon after we visited him.]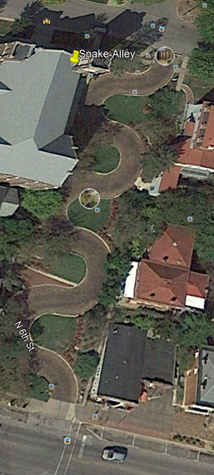 Beverly must have read something AAA and she maneuvered me up a street near the downtown area. When she told me to stop, we saw the sight I present here.
Stretching down below us to the next block was a set of switchbacks. I believe 5 in all. Nice cobblestones. It had been built in the days when horses had to pull loads up the steep incline.
We drove down it without any problem. It was one-way – top to bottom. Between Washington and Columbia. The street was called Snake Alley.
We stayed overnight in Muscatine, IA in a Super 8. Our gas mileage showed that the Prius was getting 49.7 mpg at 6:10 PM. Muscatine has a huge Monsanto complex. It may have been the original Monsanto facility.
Tama, IA was some distance west, but there was advertising for its casino. You can't get away from them.
Monday April 30
The desk clerk at the Super 8 came from India 5 years ago. His family lives outside of Chicago.
My bites from Natchez were still itching.
A mother cow was baby sitting 3 calves. Hum…
We noted that plowing had finally begun. My note-taker, Beverly, wrote about Tipton, Stanwood, Olin, Monticello, Scotch Grove, Hopkinton, Delhi, Edgewood… Strawberry Point boast the world's largest strawberry replica – 15 feet.
Tipton had a Walmart, a coffee shop, and a Dollar General. There seemed to be just a few older buildings on the local farms.
Stanwood hand no "standard" elevator. They must be out of date – out of vogue. The Pioneer Seed supplier had 4 silos – really just big metal bins.
Olin had old barns with new metal silos. A burning field was still smoking.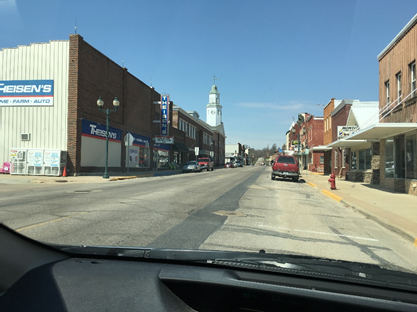 Monticello is the Iowa town in the photo below. Outside of town, a tractor was plowing and creating a dust storm. It was lucky the tractor probably had AC in its enclosed cab. At 10:35 our gas mileage had reached 50.1 mpg. It was 72 degrees. We were dragging the heat up from the south. ?
Scotch Grove had a ghost town look. It had "glass" domes over some of its vegetable gardens. There was a yard full of new equipment for sale just next to a deserted house/farm. Collapsing barn and an old stone house. From a newspaper we saw that Catholics were welcoming a mosque in Dubuque. That was refreshing.
Hopkinton had a cypress lined cemetery. There was also a historic but now abandoned Lenox College (1859-1944).
Amish were in the area.
Delphi had a working windmill.
Greeley had wind turbines in view. It has a wind farm constructed in 2011. Solar panels were noted by Bev.
This is all solid corn country!! Maybe soybeans too.
Edgewood on IA3 had a Land O'Lakes Feed Coop.
Strawberry Point which as close to Edgewood was worth at least a photo of its city offices. The strawberry owns some record.
We went through Wadena, IA, skipped Spillville, and went through Decorah.
Lunch in Decorah at the Old Armory Grill. Good pulled-chicken. We saw Luther College. Dragonfly Solar Farm. Laura Ingalls Wilder museum. Where else did she live? Until reading some Bailey history, I would have thought that the Wilders were sort of nomadic and never wanted to settle down. Now I believe a lot of the movement had to do with farming practices that depleted the soil. Farmers farmed till the crop land was about to peter out. Then they moved on.
Gas mileage up to 50.9. I have been driving at speeds around 60 or even less. Who needs to hurry?
We reached Minnesota at 2:45 PM.
Preston, Chatfield, Cannon Falls ….
Home Sweet Home arrived at 5:20 PM. Our mpg was reading 51.2. Glad to be home, but ready to go again. 3200 miles!!!