The Europe Odyssey 3
It is October 14, 2001 and we are leaving Hungary. I did a lot of notetaking that day. That is good. I need more reminders of this trek than for the travel to Hungary.
We traveled on Hwy M1 to the border. I can see is that it gets us through Györ, Hungary. The approach to Györ was very hazy. Lots of industry in the area plus it was a cloudy day.
M1 must be a super highway. We could follow it all the way to the border and it would empty us onto the Ost Autobahn where "Ost" implies Austria (Österreich is Austria in German.).
The border station was just northeast of Rust. We arrived there at 11:45 AM. There were many soft-sided semis. They surrounded us at times along with cars from many other countries. Young Hungarians were working the lineup of cars. For 100 forints we got our windows washed (something we did not need). The young men wanted Austrian or German currency, but they had to settle for our Hungarian stuff. By 12:15, I could still count 18-20 cars. Finally, we were waved through at 12:30 PM. Who knows? Maybe the 911 events were making a security tie-up.
For your fluency in Hungarian, kijårat means exit. Bécs means Vienna.
The price of gas in Hungary was 225 forints per liter. Someday, I will set down and calculate how bad that is. As of today (4-20-2019), that would be $.79 per liter. Not bad. But probably higher in Hungary today. I checked. It is currently just under $1.41 per liter.
The haziness persisted. Now my notes blame it on the smog from Bratislava, Slovakia.
Here is a note that says: Tchibo – Best Coffee in Vienna. Here are three sentences on that company. Tchibo is one of Germany's largest retail chains. The company is headquartered in Hamburg. Tchibo's coffee is sold in supermarkets in the United States, Canada, the Czech Republic, Saudi Arabia, Slovakia, Slovenia, Bulgaria, Romania, Turkey, Hungary, Ukraine, Syria, Israel, Jordan, Russia, United Arab Emirates, Poland, and Lebanon.
Interestingly, that might have been the only comment about Vienna. We must have sailed through that that afternoon. But I may have snacked, because I wrote that Poco Loco Tortilla Chips were a product of Belgium.
Maybe there was a future autobahn in the plans since I wrote we saw several big bridges with not roads leading to them. "Bridges to nowhere?"
Hark!! I also saw signs indicating Pioneer hybrid corn in Austria. I thought that was a Monsanto brand, but I was wrong. DeKalb and other seed brands belong to the Monsanto family.
It looks like we toured some of Krems an der Donau. The Austrian name for the Danube is the Donau. Interestingly Krems is first. Then I have references about Melks an der Donau, Ybbs an der Donau and finally Enns an der Donau. So, I know we were going down the Danube. My last note for October 14 says "Ybbs at about 6:00 PM." I bet we stayed there; at the moment, I can recall nothing about that evening. Considering I can recall some image from most stays, this seem like a black hole.
Krems had its Millennium Celebration already in 1995. It originated in 995.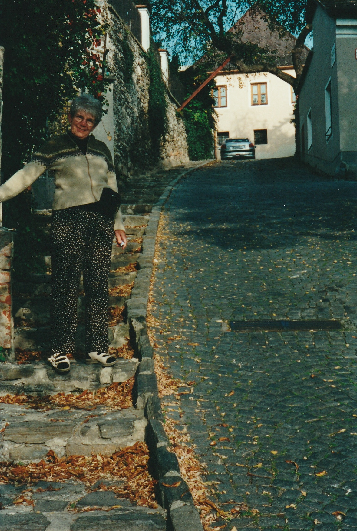 At Krems, I wrote that I took no pictures of the Basilica of St. Veit (Austrian for St. Vitus.) But the picture shows Bev on walk up to the church. I scribbled notes about the organ. It must have been another "world class organ" -- an expression which captures an inside joke between Bev and I'. I wrote down that St. Veit's organ had 2932 pipes. So, what is "world class"? I will have to investigate further, but I just did a quick totaling of the pipes on the St. Olaf Minneapolis organ and it has 3673 pipes. Hum. [The Cathedral Organ of St. John the Divine in New York has 8514 pipes.]
The church at Krems was decorated baroque again. It had multiple paintings, but all were dark from age, I suppose. The original church was built there in 1014.
Outside the church were almost life-size depictions from the Stations of the Cross.
It seems like there were many churches on the banks or the Danube. There were also many tourists, boats, and castles in this environment.
Only about 4 miles (crow miles) from west of Krems on the Danube is the little town of Dürnstein. Dürnstein received its name from the castle 500 feet up the embankment above the town.
Dürnstein was first mentioned in 1192 when, in the castle above the town, King Richard I of England was held captive by Leopold V, Duke of Austria after their dispute during the Third Crusade. Richard the Lionheart had offended Leopold the Virtuous by casting down his standard from the walls at the Battle of Acre, and the duke suspected that King Richard ordered the murder of his cousin Conrad of Montferrat in Jerusalem. In consequence Pope Celestine III excommunicated Leopold for capturing a fellow crusader. The duke finally gave custody of the king to Henry VI, Holy Roman Emperor, who imprisoned Richard at Trifels Castle.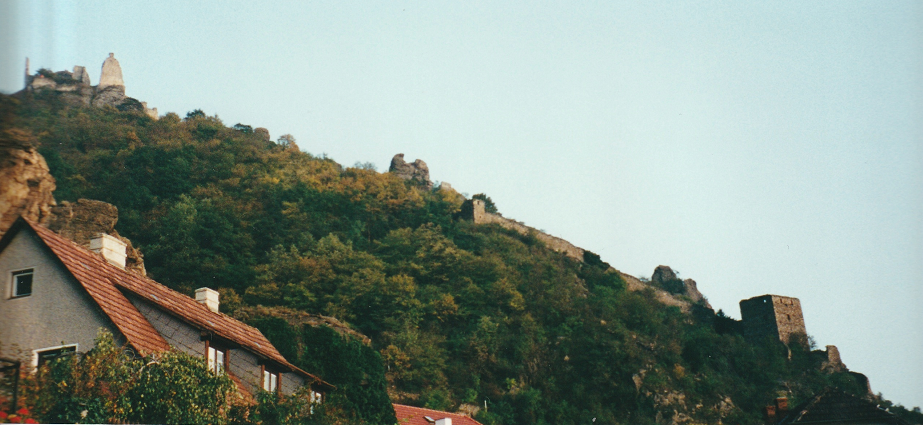 Going passed, I got this shot of the castle from the Donaustraße. Dürnstein Castle was almost completely destroyed by the troops of the Swedish Empire under Field Marshal Lennart Torstenson in 1645.
We must have kept going that evening. I have a reference to Melks an der Donau. At Melks is a Benedictine Abbey that dates to 1089. It was and is huge and beautiful. Interestingly, Melks Abbey has a connection with the Gutenberg Bible.
"The Gutenberg Bible was first printed around 1455. It is bound in two volumes. …
"The earliest known owner of our copy was the Austrian Benedictine Monastery of Melk. We are unsure of its history before it came to the Abbey. The Abbey sold it in 1925 to a London bookseller for about 9800 pounds. In 1926 the bible was purchased by Abraham Rosenbach in New York, who then sold it to Mary Harkness for about $120,000. Mrs. Harkness then donated the two volumes to Yale in memory of her mother-in-law, Anna Harkness."
"The Yale copy of the Gutenberg Bible is on permanent public exhibition at the Beinecke Rare Book and Manuscript Library in New Haven, Connecticut. It has been scanned in its entirety and can be viewed in the Beinecke Library's free and public digital collections."
I have memory of the huge abbey golden-orange and white is the light of the evening sun as we headed west. Next, we mention Ybbs an der Donau where I believe we settled in for the night. I have no recollection of that inn.
Up and on the road on October 15. I'll never know for certain where we were the evening of October 14. My only note about the start of the next day was "Enns River first, then Donau." That implies to me that we were coming in from the east. In that case, we would have crossed a canal and then the Enns River in getting to Enns. However, it is likely that we did not go all the way into Enns. There was a bridge across the Donau that took us over to Mauthausen – the location/name of one of the infamous German concentration camps.
We probably spent the early part of the day touring the buildings and the work site at the camp. Many interpretive displays described the gruesome details of life and death at Mauthausen.
https://www.mauthausen-memorial.org/en/History/The-Mauthausen-Concentration-Camp-19381945
"Mauthausen was mostly used for extermination through labour of the intelligentsia – educated people and members of the higher social classes in countries subjugated by the Nazi regime during World War II." The labor performed by the prisoners at Mauthausen was mainly work in the stone quarries at the camp. In the aerial photo, note the red dot in the lower left. That is approximately the top of a stone staircase you can see as a whitish line that descends into the quarry now covered with grass and green vegetation on the quarry walls. Three pits are now filled with water on the floor of the pit.
The staircase was named "todesstiege" which translates to "stairs of death." If heavy machinery was available to the Germans to help with the labor, it as not used. The protocol was that the laborers would break up their stone and, at some specified time, they would carry it up the todesstiege. I provide a picture which I took of that stairs. It was not an easy trek even without stones. In this picture, Bev waits to the left -- up near the top of the stairs - but not at the top.
See the man in shorts. I always envisioned that workers would be straggling up the stairs like the man but with a pack of rocks at various times during the work hours. However, photos show that the Germans must have got all the workers at one time – each with his load of stones. Then the entire batch of forced laborers would be marched up the stairs. I provide another photo from the Internet. Notice that the prisoners extend to just into the shadow some distance from the stairs.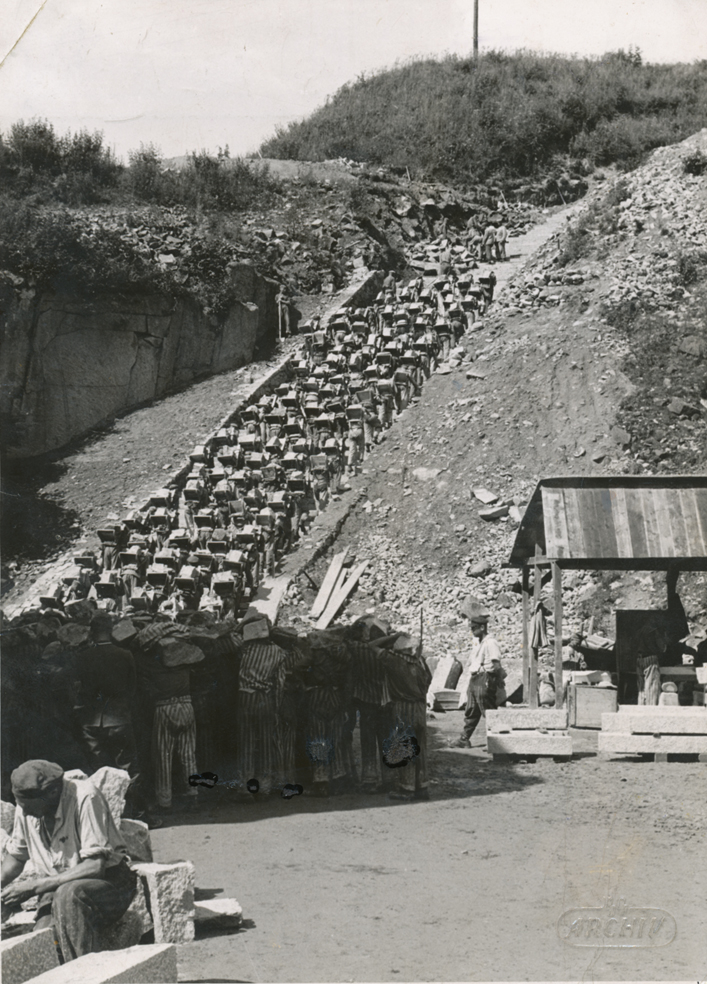 One article indicates that 190,000 persons had been prisoners in Mauthausen in the years from 1938 to 1945. 90,000 died.
The rest of the day was much lighter. Literally, as we left, the sun came out and we travelled to the next destination where we'd stay for the night. Salzburg was 71 crow-miles from Enns. [We never got to Vienna, but Salzburg was fine.]
As I recall our B&B was outside of Salzburg – in the countryside. Our hostess had her laundry out. It was a relatively new house. I note that we had a beautiful room.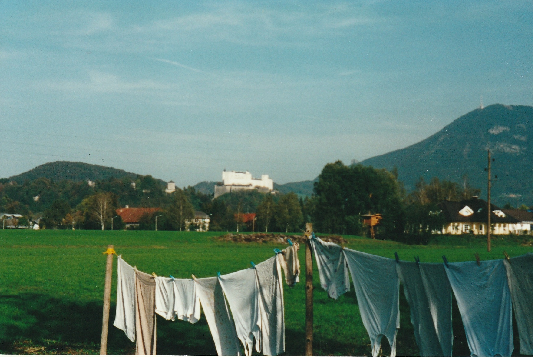 In my notes, I made the comment that on October 16, Frau Reichl must have bought breakfast and stayed to talk. Equipped with that name, I searched in Google Earth for Reichl Pension in Salzburg. It hit on "Haus Reichl" which I am certain was our inn of our stay in Salzburg. In particular, off of our south-facing balcony we could see the old shed which is still pictured on Google and hardly anything but pasture to the mountains.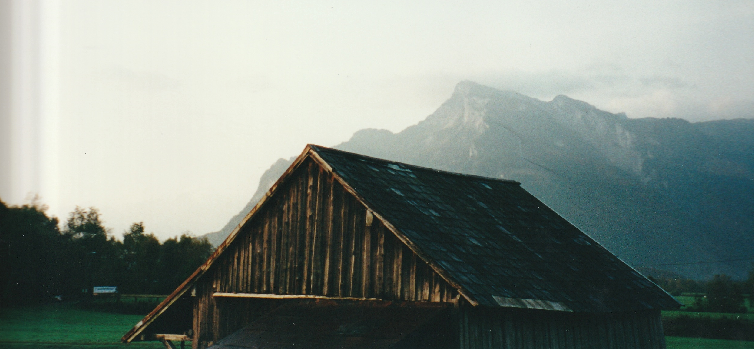 We left our car at the inn and took the bus into Salzburg for an evening dinner and seeing the sights. Mozart was born and lived for some time in Salzburg. His birthplace in German is called Mozarts Geburtshaus. It is in a square, and Beverly and I were able to take our evening dinner in a restaurant that was diagonally opposite to the Geburtshaus on that square. In fact, we had a table window. The picture below copied from Google shows our 2nd floor window in the restaurant and the bright yellow-painted birthplace of Mozart.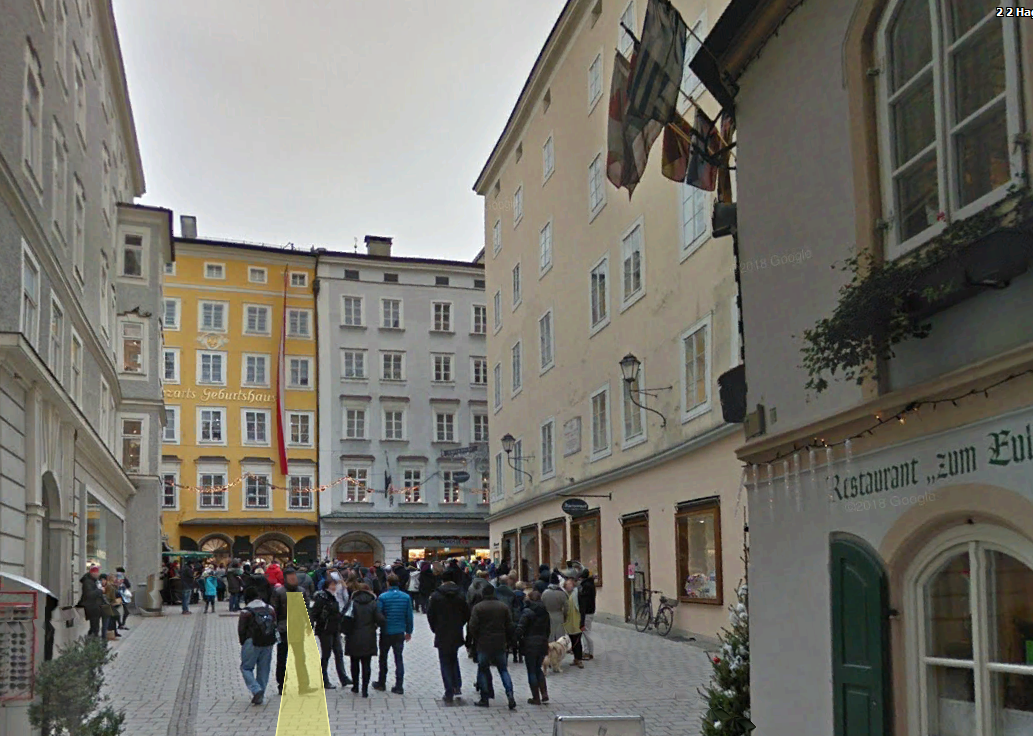 Our evening must have been a little warmer and the crowd that evening was a large group of Asian tourists.
I remember the dinner because we were so dependent on the cash in my pocket that we had to choose accordingly what we ate. It is a far cry from what our experience would be today with the euro and more widely-accepted credit cards.
The notes for that evening indicate that we really covered a lot of ground. Plus those notes remind me of images not recorded. That must have been an exhausting night.
It was sweater weather as I recall. After supper, we walked some distance to the Kirche St. Blasius -- St. Blaise's Church. I believe regular view hours were over. However, we could view the interior from a hall in the back of the church. St. Blasius was built in 1330.
Then we made a considerable walk back from the direction we had just come and visited Salzburg Cathedral under the shadow of Salzburg Castle [fortress] that are features in Old Town Salzburg. I note that the Cathedral had huge statues. The Fortress built in 1077 can be reached by a funicular ("railroad up the side of the escarpment"). I believe we took the trip up, but we did not stay long. I seem to remember that a concert was going on somewhere up there, but we decided not to attend or even locate it atop the castle.
Down among the many plazas and palaces, I took Beverly's picture at an interesting fountain near Kapitelplatz (Chapter Square).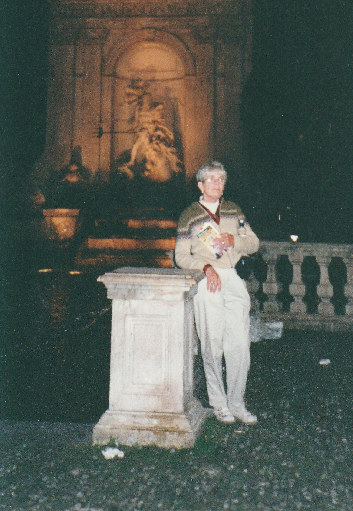 The fountain was lit at night; and with that light and my flash, I was able to get Bev's picture with Neptune in the background. The fortress was also lit, but my poor camera was unable to pick it up on the cliffs beyond the fountain.
"Slightly secluded from the spacious square, Chapter Fountain bears witness to the past: a horse pond was already situated in the center of Chapter Square during the Middle Ages. The new fountain was built under Archbishop Leopold Firmian in 1732 to plans by Franz Anton Danreiter, obviously modeled on Roman fountains. The ramp used by the horses to access the water leads straight up to the group of figures: Neptune, god of the sea, holding a trident and crown, mounted on a seahorse spurting water."
Do try to view Old Town Salzburg on Google Earth. There are many panoramas. The area is just packed with history and sights.
We walked across a bridge and so we can say that we walked across the Danube. There were many bikers out that night. Among the other walker's was a woman walking a "weasel" on a leash. (I would not know a weasel from a ferret or other similar creatures. It was most likely a domesticated ferret.)
Well here we are on October 16. There was nothing dramatic about leaving Salzburg. Heading west we were over the German border very quickly. The first two locations mentioned in our notes were Wilderwart and Furstenfeldbruck. Wilderwart was not locatable in Google, but our recollection was that in 2001 we found there "a clean and renovated church with a small shrine that also looked like a small church." Maybe the tiny church was a stop for a religious procession. The next location, Furstenfeldbruck was 86 crow-miles from Salzburg and about 16 miles west of Munich.
Next stop was Ulm. Their cathedral was not open, and the iron grates kept our exploration of the cathedral to a minimum. I believe we ate in view of that church. Further, the city was decorating with artistic birds like Murten, Switzerland, decorated with porcelain fish.
We stopped at Riedlingen, Germany. The hotel might have been Hotel Brücke. Somewhere in that city we encountered a "wonderful waitress" who was "very friendly and helpful." Notes seem to imply that we stopped for the evening and toured in Riedlingen in the next morning.
In the morning of October 17, we must have gone to the local church. [ This whole trip must be a church tour.] I do not recall that the church itself was ornate. However, it was either during of just after the Octoberfest celebrating the year's harvest. On the church floor, we found beautiful mosaics made from grains, vegetables, and fruits.
I was the "know-it-all" and said that these pictures must be built on paper or plastic sheets with sticky stuff to hold the grains in place. WRONG! The grains were loose on the smooth church floor. The pictures had been built right there – handmade. Don't anyone sneeze!
We left Riedlingen and went a short distance a museum on a hilltop in the beautiful countryside. Very well done. Unforturnately, all the Google articles on the Freilichtmuseum Heuneburg are in German. It must not be popular with Anglos. However, I don't note that we had any problem with the content being exhibited. The museum was a recreation of the lives of prehistoric Celts of this region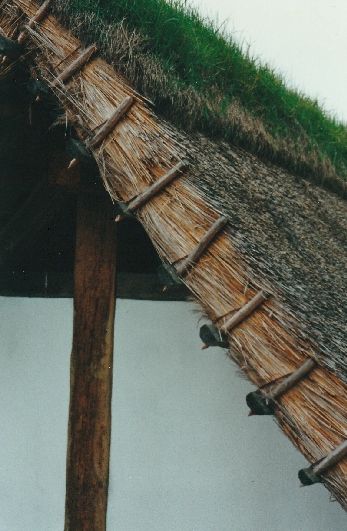 and maybe even this hilltop. Notably, they had a full-sized replica of one of their large living centers. What I brought away from that museum stop was a picture of the composition of the thatched roof.
Notes indicate that we skipped visiting Bussan which is a pilgrimage site of sorts containing a church dedicated to John the Baptist. In prehistoric times, the Celts used the mountain for sacrifices during their fertility rites. This 2500-foot-high mountain with marvelous views was first dedicated in 805 during the reign of Charlemagne to be the monastery of St. Gallen. We skipped it. You might add it to your tour.
Additionally, visiting this area of German taught me that Celts were not just limited to Ireland. The map I copied shows where the Celts lived in the late B.C time period.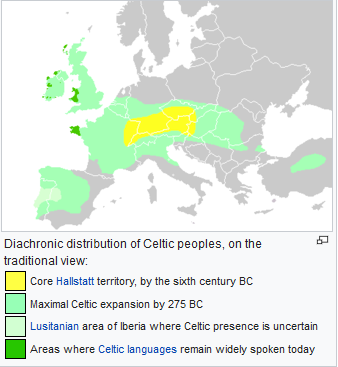 The next stop was in a Mengen parking lot. I had finally seen storks. Many places in Central Europe treasure their storks. Up to now, all I had seen were empty nests atop the tall towers of village buildings. So, I stopped to get this shot. Cute.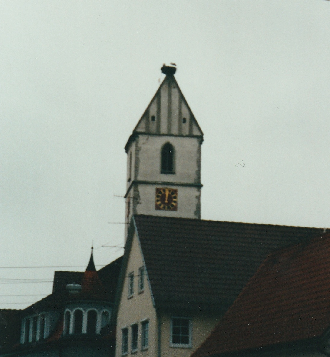 Driving on, we commented about the "bright red flowers in a field" and "a pasture of yellow flowers." The wood piles being stored for the coming winter were immaculate. All of the wood pieces were the same size. Very neat.
Other towns mentioned were Möhringer, Tuttlinger, and Friedenweiler.
We crossed into France somewhere around Freiburg. A short distance from there was Colmar where we found a hotel with a spongy bed and we settled in for the night. That comment about the bed was from memory. My note said that Colmar's "Primo Hotel was a dump."
Colmar had a very substantial historic district. However, we got little time to view it and had to get out early on October 18 to cross France. This last full day, Bev drove 173 crow-miles from Colmar to Damery.
Out of Colmar at Kientzheim, there was a 13th century church(eglise). Next at Kayserberg, there was a castle on a hill. The town was loaded with towers and old buildings. Today Kayserberg is big in recycling of paper products.
Interesting how many French towns have names that seem to be of German origin. Lots of "berg"s, "heim"s, etc. It probably points to some German dominance in the past. Incidentally, I have seen the name of some towns in Google Earth where the name is hyphenated with the first name German-ish and the second French-looking. So to the inhabitants, the town might have two names depending on your national/ethnic persuasion.
This became hilly country as we approached Le Bonhomme. That is thoroughly French! On the way to the town, we were able to see the town in the distance from a hang-glider take-off spot. There were instructions there, but I did not note that any gliders were there.
Hills are called "col" in French. Col du Bonhomme and Col du Bagenelles and Col du Poirier appear in my notes for this day. I believe these were all hills under 1000 meters in height. Cols are popular in bike racing venues. One sees a lot of the name "col" when you watch the Tour de France. Col du ….
Lots of tall pines seem like they'd provide a lot of lumber. There seemed to be more fences in France than Germany.
Farther on was Contrexeville with its thermal roman fountains. Aka a spa, I presume. The small town also sported a casino whose entrance was decorated with mosaic blue tiles. It looks like they are trying to develop something like a theme park or a gardens for walking. Contrexeville's neighboring town, Vittel, had a race track which I believe goes by the name "Pass Hippodrome."
We went through Bulgneville. You can guess where we stopped. The church. The church is trying to get a renovation and needed money. The church was begun in the 13th century. I generously left all my Hungarian, Swiss, and German coinage. I note that the organ must have been built by a Lithuanian. Plus, the relics that were included in the church may have included the leg bones of St. Gereon.
We next went through Neufchateau. New Castle.
And finally, we took a short break to visit Domremy. (Some places you see Domremy-la-Pucelle where pucelle is "the maid".) The church there was the Church of St. Remy. In that 13th century church, Joan of Arc was baptized and received Holy Communion. We visited the church and again we read in the visitor sign-in book the compassionate support of other church visitors for the U.S. people who had just been attacked on 9-11. Would it not have been nice if we had continued to deserve that support rather than marching to war?
So where we were traveling along, we were passing through one small village after another. Domremy, Valcouleurs, Bar-le-Duc (literally translated "bar the duke."), … The village were devoid of industry. Mostly farming. Our notes questioned if we were viewing "hay fields?" There were some fields still green with small grassy plants this late in the season. I even noted this "looks like Wisconsin!!"
But finally late in the afternoon, say 4 PM, we reached Damery. It was the end of a lot of driving. Damery was 93 crow-miles from Domremy. [Incidentally, Damery was only 15 miles from Reims – and another cathedral.] The next day we would drive to Paris and fly out. But what facilities can we find in Damery?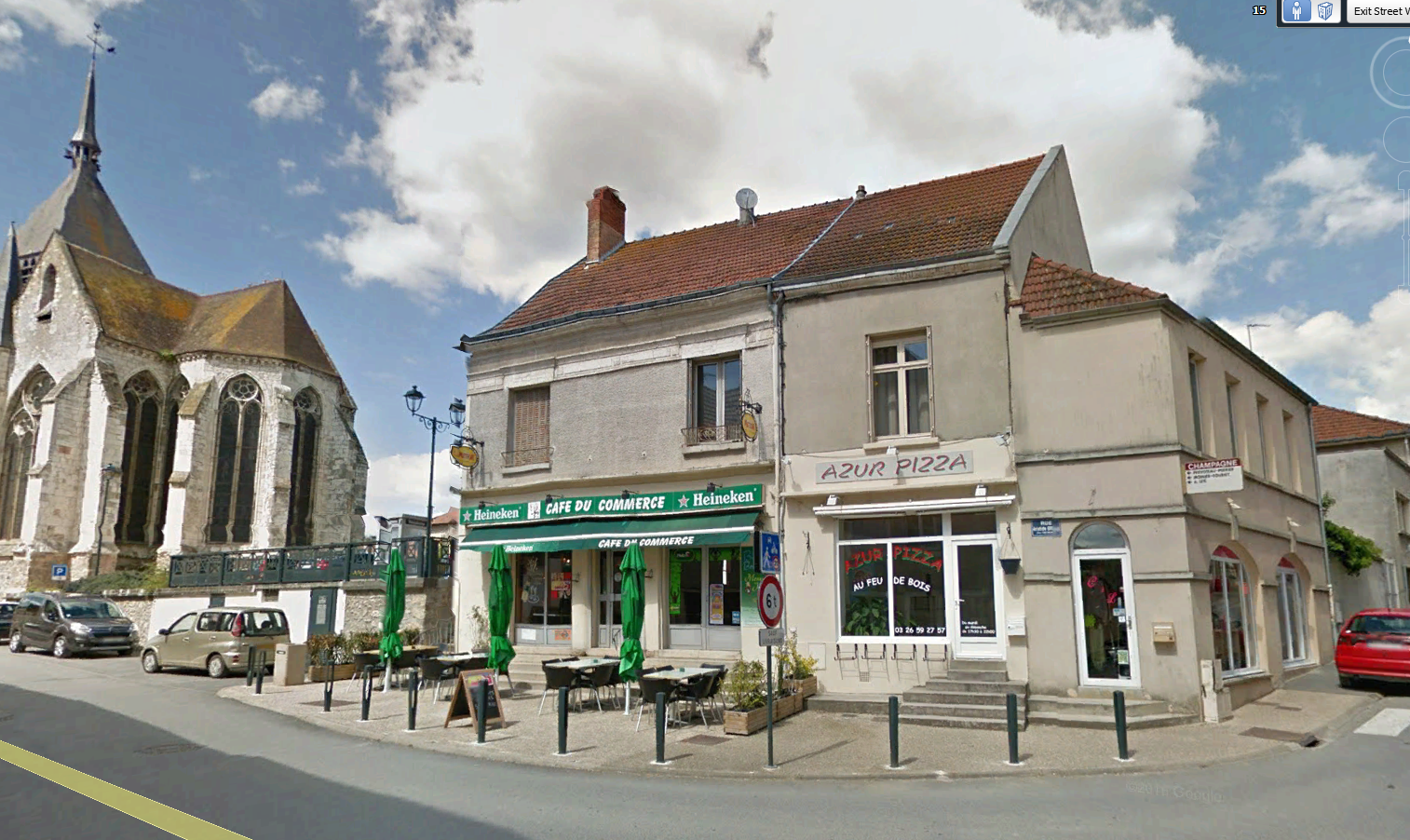 This photo shows where we started looking and – ended looking. We turned the corner next to the Pizza shop (which I don't really remember) and stopped in front of the Café Du Commerce. I went into the center door of the Café. One will never be certain, but I somehow hooked up with the proprietor who might have been the owner. Maybe not. It was the man who was tending bar and did everything connected with our stay. I will always say that he did his utmost to provide us with a comfortable stay.
To the question of whether there was a room available, the answer was "yes." Now remember this is 18 years after the encounter. There might have been some indication that rooms were for rent. That doesn't appear anymore. I don't remember the outdoor tables either, but still we were visiting in October.
The Café on the ground floor seemed just to be a bar with several picnic-like tables for drinking and eating. A kitchen was in the rear. Our proprietor took us upstairs to show us the room. There was one large room with at least one window looking onto the street. I don't recall for certain, but there may have been other rooms. In the large room, I think there were shower facilities – basically a curtain around a floor drain and a spray on the wall. [It was better than the shower facilities in NYC at Sama's.] The toilet was close to the wall next to the shower,but it had no curtain – no enclosure. On the toilet, you were there for all to see. The bed was big enough and occupied the opposite wall away from the washroom facilities. So, the inn accommodations were pretty primitive, but visions of a Ritz Carlton or Hyatt might have been in someone's mind.
Basically, this was a farming village so we had not seen any inns as we drove into town. None surfaced as we drove out the next day.
Bev and I unloaded our things to the room and went for a walk. Only a block away was the Marne River. We strolled down the Quai de Verdun. It was very very picturesque!
Our last big adventure was dinner. When we were ready, we went to the proprietor for a menu. To our surprise, first took us to a room in the back that would have been elevated above the bar area – like a mezzanine. It had a couple tables and we chose one. Now, we were not at all in contact with the bar. Except for the lighting, we were in a romantic and cozy spot. I believe we were given menus and with the help of our waiter – maybe the proprietor – we chose our food and beverage.
Oh, yes. I forgot to mention that Damery was in champagne country!! It was suggested that we order a bottle of champagne which we did. It was Roman Guerre by brand. [Alas, I cannot find it on Google.] The beverage was fine as was the dinner.
The night went well.
In the morning of October 19, we departed Damery. There is one regret. Our proprietor met us as we left and wanted to give us a tour of the ancient church you see in the photo. One, I would love to have viewed that church with his guidance. Two, we were very anxious to get to get to Paris well in advance of our departure flight. [Flight 0543] Three, I was short on my francs. I knew that a tour would require some fee or at least a nice tip and I was again low on cash. [Ah, for the euro or the use of plastic with has developed in the last few years!!!] So regretfully, we had to leave our proprietor frustrated. [That is not nice for a Nine on the Enneagram. However, that maybe why I remember it so clearly.]
We drove off to Paris.
We were returning to the U.S. on Icelandic Air. We flew from Paris to Reykjavík. We landed in a fog. My notes say that we watched for 30 to 45 minutes as we flew by the endless snow of Greenland. Greenland sent its calling cards long before we saw the vast island of snow. We witnessed many icebergs. That was 2001. I wonder what those waters look like now in 2019.