The Europe Odyssey 2
Just to indicate where we are heading, our trek will take us through southern Germany, Austria, and into Hungary from October 5 to October 9. We leave the beautiful country of Switzerland on October 5 after our champagne breakfast atop the Shilthorn.
Shilthorn to Blundez on October 5, 2001
This could be a slow beginning. Maybe not.
My notes mention Andermatt, Switzerland. However, that is a town to the east of the Susten Pass which we crossed. To me at that time, it was super impressive. I called it "awesome beyond belief." [I am not certain if I would have been less impressed if I had had all my later travel experiences in the U.S. under my belt. Our travels after 2001 took us out to the west and Beverly's routes always supplied me with lots of switchbacks and passes and back roads. As a case in point, I just recall Slumgullion Pass in Colorado in 2016. It was impressive at 11,530 feet.]
The ascent of Susten was cold and windy. Our road that took us from Interlachen at 1800 to the top at 7400 feet is shown in Google Earth by the name Sustenstrasse. The switchbacks were very long. There were at least 6 small tunnels. I believe one of my photos (not show) captures 3 tunnels. They were that close together. The photo below just demonstrates the angle of the ascent.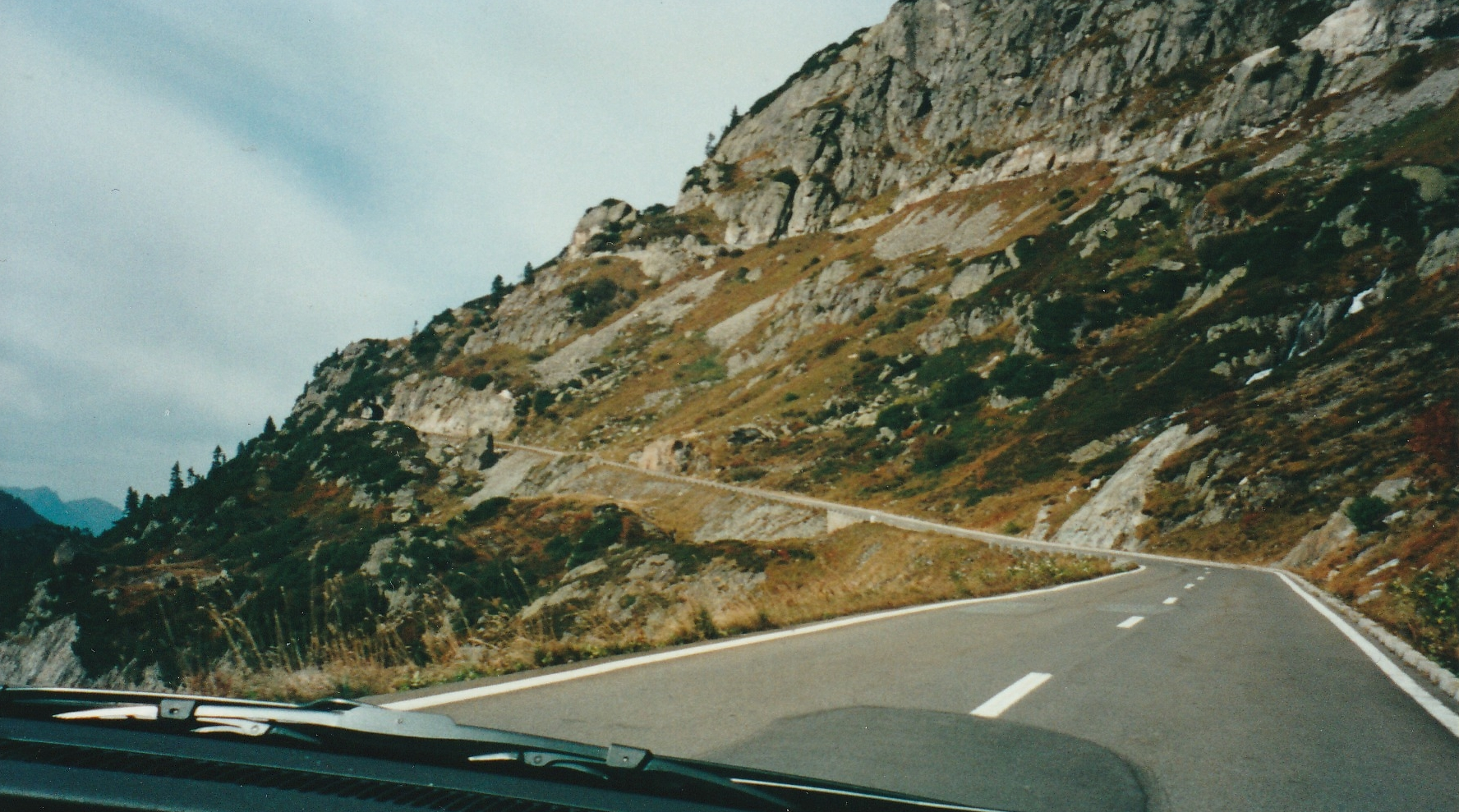 Google Earth seems to have covered most of the roads of Switzerland. However, they never sent a car over the Susten Pass. Why? I noticed that a portion of the Susten traverse was "closed in the winter." However, most of the photography looks like it was taken in warm weather. So, the season was probably not the reason. Aha! Further examination of roads traveled by Google showed that it seems that roads containing clusters of switchbacks were not part of the Google routes. Could it be that some issue is encountered when shooting pictures on switchbacks?

Hum. Would there be photos of only one side of the road with the other side being shots into open space?
[I flipped over to checking out Slumgullion Pass in Colorado. Sure enough, the road over the pass was not photographed for Google Earth images. The road was pictured into Creede, Co to the south of Slumgullion. Then heading up north on Hwy 149, passed Pearl Lakes for 25 miles as the crow flies, and over Slumgullion, nothing was pictured. Just north of the pass at Lake City the photography continued again.]
On the ascent of Susten, we encountered a car by the side of the road as we pulled off for some viewing. No one was in or around the car. As we walk around the rest area, I happened to look across the highway to the shear cliff that rose from the ground about a couple hundred yards from the road. There I detected the white shirt of a lone climber inching his way up. It would be a long climb to the top. How would he get down if he failed to reach the top? Or if he succeeded, it would be a long trek down. So many questions left unanswered by that speck of humanity.
I believe that farther on we passed a woman on a bike heading up the pass. Groan!! She didn't seem to be struggling although the grade would probably have done me in in 10 minutes. When we reached the top, we drove into a sort of travel oasis. Sometime during our visit there, the biker arrived. I spoke with her. To look at her, she wasn't beat. It was just a training ride for her. Something she must have done many times. Wow!!
The picture at the left shows the view at the top of Susten. In the distance you can see the Stein Glacier. I wonder how it is surviving this period of melt for many glaciers throughout the world. The peak is The Gwächtenhorn which is 10,260 feet high. It sports two glaciers – the Stein in the north and the Chelen in the south. In this area there are many peaks and numerous glaciers.
Incidentally, we saw fields of snow fences going up the rocky hillsides/mountainsides along the highway. Some places had substantial earthworks probably for avalanche diversions. Also, there was considerable infrastructure that was intended to protect the roads from rocks rolling down the cliffs.
Finally, we got to Andermatt which was a railroad hub. Oh yes, do you remember the fish that decorated Murten? My notes indicate that Andermatt had decorative bears.
Done with our "ooh"ing and "aah"ing at the alpine scenery, we pressed on to the east. I have notes that at least mention the Oberalp Pass and the city of Flims as we drove east. Checking maps for this writing, I just caught sight of Davos, Switzerland which is important for the international economic summit each year. Davos was 25 "crow" miles from Flims.
Then out of the faint memories in my brain, we must have gone north from Flims because I remember that we went through Liechtenstein. [Good old stamp collecting introduced me to this country along with Andorra in the Pyrenees.] There are several cities in the small constitutional monarchy headed by the Prince of Liechtenstein. Cities include Vaduz, Schaan, Wartau, Buchs, and others. Liechtenstein is the sixth-smallest independent nation in the world. Its western border is the Rhine and it measures 15 miles from north to south. [More info then you need to know.] I believe we never stopped.
We settled into Blundez, Austria for the night. As I recall the hotel was quite nice. It was almost out of our class so to speak. However, we had a wonderful dinner and very nice accommodations. The hotel was the Schlosshotel. We had a match box from there that lingered in our family room for at least 15 years.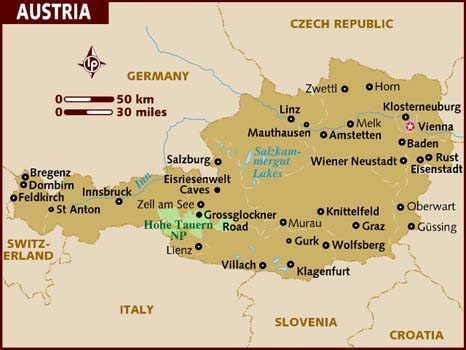 On the map to the left, Blundez is just below Feldkirch. Oh, yes. There is the tiny country of Liechtenstein also, although not marked with its long name, just to the southwest of Feldkirch. They only outlined it.

Blundez to Mittenwald on October 6, 2001
On October 6 we left Blundez around 11 AM. We headed north instead of east missing the opportunity to drive the Arlberg Tunnel which was 8.6 miles. This was a fairly mountainous area with peaks nearly 9000 feet high. We took the north route to the small town of Zurs traveling through a mile-long tunnel to cross the Arlberg Pass. Attached to the slopes of a mountain ( Trittkopf?), the tunnel was sort of a farm shed roof attached to the mountainside. To the left, one could look out to the valley below. There was a grade to the tunnel and I believe we had to drive some of the tunnel in 2nd gear. This was an excellent ski area.
In the town of Holzgau along the Lech River, we noted an "ornately painted building with lots of fluffy scrollwork." I offer this picture of what I was looking at. It was a pink church. There was a sundial over the front door.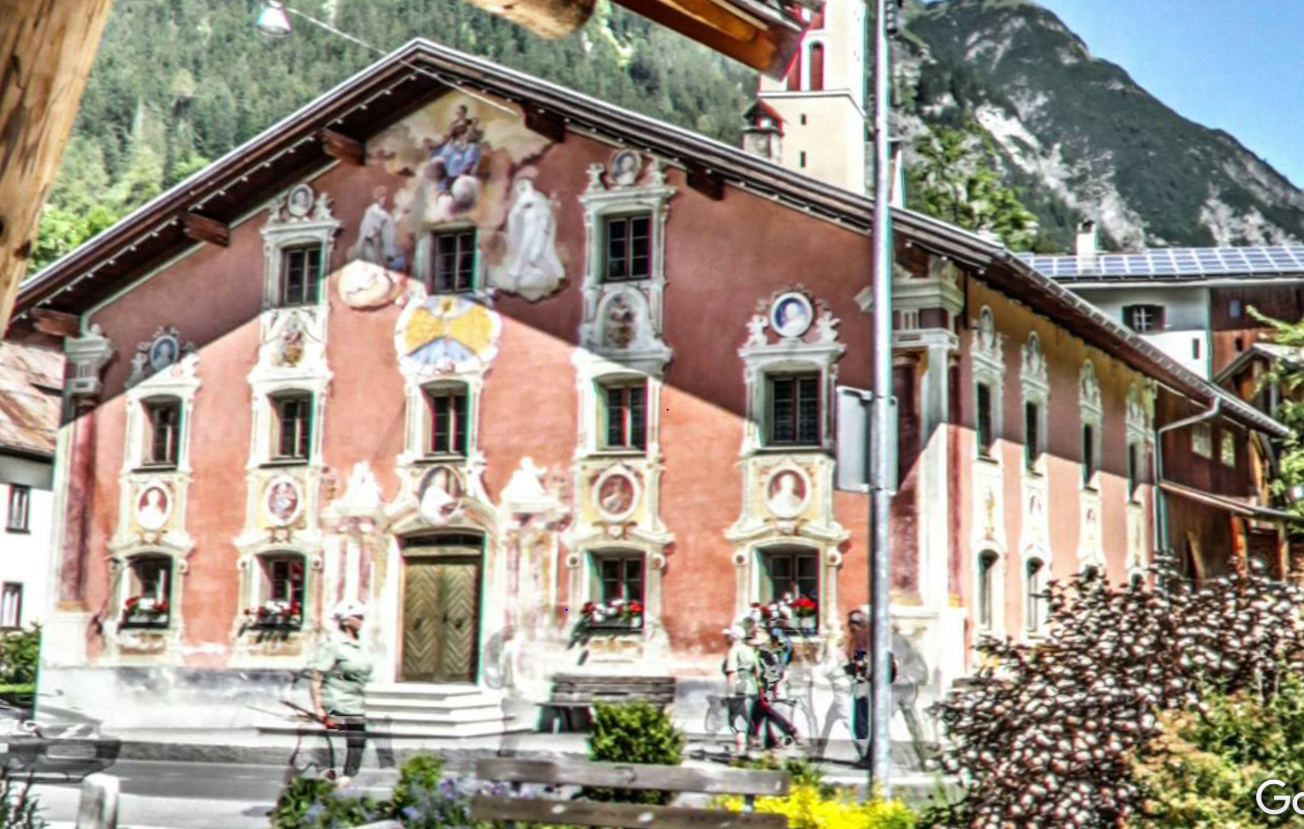 Notice that mountains are always in the background. It was never a straight road. Never level. It was always fun getting "there" and looking back at where you had been. For example, the picture below was taken near Stuben.

We stopped on that sunny afternoon for a bit for "Kaffee und Strouttal" for 90 schillings.
Near Füssen, we viewed several colorful para-sailors flying off a ridge over a deep valley.
Farther down the road, we managed to find the Weiskirch which was the "Pilgrimage Church of Weis." [How did Beverly find all these places?] It was truly ornate in white and gold. I suppose that is baroque. I recall that there were quite a number of visitors that late afternoon.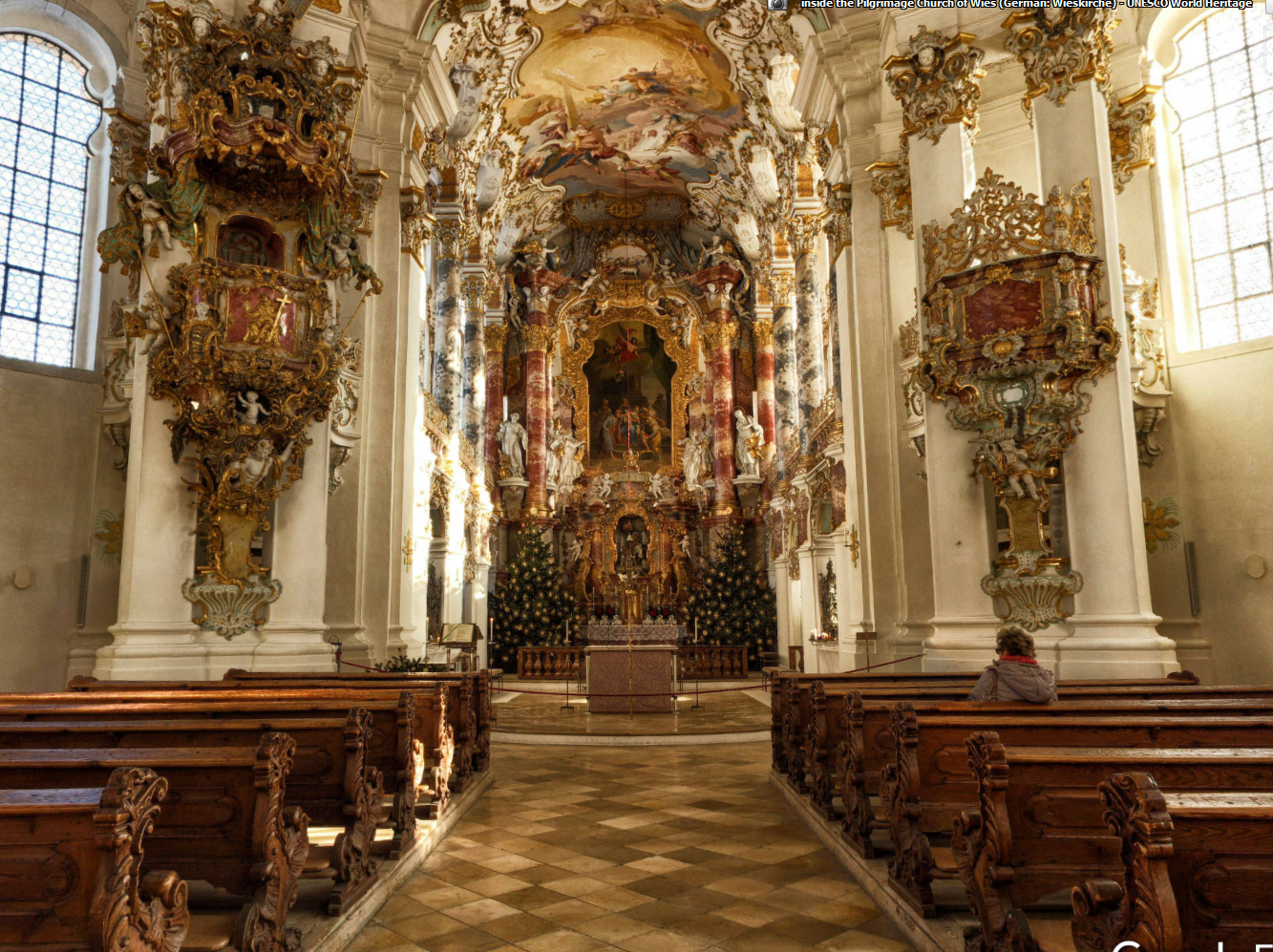 Remember that we were not even a month after "911." More than once, we would look in visitor books in churches and museums and find notes that were clearly prayers and support for the American people. All that positive sentiment and fellowship to be squandered by our future wars and our thirst for oil.
It was Saturday evening when we settled in for the night at Mittenwald. We had supper in a restaurant/tavern. 37 Deutsch Marks. I have a note that says, "Pretzel and Potato Salad." Hum. Not much was going on. The restaurant was nearly empty. But we sensed that Octoberfest was probably beginning.
Mittenwald to Hallstatt on October 7, 2001
The next morning, October 7, we sought out a church for Sunday Mass. The church was very crowded, and we were in standing room in the back. Banners were raised down the main aisle and everyone was dressed in native costumes.
This was a memorable visit. Somewhere in the service, the music turned to some Latin hymn that Bev and I knew. So, as we would do at home we chimed in with the choir. To our surprise, heads turned toward us – maybe not with scowls – but at least we knew we were not supposed to upstage the choir. We quieted down immediately. Different culture. [Probably more like St. Agnes in St. Paul.] There were things you do and things you don't do.
A pew in the church had a small plaque with the name Josef Held. Held was the last name of Sr. Hilaria (now deceased) of the Franciscan Motherhouse at Mishawaka, IN, one of my grade-school teachers.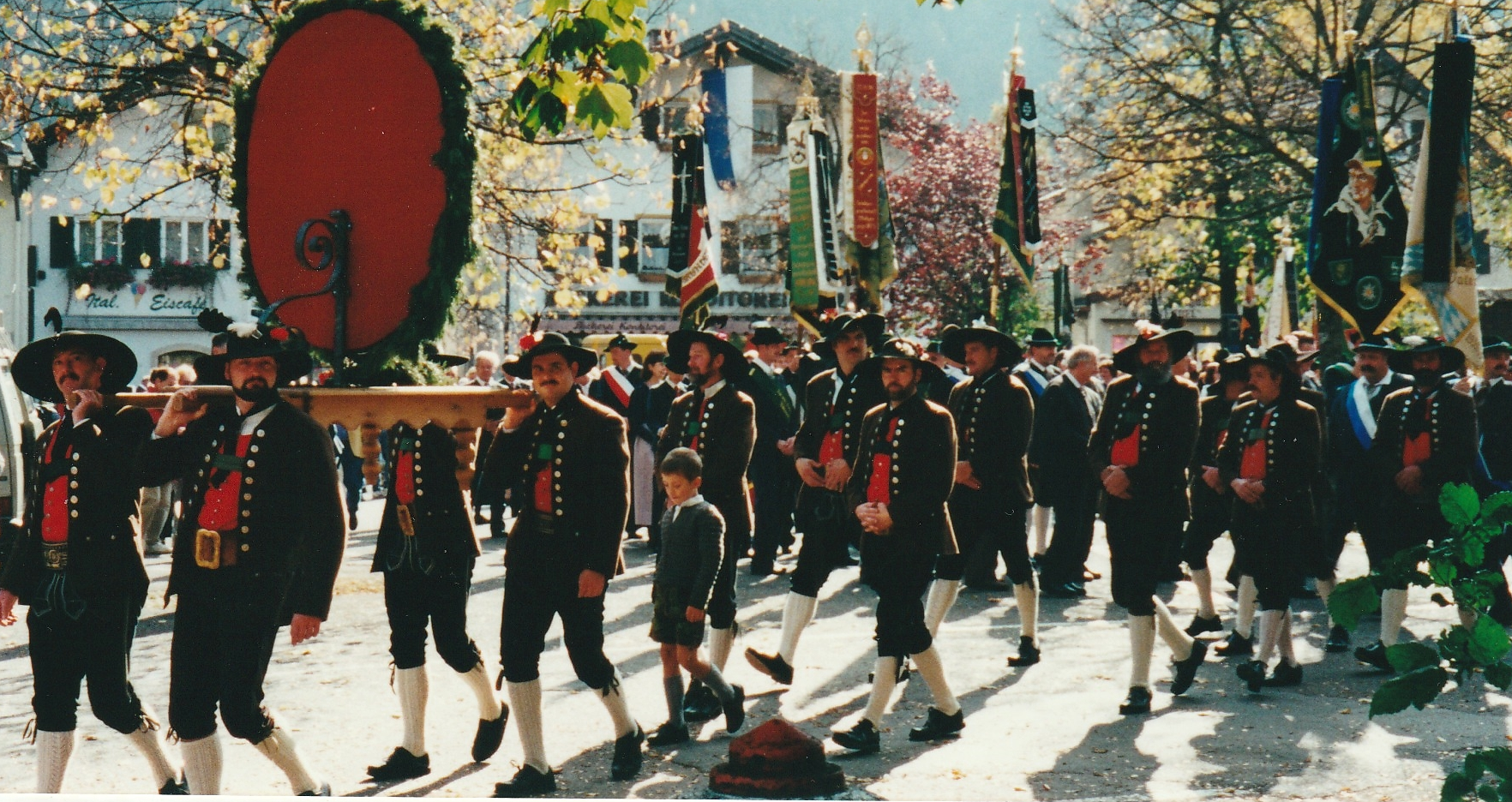 At the end of the service, the Mass attendees moved outside. Banners were ducked to get them through the church doors. Outside it seemed like the entire town processed around to at least three altars where small prayer services were held. Groups were segregated. There were men together, women together, little girls, and little boys. It was quite an event to behold. We did not take note of the feast being celebrated or if it was a festival related to the harvest season.
It was a short ride to Innsbruck, home of the Winter Olympics in 1964 and 1976. Somewhere on the road approaching Innsbruck we mention a 16% grade. Wow. There were also lots of turn offs for trucks that most have been labeled "Not weg!" which could have meant "not a path" or "hardship" in German.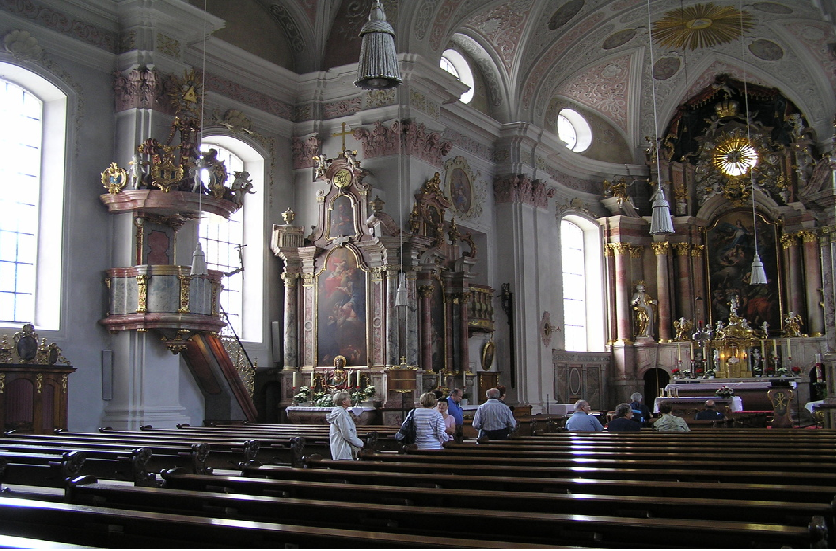 Our next note indicates that we stopped in St. Johann for Kaffee and Apfelstrudel. St. Johann had another beautiful baroque church built around 1723. It had tall pictures, cherubs everywhere, swinging censors, and a two-tier balcony (choir loft?). The right-side altar boasts a beautiful gothic sitting Madonna dating from around 1450.
Enough churches for a while.
We went on through Salzburg, by Gschwand, on the way to Bad Ischl and finally Hallstatt. After Salzburg, the hills seemed to cradle many long narrow lakes. Many towns had names ending in "…see" – German for "lake". Hallstatt is a very famous and often photographed town. It is spread between a lake called the Hallstätter See (4.5 mi long and never wider that 1.25 miles) and the steep slopes of the Dachstein massif (mountain group complex).
Since my best photo does not do justice to the beauty of Hallstatt, I am including from the Internet. It is one of the classic photos.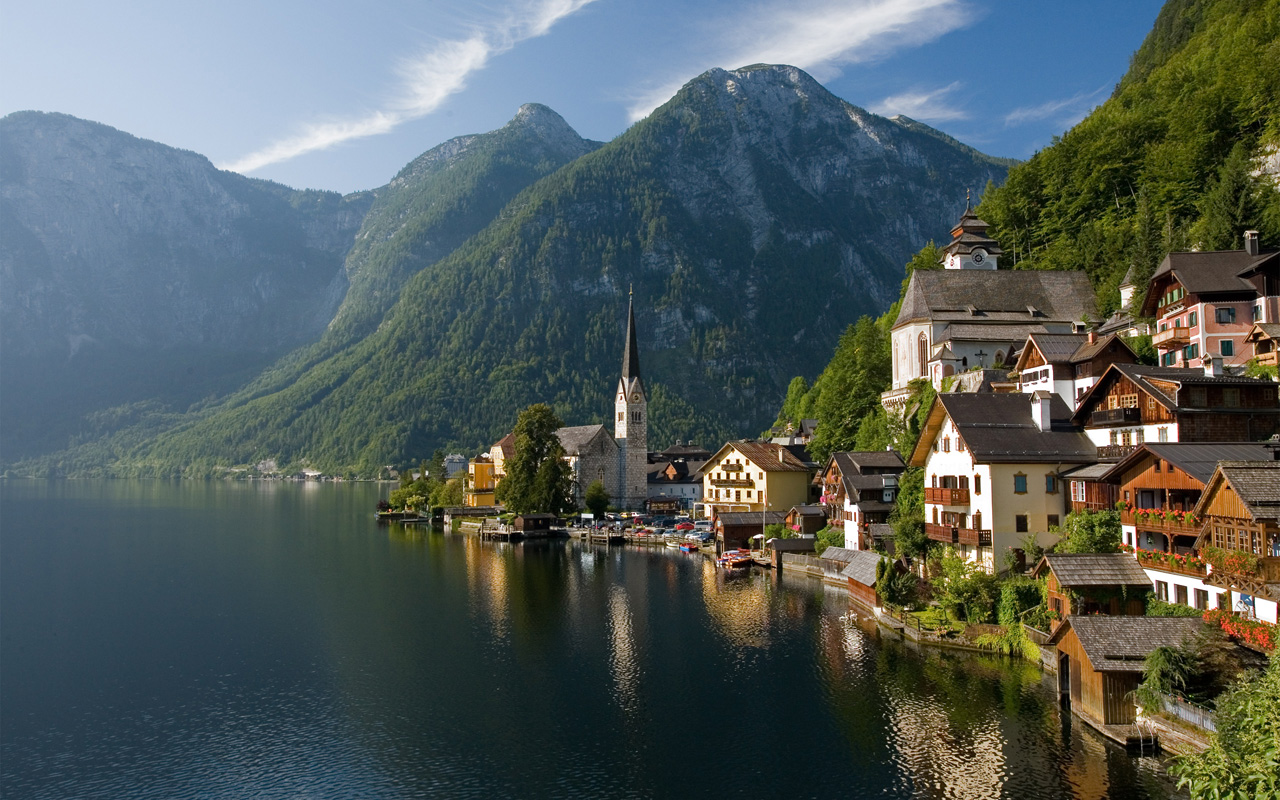 There is very little land for building. No room for parking lots and cemeteries at least. There is so little space for cemeteries that every ten years bones used to be exhumed and removed into an ossuary (a place for bones), to make room for new burials. There were small parking lots, but I seem to recall that we drove through a tunnel in the side of the cliff as we neared the town. At one point just adjacent to the main part of the town, the tunnel open and there was a left turn onto a parking lot. It was like a ledge on the side of the mountain. I believe we parked there, locked the car, and must have elevatored our bags and ourselves down to ground level.
That evening, we wanted to set out by the lake for supper, but it was too cold. So, we sat in the restaurant of our hotel and I had wiener schnitzel. It was very good.
Hallstatt to Rust on October 8, 2001
In the morning, we toured. Hallstatt had long history as a place for settlement going back to 1200 BC to early Celtic peoples. Salt had been mined as the main economic engine since the 8th century BC. Salt was transported 40 km (24 miles) to Ebensee in a brine pipeline since 1595.
Significant archeological digs have occurred since the mid-1800s. Thousands of ancient gravesites have been unearthed and many bronze and iron artifacts. The oldest find was a stone axe tool dating to around 5500 BC. Ancient Roman ruins can be toured under the village and I recall seeing a Vespasian coin that must have been minted around 79 AD. [Vespasian followed Nero as emperor. Vespasian ruled from 69-79 AD and, notably, besieged Jerusalem beginning in 66 AD.]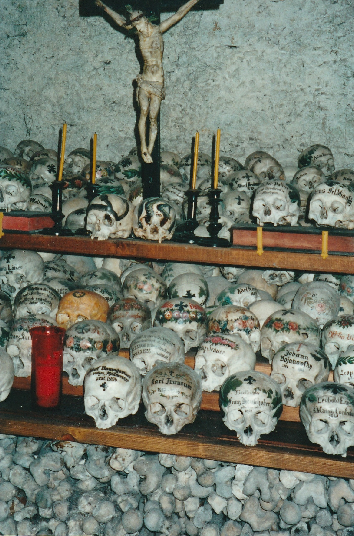 It sounds like some salt is still mined, but tourism is one of the biggest industries now. I remember the church on the hill as seen in the photo. It had two separate worship spaces.
Mentioned earlier, the tradition of exhumation at Hallstatt dates back from 1720. The skulls are kept today in a small Gothic chapel dating from the twelfth century, of which 610 were painted and placed in rows, having the skulls of the relatives besides. Most of the skulls were painted between 1780-1900, by several generations of painters, it is an inherited family tradition. About 40 years ago the Catholic Church has approved the cremation of the dead, so the practice of exhumation was stopped.
Here to the right is my photo taken in the ossuary. [It reminds me of the tower of skulls located in the "Killing Fields" of Cambodia. Unfortunately, there were more skulls in Cambodia.]
We stayed around Hallstatt for quite some time. We finally departed and went east to Rust, Austria. It was about 140 miles from Hallstatt so that was a good substantial. Rust would be our last stop before Hungary.
Just like Vienna, Rust is far to the east in Austria. Eight miles south of Rust was Sopron, Hungary. Thirty miles NW of Rust was Vienna. Thirty miles NE of Rust was Bratislava, Slovakia. So there you have it. Oh, yes. Don't forget that we are only 115 miles from Budapest.
We got to our room in Rust. It looked out on the main square of the little town. I recall looking out to see that the clock on the nearby church was being repaired. Beverly liked church bells and big clocks that ring. (I noted that Hallstatt's village church bells erupted at 6 AM.) Well, we would not have a problem with big clocks ringing here!!
The proprietor of our pension provided us with bicycles, and we were in our element!!! At least, I was, and Beverly seemed to enjoy it also. We biked around in the evening. Rust was a unique environment. It was a village on a long narrow lake - Lake Neusiedl. Although it is currently in Austria, much of Rust's history involves Hungary rulers who dominated the area from the 14th Century until Rust was passed to Austria in 1921.
A travel site writes: " … summer is particularly great for storks and their babies. You can see stork nests on almost every other chimney. Interesting is that Rust has been awarded the most beautiful town of Burgenland since 2001. It is even in UNESCO's World Heritage list." I do nave a good stock nest picture from near the Fischerkirche which we visited the next morning.
We must have had a map for biking or instructions from our host. We left the main part of the village and biked to the lake. View the picture below which comes from Google Earth. Rust and our inn are on the far left. We biked along the white road up to that long white streak (Seestrasse) which is the road to Ruster Bucht which means "Rust Bay." Actually, there was a bike path to the south of the road. That path was ¾ of a mile long.
Out at the end, Rust Bay contains small house (vacation homes?) and marinas. But the intriguing thing about the ride was the dark greenish-brown space to the right and left of the road. Besides the area that is visible in the picture, that

extends over vegetation covers acres of the shoreline to the north and south. Those are reed beds!!! They are not only huge in area, but extremely tall. Taller than corn. As you bike along you cannot see over the tops.
Here is another comment from Wikipedia: "Most of the lake is surrounded by reeds which serve as a habitat for wildlife (making the lake an important resting place for migratory birds)[6] and are harvested in winter as soon as the ice is solid enough.[7] This serves a double purpose, one ecological (removal of the bulk of organic matter that would otherwise decay in the lake) and one economic (the reed is sold for various purposes, mostly related to construction and housing)."
Just north of the road and that small parking lot on the south edge are structures with turn out to be boat houses nestled among the reeds and each having its own access to channels to the lake.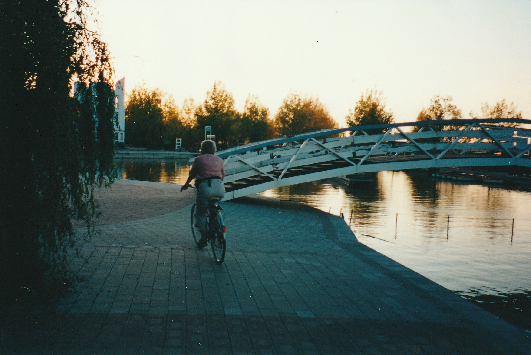 At the end – Rust Bucht – we biked the streets and viewed the boats. To the far right of the picture above is the lake. I just noticed that there must be a pier at the end of the bike path. That white line that proceeds out and turns sharply north is a ferry route. The name of the route is Fahrradfahre Podersdorg Rust. The "Fah…" is "bicycle ride"! Podersdorf is the town on the other side of the lake. The destination of the ferry for bikers. Amazing!!!
We never knew about the ferry when we were there.
Then back at our hotel. We changed and went to dinner. It was another quiet place on the west end of town. It was a late dinner even for Europe.
Back at our room we had noticed that the clock repair must have been completed. OK. So, lying in bed at 11 PM, the clock slowly and loudly (It was across the street.) struck the chimes for 11 PM. Less then 5 minutes later, another clock contained in another tower struck 11 PM. Gong, gong, gong,… The repairmen were not there to synchronize the city clocks. O well, I am a sound sleeper and do not think I was bothered later that night.
Rust to Budapest on October 9, 2001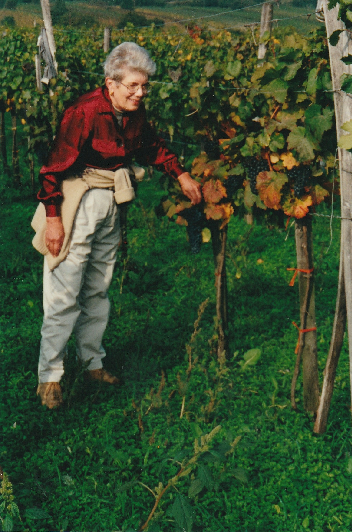 The next morning, we ate and borrowed the bikes once again. This time we biked south. Eight miles south is Sopron, Hungary. I believe we crossed the border later on in the day at Sopron. But a Hungarian prison is 5 miles south. Another Hungarian town closer to Austria and Rust is Fertorakos where the Rust lake is called Ferto in Hungarian. I do not see precisely where the border crossing is located.
Anyway, it was a fairly pleasant and sunny bike ride. Just as I had tried to bike to Belgium from Maastricht in 1994, I tried to bike to Hungary. I believe I stopped before getting there. The road or trail we were riding on was going through a huge area of vineyards. Rust – as so many other places --- seemed to be "noted for their wine." Here was the source. The picture shows Bev examining the vines. I believe that the harvest had already occurred.
Looking at an aerial map, the entire region west and north into Slovakia seems to be full of vineyards.
After the ride we still crammed in time to visit another ancient church called the Fischerkirche.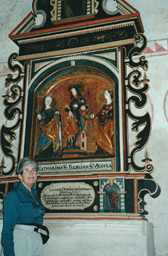 (As you know, "kirche" is church in German.) There are several pages devoted to it on the web. However, all of them are in German. The best I can do is to say that it was probably built around 1400. It seems like we had some kind of tour with an English explanation.
Well, according to notes, we got to Sopron at 1 PM. There I used 20 cents (in whose currency for a w.c.). We were 135 miles from Budapest.
"Thank you" in Hungarian is köszönöm. Some other words in my notes were "plat schnicken mit Marmade." The notes said it was a crepe. However, it translates in German to "plat snails with jam." Hum. Truly, it fails in translation.
My notes for the rest of the day show nothing but short cryptic comments. Field corn, bare fields. Probably corn still in the field and some fields already harvested or plowed. Another pair was yellow earth and come to Marlboro country. Both might have referred to a rather arid look in this western part of Hungary.
More telling was the note referring to a construction site which slowed us up. There was a highway bridge being constructed and we had to pass around on an alternative section. I saw a man transporting cement in a wheelbarrow to a spot on the site. The site lacked the presence of any heavy equipment. I wonder if the cement was manufactured on the site. That image reminds me of another construction scene around a building site several days later. There was a trench about four feet deep. Down in the trench was a young man with a spade. Again, no backhoe or other machinery was around. The trench was obviously the result of physical labor. Construction practices seemed 50 years behind.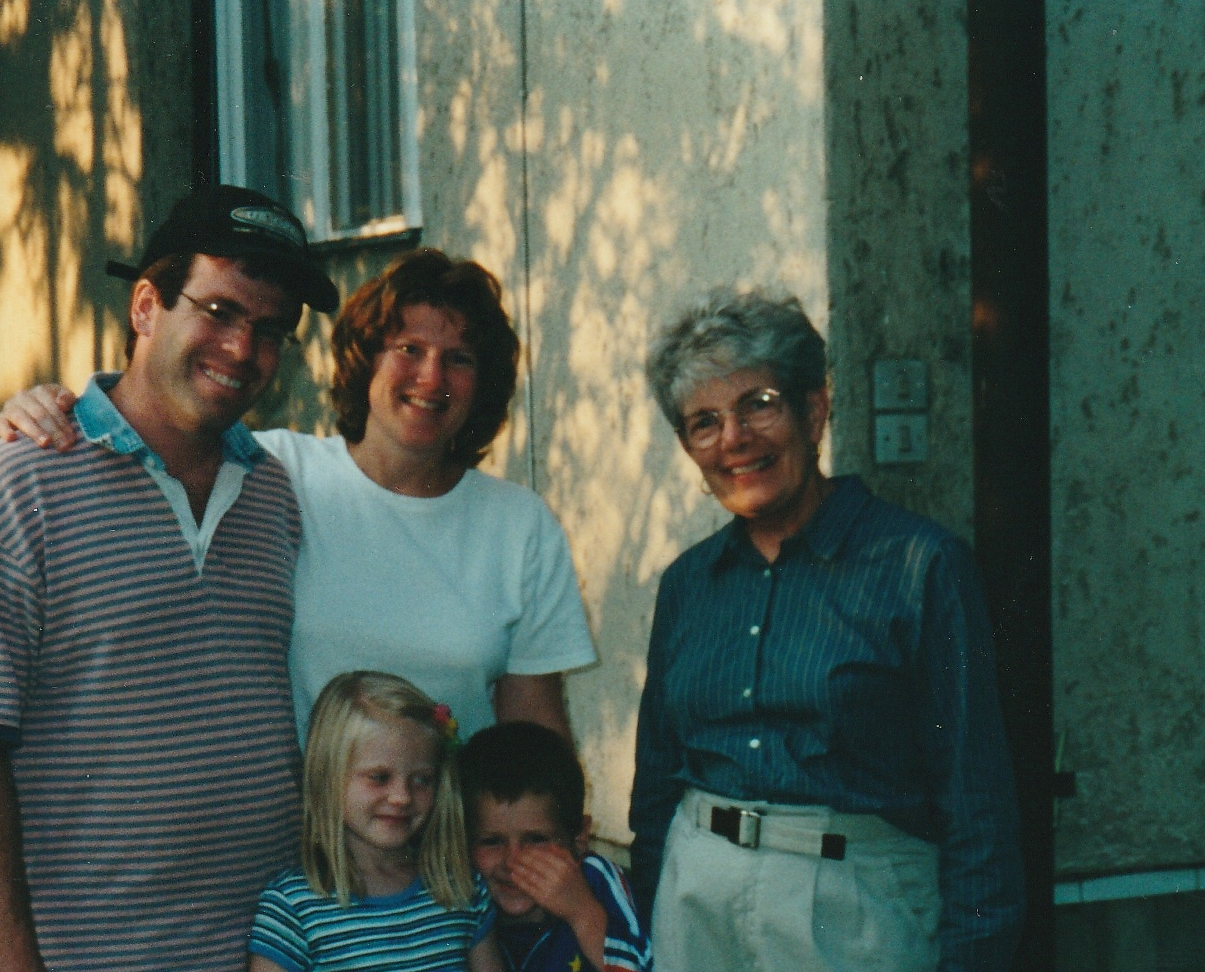 Now my written notes become very brief. We had reached Steve, Dana, Sydney, and Sammy in their rented apartment in Budapest. As I recall, they lived in about 5 rooms and a kitchen in duplex accommodations with their landlord. It was a cozy little house among other such dwellings. The landlord was redoing his yard as I recall.
Two things. I don't have any way of determining where we were in Budapest. (See below.) It was a big city and my addresses and info from my old computers are long gone. My digital records go back to 2006. Secondly, from the notes I did take, we probably stayed with the Muschs from October 9 to our departure on a Sunday October 14.
The family portrait was probably taken on October 9. It should be entitled: What got into Sam?
[A couple days ago, Dana supplied me with the address of the apartment they rented in Hungary. It was: Szabadsag utca 37. 2049 Diosd. Hungary. So, I now can go off to Google Earth to see how things have changed since 2001. But first, I am stopped by noticing so many street names beginning with "Sz". Well, it turns out this spelling has nothing in particular to do with streets. According to Google, Sz is the thirty-second letter of the Hungarian alphabet. Its name is (using English pronunciation with letter romanization) "ess" in the alphabet. It represents /s/. Thus, names like Liszt are pronounced /list/ list. The Hungarian alphabet contains 44 letters!!! [I hope this is interesting to you. It interests me because I was one close to the Internationalization Project in Unisys and yet I might not have been aware of the size of the Hungarian alphabet.]

Diosd, Erd and several other towns formed a cluster of residential suburbs to the east of Budapest. Homes were on small lots. Few, if any, apartment buildings seem to be in the mix. I do see a development with multiple apartment buildings due south of Dana's address. Also, some a ¼ mile away. But primarily, the residences look to be single family dwellings.

If one were trying to compare with infrastructure, one would tend to say the towns in the area were below our standard. [Whatever that is.] Houses were generally set behind a fence or wall followed by an occasional sidewalk and a curb made of concrete bricks not much longer that a foot. Streets were not generally paved curb to curb, even when there were curbs. This was the view of my hometown in Indiana in the 50s.

Most houses look to be stucco and many roofs seemed to be red tile or slate.
In the address, Szabadsag utca 37, the number 37 is the house number. Going to the street and looking for that number, I found 35 and 39 on fences for those two houses. The white picket fence in front of what must have been 37 was bulging with the green of a massive pine tree so impenetrable that no house was visible. I chose to move my viewing position more toward # 35 passed a small garage (which I may remember) and, from that angle, I could see the top of a house. It was probably at the corner of that house where we shot the family picture above. The tree may not have had a good start back then. It has had 18 years to prosper. Just like our white pine in Richfield. ]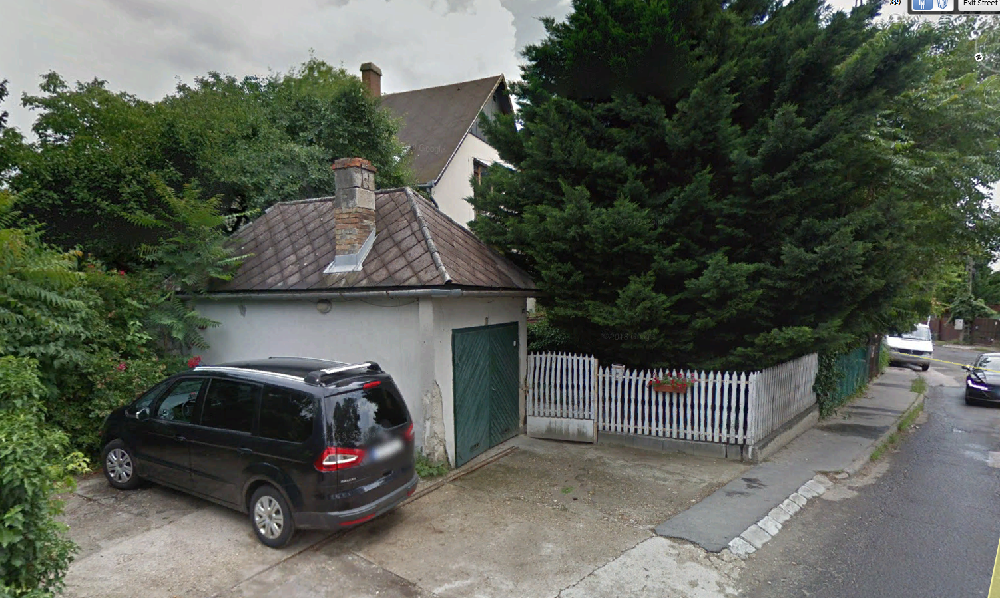 [Check below for the aerial view of the #37 house. My Google Earth yellow pushpin is sticking in the roof. The trees are really just Google graphics which are shown just before getting to the street view.]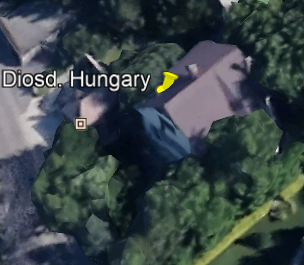 We were very well entertained; but unlike the notes I took while driving, I must not have kept my notebook in hand while in Budapest. Lots of our interactions and sights are lost. Oh, how much better it is today with small digital cameras or iPhones.
One thing I remember was that we did have television on occasionally. It seemed like most of the programming was about the events in U.S. from September 11 just a month earlier. I am certain that was a topic of discussion.
Mostly we talked about Steve's efforts with the Roma and the kid's school. I believe that Dana had a job related to the church work as well.
My last note scratched in on October 9 said that we had ice cream in the evening. It was a good way to celebrate our arrival.
On October 10, my only comment was mention of the dinner that evening. It was a dinner in Budapest at the Café Pan on Vaci utca which translates to Vaci Street and is abbreviated Vaci u. I found it at 76 Vaci u. The street looked like it was generally free of motor traffic. Cars parked on side streets intersecting Vaci. So, the street was full of shops and restaurants. I remember that although it was kind of cool we ate outside and it got rather dark. My supper is recorded as having been the gypsy roast with golash. Interesting why I used the word "gypsy" because it is a nearly no-no word in Hungary. The gypsies or Roma are considered very low class. So, I wonder if the item was on the menu as "gypsy roast" or whether that was Steve's translation. I'll never know. Again, I have the cost of everything, but I do not remember what the name of the currency was. I just have the whole numbers.
Forints are the standard currency. And the current exchange rate as of 4-13-2019 is 1 U.S. dollar is equal to 284 forints. Our dinner bill including tip was 10000 forints which equates to a little over $35 in U.S. dollars. Hum.
On October 11, we went to the Margaret Island Park. The park is on Margaret Island in the Danube River in the heart of Budapest. There are four islands in the river as it passes through the city. Margaret is one of the smaller islands. The largest is Szentendre Island which is big enough to support about 6 towns and lots of farm land. That island is shaped as a crescent as the east-flowing Danube bends to the south. From tip to tip of the crescent is 15 miles.
We explored Margaret Island Park on a four-wheel bicycle/carriage. All four adults had the equipment to pedal. The picture that Steve took memorializes that day. Our ride lasted at least 1.5 hours. We had lunch in the park, but I did not record what we had. [The southern access to the island is Margit hid = Margaret Bridge.]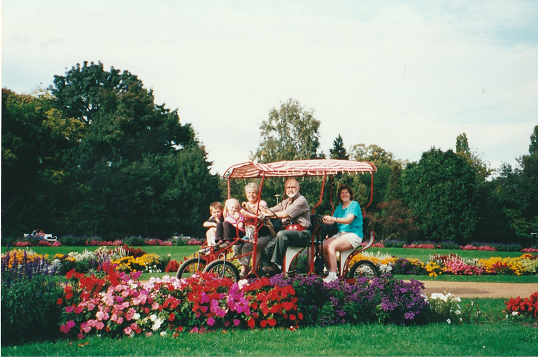 The island was quite a showpiece. In our ride we saw two hotels, the ruins of a church, the water tower, the rose garden, the Japanese garden, a waterfall, and an Olympic pool. Now 18 years later, it might be even more packed.
Agnes Kövacs was the only 2000 Olympics medalist from Hungary. She won the 200 m breaststroke.
Just look at those flowers and this was October!!!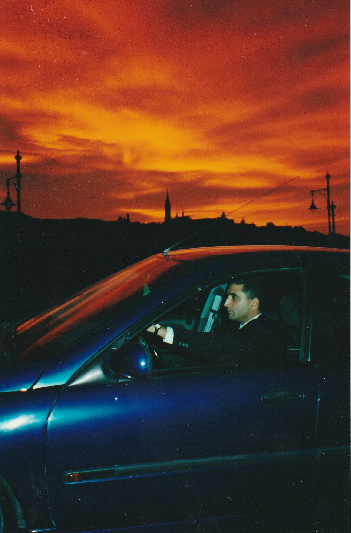 I believe we went back to our house and then Steve drove on an errand before dark. I rode with him. The sun was setting. I took a picture of the sunset because it was an unbelievably bright orange. I hope the gentleman in the next car did not mind seeming to be the centerpiece.
I hope I am not being cynical, but one wonders if the color did not indicate industrial pollution. Just a thought.
From my newly found notes, we did even more on this 11th day of October. We went to a folk music presentation in southeastern Budapest in a district called "Corvin setany." [A king of Hungary was Matthias Corvinus in the late 1400s. Corvin setany = Corvin promenade.] The group name was the Hungarian State Folk Ensemble.
Then we ate in Budapest and I had paprika chicken. Paprika is to Hungarians and chilis are in our Southwest. Paprika is often associated with Hungarian cuisine. Oddly, the peppers for paprika came originally from Central Mexico and were introduced into Europe by the Spaniards in the 1500s.
October 12 is titled "Budapest tour" in my notebook. That means that it was busier than October 10 and 11. Maybe?
To begin, maybe I should mention something about me and Hungary. As a child, I liked Hungary postage stamps. They were generally crisp and shiny, if those words make sense. Many of them displayed a crown which was called the crown of St. Stephan [Szt. Ishvan] who created Hungary and ruled for 40 years or so back in the 11th Century.
The jeweled crown of coronation is referred to as the crown of St. Stephan although it is thought to have been created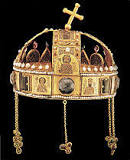 maybe a hundred years after Stephan died. To be a true King of Hungary, one must be installed with that crown. The most distinctive feature is the bent cross atop the crown. It is believed that it could have been accidentally damaged in the 16th Century and never repaired.
So, it looks like we first visited the Basilica of Szt. Ishvan. That is on the east bank of the Danube. I just remember two things there. There was a beautifully carved stone statue of St. Rita of Cascia. Although I do not find a connection between her and Hungary, the sculptor was Ernö Jalics, a Hungarian, who carved the statue in 1940 and who died in 1964. [My interest was the fact that I knew a Hungarian who immigrated to the U.S. and was a computer science professor at Cleveland State in the 1990s. My friend's name was Paul Jalics.]
The most prominent relic to be seen at the Basilica was the mummified right hand of Saint Ishvan. There is a story behind that, but not for this document.
Also, the Parliament of Hungary was right by the river on the east bank just south of Margaret Bridge.
Next, we moved back to the west side of the river. There was a lot to see there. We quite possibly got to the other side by crossing the Chain Bridge (Szechenyi Lanchid) as shown below. One can see the Basilica of St. Ishvan just beyond the bridge.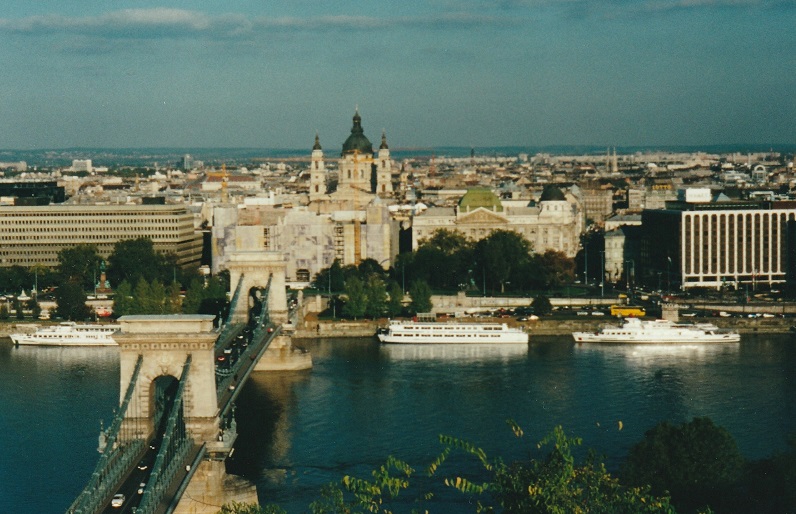 Across the bridge, one encounters many buildings that are national galleries. Those galleries incorporated, among other buildings, those referred to as the Castle of Buda. [Remember that Buda was originally a city on the west side and Pest was the city on the right bank of the Danube. They were united in 1873.] Also the Sandor Palace.
After crossing the Chain Bridge, we went about a half-mile northwest to Castle Hill. There we found another beautiful church called the Church of St. Matthais shown below. The original church was built around 1050. It was destroyed by the Mongols in 1241. The current church was constructed in the later 1300s.
One would think that the Mongols would be enough. But in 1686 after 150 years of occupation, the Ottomans repulsed from here by a coalition of countries – Russia, Poland, Venice, and Hapsburg Empire. During those occupation years, Matthais Church served as the main mosque by the Turks.
After WWII damage, the church was restored by investments in the 1950s, 1970s, and 2006-2013. Oh yes, the diamond pattern roof-tiles were added in the late 1800s.
My poor photography makes it difficult to see that there is a column in the fore-front of the picture and in front of the church. It is by that column that King Charles IV of Hungary took his Coronation Oath on December 30, 1916. Then the world changed again. A lot of history occurred in the next few years. Charles died in 1922.
[https://en.wikipedia.org/wiki/Charles_IV_of_Hungary%27s_attempts_to_retake_the_throne ]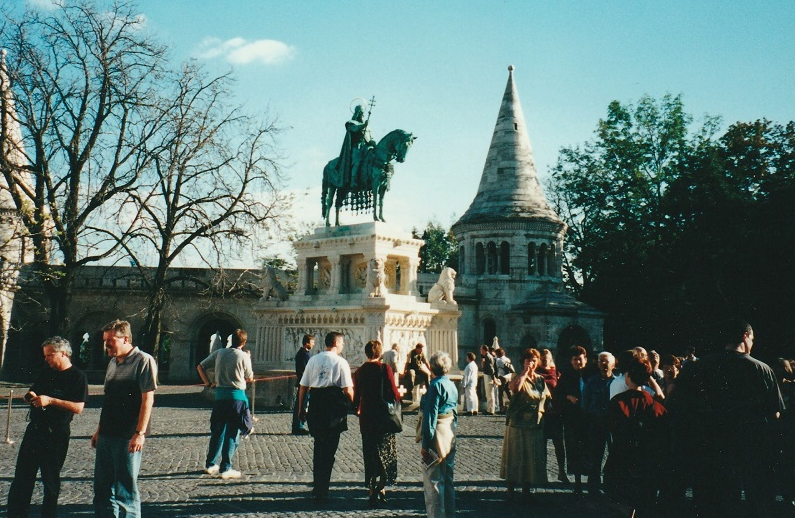 A better photo is also from the plaza outside Matthias Church. There is a magnificent statue of St. Ishvan.
Going over the turret and wall, one can look out at a panoramic view of the Danube and Pest. I believe that my photo of the Chain Bridge came from that elevated spot.
Again, there is Beverly in the aqua blouse looking toward Ishvan.
Way back in the trip probably on that night where we visited Vaci U., we visited a "market place" in downtown Budapest. I don't know its origins, but it looked like a refurbished train station which it was not. Maybe in some time in the past, it was an attempt to provide a mall. It is referred to as Central Market Hall and it is at the south end of Vaci U. [The Great Market Hall or Central Market Hall (Hungarian "Nagyvásárcsarnok") is the largest and oldest indoor market in Budapest, Hungary. It opened in 1897.]
https://en.wikipedia.org/wiki/Great_Market_Hall_(Budapest)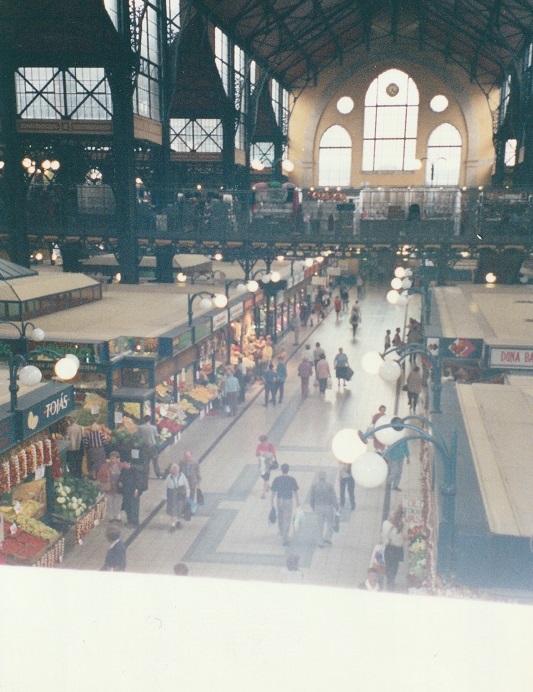 I show this now because on our last full day in Budapest, October 13, we did visit a modern upscale mall. The location in Budapest is called the Campona. It is a large complex on the west side of the Danube and about 6.5 miles from downtown Budapest. It looked modern. At least one section of the mall was owned and/or operated by Tesco which has 14 or 15 locations in southern Budapest. The Campona was opened in 1998. There are plans for extensive refurbishing unveiled in 2018.
My notes from October 13 pointed out that the Tesco store had "big wide aisles." Plus, helper employees were on roller blades. Shopping carts were available to be taken from the parking lot. One just had to insert money (a deposit) and a cart was released for use. Upon returning the cart, one just had to plug it into "the chain" and the deposit would be released. Hum. Maybe this was a variation on how one can rent bikes in Minneapolis.
The only reference to Hungarian part of the time from October 14 speaks of Mass at a convent/monastery. It was possibly Cistercian. Maybe Regina Mundi in Erd, Hungary.
Well that visit brings up a situation that interests me. We were late to Mass by almost an hour. I believe they were finishing up. Maybe there was a long sermon. We had misinterpreted a Hungarian idiom. Our English language is loaded with idioms and so are French and German. However, this one has to do with a certain expression in time.
Get ready. "fél tíz"in Hungarian is literally "fél" = ½ and "tiz' = ten. So, it says to us interpreters: ½ 10. Bev and I believed the start of Mass was 10:30 AM. However, the idiom is interpreted by Hungarians as "half into the tenth hour." Just like we say that 950 AD is in the 1st Century, and 1500 AD is in the 2nd Century, 12: 30 AM is in the 1st hour and 1:15 AM is in the 2nd hour. The 10th hour goes from 9:01 AM to 10:00 AM. Hence, ½ into the 10th hour was 9:30 AM!!!!!! Oh well, we are always learning.
As a last example, 10:45 is háromnegyed tizenegy three quarters into the eleventh hour.
It seems like we went back to Steve and Dana's place and then got on the road for our return to Paris. The Muschs had done a wonderful job of entertaining us all week packing every day with memorable sights and events.