March 7, 2017
Hamilton is a Broadway play which has been playing to packed houses for months now. I just thought I'd name this bit of Bailey history "Hamilton" because it involves some items related to my Great-Great-Aunt Mary Bailey who married a man named Thomas Hamilton who was a miller and operated mills in Momence, IL, Union Mills, IN and later in Minneapolis, MN. This Minneapolis connection is also of interest to me.
Let's place Mary in the family tree. John Bailey (Great-Great-Grandfather) who appeared on the scene about 1832 married Matilda Bryant in 1833 in the vicinity of Door Village, La Porte County, Indiana. Their first child was Mary in 1834. Then came my Great-Grandfather Josiah in 1835 and finally Simon T. in 1838.
After leaving LaPorte County, Indiana, at least Josiah and Mary went and lived in Kankakee County, IL. Then, whereas Josiah and Simon ended up on Indiana farms, Mary seemed to have married Thomas Hamilton and gave birth to their 4 daughters – Clara, Alva, Helen and Leona – in Illinois, probably Momence. I have very little additional information about the Hamiltons except that they eventually went to Minneapolis and were there at the turn of the century.
In connection with the Hamilton's last years in Minneapolis, I have three legal documents which have ended up in my Bailey archives. A lease, a mortgage, and a deed. It turns out that Josiah Bailey died in 1902 and Levi Elroy (Roy) became the administrator of Josiah's estate. In early 1903, Roy and his wife, Emma, must have taken a trip from Indiana to Minneapolis to settle some real estate matters with the Hamiltons.
I expect that trip was made by rail. The Monon Railroad (see map in at end of this paper) stopped in Lowell, IN to pick up passengers. There were lots of stops in those days. I believe there were 22 stops between Lafayette, IN and Chicago. I doubt there was any section of a rail trip through Indiana, Illinois, and lower Wisconsin that could be called "express". However, travel through the vast woodlands of Wisconsin could have been faster with less stops. That is just conjecture.
All the documents were signed on March 20 and 21, 1903. Hence, the travel to Minneapolis was on the cusp between winter and spring. Who knows, they may have seen Minnesota snow. My Dad, who spent a winter with us in Minneapolis, never commented about this trip of his parents. Or I don't remember. Pa was only 8 years old then.
On March 20, the order of business was the creation and signing of a lease. The description of the property is more readable in the warranty deed. However, we see that the lease gives Mary and Thomas a lease that would continue as long as either of them were alive and terminate when both were dead. The only charge was one dollar per year.
At this point, we can check out the signatures on the lease. Some title company worker or a lawyer penned the words on these documents. Grandma Emma signed as a witness on the document. Levi, on the other hand, signed as a lessor. I don't remember seeing Emma's signature before. Check the "E" in Levi E. Bailey. My granddad was going to run for treasurer of Lake County soon. His signature was quite elaborate on his campaign posters. I remember that "E". He must have practiced it a while. Mary and Thomas Hamilton sign as lessees. Mary's writing is clear. However, I believe the signature of Thomas shows the signs of his age. Rather shaky with the pen. We know that he dies after 1903, but are not sure when. We know that Mary dies in 1907.
Oh, yes. Notice that a second lessor was Levi's brother, George B. Bailey, who probably stayed home. No signature of George. He ran the Lowell Bank at that time, I believe.
I believe the lease might have been tackled first in order to give Mary and Thomas the confidence that they were going to have a place to live considering other matters to be resolved on March 21. On second analysis, having reexamined the documents, maybe the lease and deed were both written up and notarized on March 20. The satisfaction of mortgage was dated March 21. All three docs seem to be recorded with Hennepin County on March 21. So consider this scenario. Yes the lease would have been important to the Hamiltons. Do that early. But maybe the deed came second and the Hamiltons thereby sold their property to their nephews, Levi and George, for the sum of $1700. From that money, the Hamiltons paid the $1000 as recorded by the satisfaction of mortgage. That sounds like a reasonable scenario.
Now according to the Satisfaction of Mortgage document, Thomas and Mary gave a mortgage to Mary's brother, Josiah, in 1892 in exchange for the amount of $1000. So that mortgage needed to be settled, and Thomas and Mary would pay $1000 to the estate of the deceased, Josiah. If the property had been sold to Levi and George Bailey on the previous day, settling the mortgage by the Hamiltons was just satisfying the outstanding debt – whereas normally it would have provided them ownership to the property. As administrator of the estate, Grandpa Roy accepts the $1000 and acknowledges it by signing the Satisfaction of Mortgage document with Emma as witness and G.L. Fort serving as notary.
A question I have is: was there an interest rate on this mortgage – or was this just a free line of credit extended to Mary by her brother Josiah? The mortgage gave the ownership to Josiah until it might be paid off by Mary.
So after March 21, the Baileys leave for Indiana and the Hamiltons return to their remaining years of life in Minnesota. This is the end of the early Bailey involvement in Minneapolis.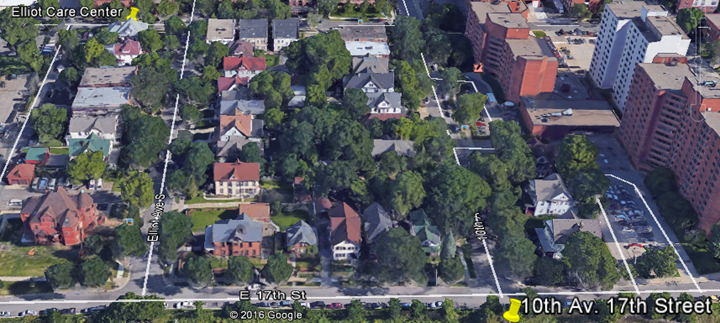 There is still another slightly odd connection between the property of the Hamiltons and my activities in Minneapolis. Consider first the legal description on each of the three documents. One part of the legal says the property is in part of Lot 1, Block 6 in J. S. and W. Elliotts addition to Minneapolis. Later in the legal, the property is described as on the corner of 10 Ave. So. and Seventeenth Street. Unless we had the plat map for the Elliotts addition, we cannot still not pick the precise corner – NW, NE, SW, SE. Above is a picture that contains what remains of the 10th Ave and Seventeenth Street intersection. The SE and SW sections are gone. The south portion of that intersection are now part of the I94 westbound lane.
For at least the last 20 years, I have gone to this area of Minneapolis every two weeks on Thursday nights. I have been blessed with the opportunity to be able to provide a short prayer service/Bible study at Elliot Care Center. See that home in the upper left of the photo. The two remaining corners of 10st Ave and Seventeenth St. intersection is at the lower right. Note the huge red brick homes that still remain and were known to the Hamiltons.
Appendixes below include the three documents and an imaginative map of the Monon Railroad.
The Full Lease
The Full Deed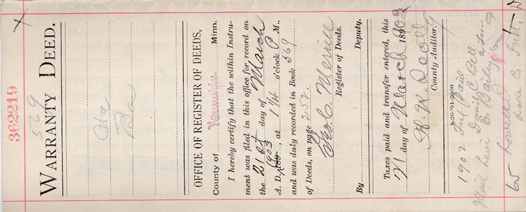 Other side of Deed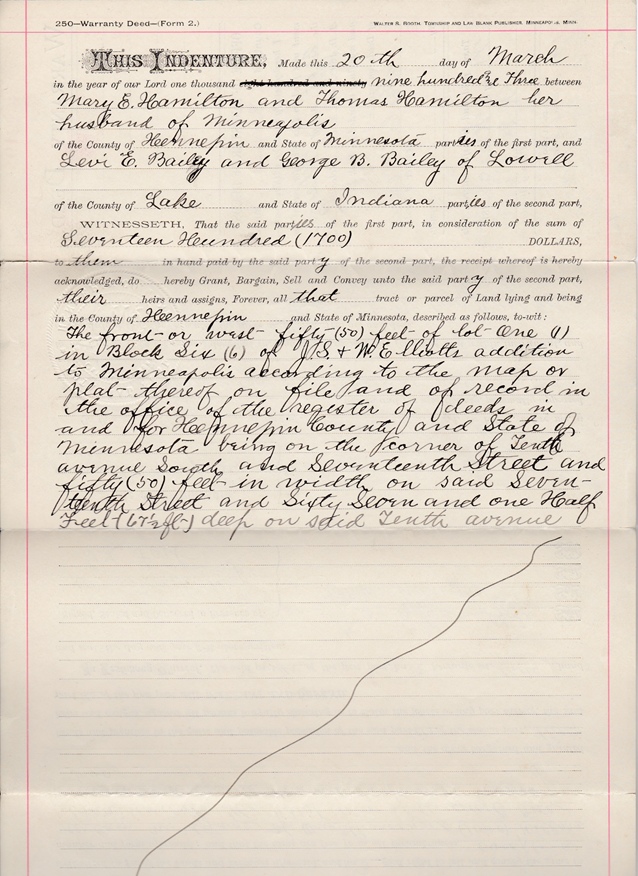 Indenture side of the Warranty Deed – Nothing farther down the page. Good legal.
Full Satisfaction of Mortgage
Monon Railroad