Sperry/Unisys Raise Notices:
In this late winter time when there is still lots of snow on the ground, I am looking for things to do. Can't put the wren house yet. Can't work on the back step? [Maybe that is good.] Without biking, all I do on a regular basis for exercise is to walk.
Well, the other day, I started cleaning our storage boxes. In my work days, I saved a lot of files. I have at least four or five boxes in the basement. They are jammed full of manila folders. Each folder contains about an inch of 8 ½ by 11 sheets of paper. At one time they were precious. Even if they were not serving as a frequently-visited reference of my past activities, all that paper served as a security blanket. I did not throw much away. More than once, I was able to retrieve some obscure memo or a note about activities done maybe a year or two prior.
Just like now, I have my file cabinet full of medical files going back to 20xx and notes concerning PC purchases covering about 6 old machines, the old basement boxes contained notes on work at Sperry, Unisys, activities of Centering (back to 1994), calculus teaching at Anoka-Ramsey (1978)… Come to think of it, my file cabinets could use some cleaning-out after the old boxes are retired.
Well, I came across a set of letters that interested me. I left teaching in St. Paul in the Spring of 1979 to begin working at Sperry. What I found was this set of letters which I received almost yearly to announce my wages for the coming year. The letters interest me for several reasons.
In a way, I believe those letters came to me during the heyday of the mainframe computer industry. Although there was the competition of IBM and CDC (Control Data), sales were good. Lots of other industries worldwide were coming on-board and becoming computerized. So, my salary increased quite nicely of at least the first few years. Sperry had to compete for the existing talent and switching companies – at least by the younger employees – was common.
Yet notice that there was a slight [maybe dramatic] thing occurring. In 1987, the letterhead changes from Sperry to Unisys. In the period of the late 70s and early 80s, one of the competitors – CDC – was beginning to close plants down. It was putting its money on stressing educational uses of computers and that wasn't working. IBM, on the other hand, introduced the IBM Personal Computer (IBM PC) in 1981. That signaled that IBM marketing envisioned computers as having a much wider applicability. That idea was revolutionary. That marked a dramatic turning point in the industry. I remember that Sperry tried to follow with its personal computer, but it was too late.
Probably trying to get control of the situation in the mid-80s, Burroughs and Sperry merged to produce "the Power of Two." [Maybe it was just empire-building on the part of a man named Blumenthal. It was really a hostile-takeover. Putting it in the best light, I suppose we had our eyes on IBM and were trying to make a move that would guarantee our competitive position if not surpassing IBM.] The merged corporations took the name of Unisys and, I propose, was weighed down with two lines of mainframes – the Sperry 1100 Series and the Burroughs A-Series.
Anyway, as of 2018, the formerly multi-building campus of Sperry (Unisys) is completely gone from Roseville, MN. The remainder of the software engineers – now less than 250 – are working out of Eagan facilities. I am not certain what remains of the Blue Bell, PA facilities. [There is a lesson in the gradual demise of Unisys and CDC. Change happens. Business decisions matter.]
That is more history of Unisys than I had planned.
A second item seen in the set of letters is just one person's salary [mine] over a long period. Maybe it is instructive. So often a person might remember that their salary increased but they could not provide hard data. The increases meant to show productivity increases mostly show the effects of inflation.
I'll throw in three letters from Buffalo State days. I have yet to find any salary documentation from St. Paul Public Schools. So, there is a gap from 1966 to 1982. I was fairly high on the salary schedule in St. Paul because of having a Master's degree plus hours at Minnesota. When I went to Sperry in 1979, I took a cut in salary which was at least a couple thousand dollars. As mentioned earlier, the letters show inflation and, to some extent, how salaries rose for new employees. Percentage increases were high initially, but gradually tapered off.
Finally, the letters are a testimonial to a time when salary increases were part of the employee's expectations. That expectation is beginning to morph into a wish or a prayer. Nowadays(2018), it seems that salary increases may never arrive with blame placed on corporate profits or losses, or the salary increases might be meager and not keeping up with the cost of living. [There is also the issue of collective bargaining. In my case, collective bargaining occurred at SUNY, College in Buffalo, and in St. Paul. But in general, bargaining units currently bargain from a much less solid position than they did in the 1950s or 60s.] In general, the yearly salary letters are a vehicle for relaying part of a career history.
So here are the letters beginning with three from SUNY.
As I recall, I started in 1963 around $6400. But it might have been $6274. Low. But this was much higher than Rockford College. Note that they were still using mimeo copies. It was the state-of-the-art until into the 70s at least.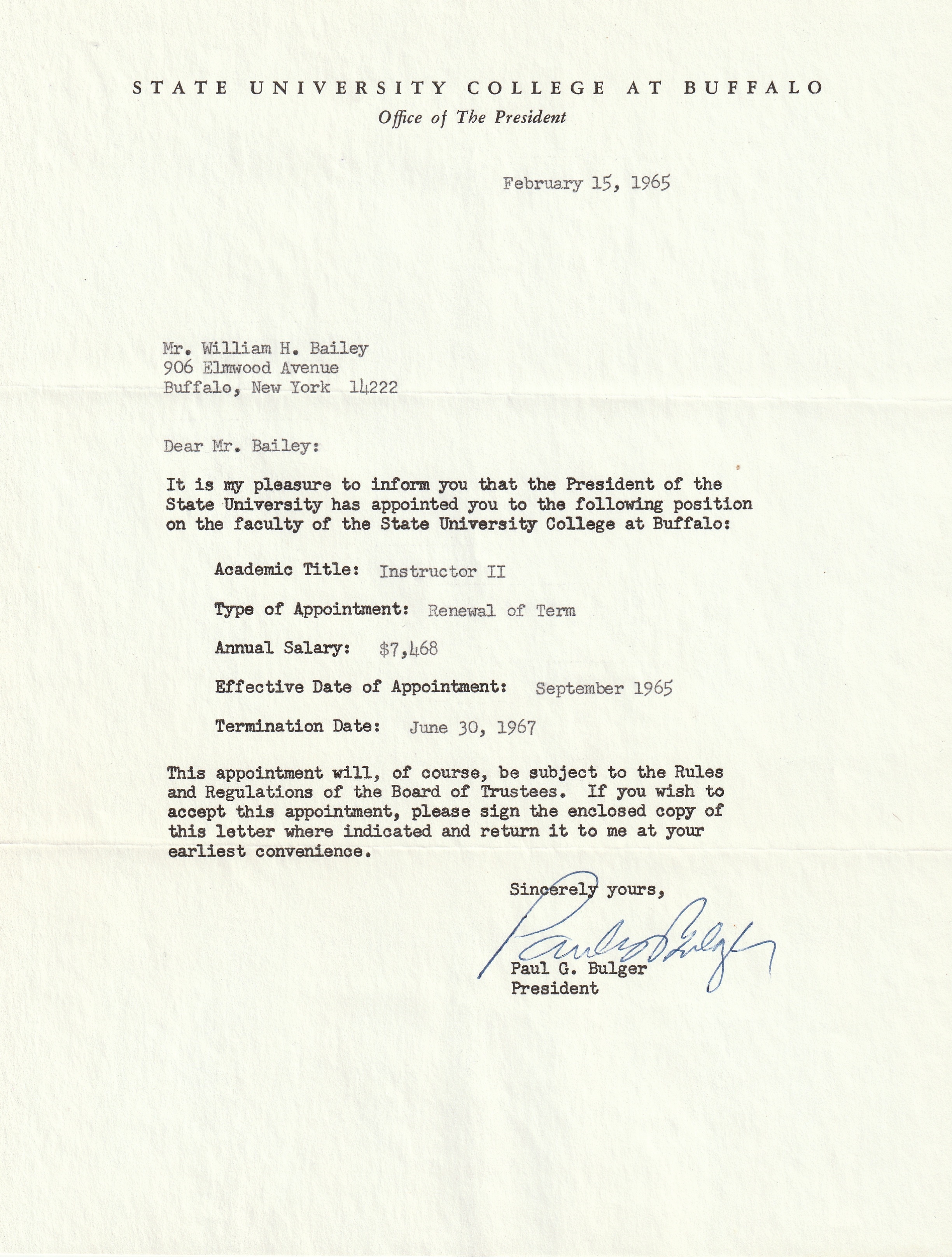 1965 brought a good raise. You also have to remember that the salary was for 10 month. One had to budget to have funds for the summer months. I believe that in the summer of 1964 I took a course or two at the University of Buffalo. The next summer I had an NSF fellowship to Rutgers that paid for the summer.
This 1965 letter had letterhead, no less, and the signature of our Pres.
In the summer of 1966, I lucked out and taught a graduate level course in Non-Euclidean Geometry. That was my last teaching at Buffalo because, in the fall of 1966, I was going to Minnesota on another NSF fellowship which was a full year and summer session for college teachers of geometry.
Now check a portion of the letter I received in 1966. I was on leave while at University of Minnesota. So they promoted me to Asst. Professor and kicked up the salary. I never got any of that raise, because I never returned to Buffalo.

Again, I note that I left Buffalo State with the promise of $8500. Somewhere in the three years I was there, Jim Westrope - who came in with us '63ers -- was giving a salary of over $10,000. That was enormous!!!
So now there is a big gap in my salary records. By the Fall of 1968, I was back teaching in St. Paul Public Schools -- Marshall Junior High -- to be exact. I was planning to do some math-ed "research" on the use of Olivetti calculators in the classroom. I came away with experience but nothing in the way of any good publishable research. My day job continued to be teaching junior high math at Highland Junior and then Mounds on eastside St. Paul. Having married in 1970, I settled in Minneapolis/St. Anthony. I taught college algebra and trig in night school for one year in the early 70s at Inver Hills . And as I left St. Paul Public Schools in March of 1979, I was finishing teaching a year of night school calculus at Anoka-Ramsey Junior College.
Two interesting things. In terms of public school teaching, I had for years heard that "if you are a teacher, you'll always have a job." For me, this was true. But after the first 5 years of the 70s, schools all over got into financial problems. The class size issue was never addressed, but there wasn't enough money. Young enthusiastic teachers would be hired to fill in where needed. But it seemed like by the year's end, they'd be told that they would not be rehired for the following year. This hire-fire routine just seemed to become the vogue.
Likewise, in college and junior college, the faculties exploded in the early 60s. There were many openings as junior colleges opened and colleges like Buffalo State moved from the teacher's college role into stronger course offerings that provided more business and science careers. However, things change. By the late 60s and early 70s, the growth came under control and each new opening had a long list of persons competing for it. Although I might have had an opening at Anoka-Ramsey, I might also have been used to fill in and be the first to be laid off when the demand lessened. I have noticed that higher educational institutions are currently making use of "adjunct" professors to supplement what a department's regular staff can provide for teaching.
So in 1979, I pulled out of the public school teaching and went into industry. Again, finding the opening at Sperry that fit me so well was a real miracle in my life. Stay tuned. More mircles are coming. I am forever grateful to George Marks who hired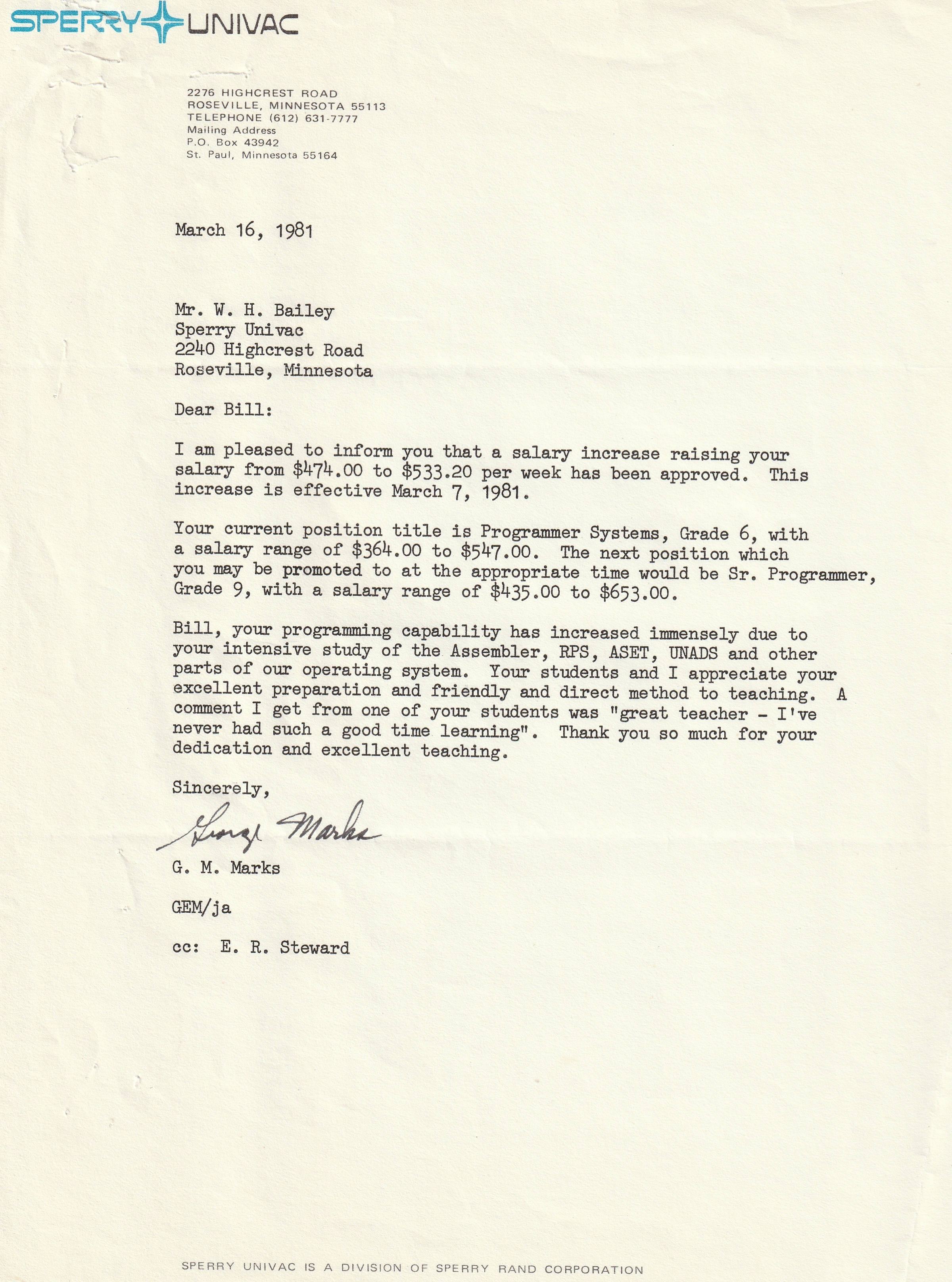 me and was a wonderful mentor in those first few years. I know that I took a pay cut as I began my years at Sperry. I never kept track of the public school salary schedule so I cannot compare if the transfer to industry was worthwhile financially. It certainly satisfied my interests. As long I as I worked there, I was challenged and I was learning. That was "my bag."
My records don't disclose what was my starting wage at Sperry, but the 1981 letter implies that I earned $24,648 in 1980 and $27,726 in 1981. By 1981, I was teaching assembler in the 10-week new hire course and UNADS, a mainframe documentation processor. Note the letterhead of Sperry-Univac. Look closely at the bottom, it shows we were part of the Sperry Rand Corporation. Sperry and Sperry Rand did lots of things besides computers. One branch made gyroscopes and another branch -- New Holland -- built farm machinery. [The marketeer from Sperry Rand said that New Holland "sold the one product that Sperry did NOT stand behind." The manure spreader. Yuk, Yuk. Speaking of Yuk, the Defense Division of Sperry produced a ship-board computer by the name of AN/YUK-7. It was referred to as the "YUK."
In the 1982 letter, I am labeled at a Sr. Programmer, Grade 9 although I am still in Roseville's training organization. George writes that I am adding more Assember topics to my responsibilities in the New Programmer course. That course was always 10-weeks long and taught at least twice and usually three times a year. At other times, I taught UNADS courses to secretaries. The salary went to $31,054.40.
Somewhere in the summers of 81 or 82, we taught the New Programmer course in the new Software Development Center in Clear Lake, IA. I traveled home and back to Iowa each weekend. It made fishing on Rainy less frequent.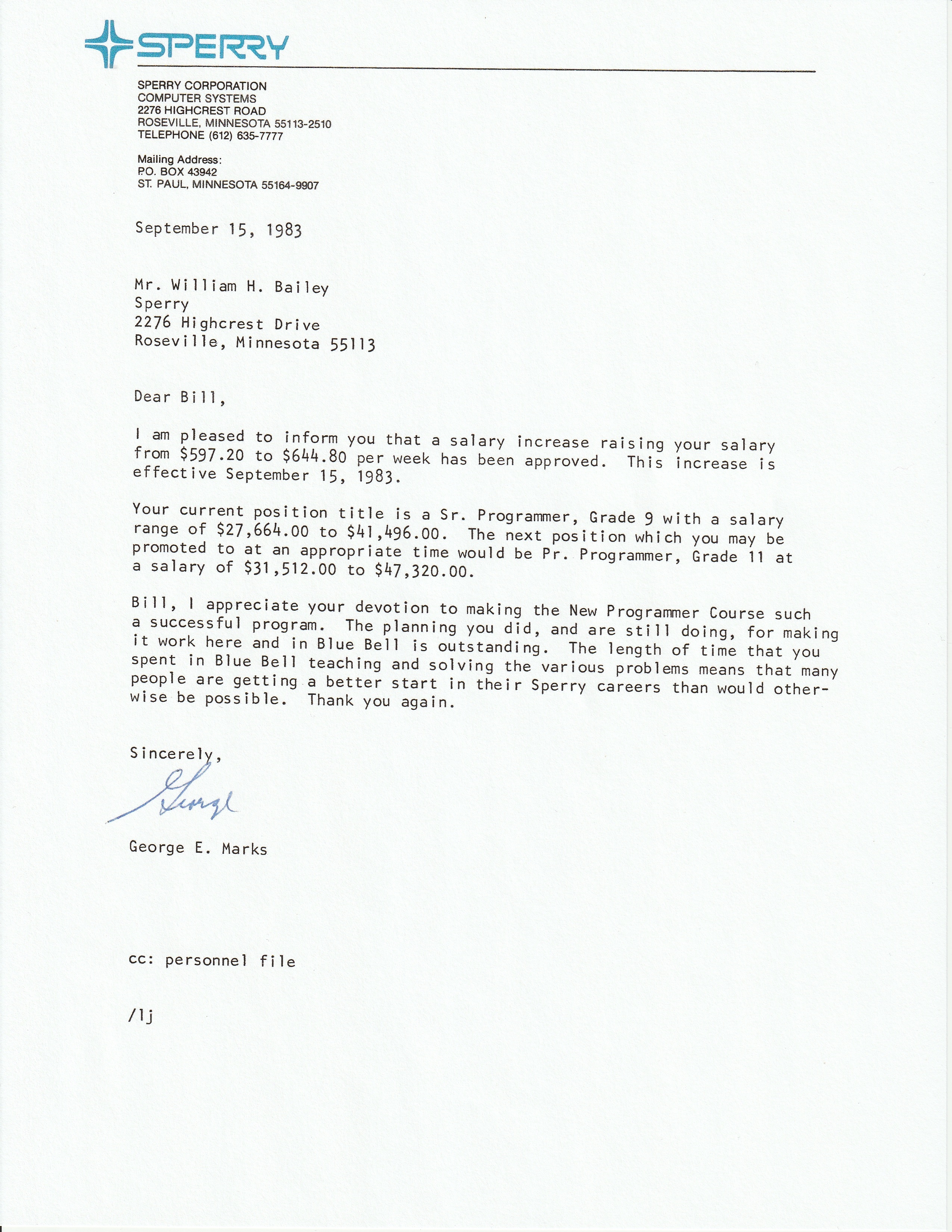 In 1983, notice that the letterhead became Sperry alone. My new salary went to $33,529.60. George mentions that our 10-week course was being taught in Blue Bell, PA. I think I taught there three times. Four months away from home in the span of a year. However, corporations were more flush in those days. I flew home every weekend. In on Friday -- out on Sunday. What a pace!!!!
No letter was found for 1984, but the 1985 letter says I was now up to $36,878.40. A thank-you letter from a hardware organization reminds me that I developed a sort of a tools course taught to "technician-level employees" and which G.E. Bonde wanted to be offered to "design engineers."
In 1985, there was another miracle. Our training organization had been swallowed up by the Sperry Training from Princeton, NJ. George would be gone and I would be reporting to a branch of Sperry Training off Killebrew Drive in Bloomington. Before he left, George volunteered my services to Larry Ragland, who was the manager of the Ada compiler project. Under Larry, we had tried to create an Ada compiler. But since that did not work out, the Sperry Corporation through their Defense Division was going to contract with Intermetrics, a software firm in Cambridge, MA. Our commercial side would ultimately sell the future Ada to commercial customers. Larry needed someone to teach Intermetrics about Unisys 1100 hardware and software. I was given the opportunity to build and present the one-week course. I presented the course the first time in January 1985. [Within a year, Intermetrics had inner turmoil and staff changes so that I had the opportunity to teach the course again.] On the trip home, Larry offered me the job of being the liasson to Intermetrics while they built our Ada compiler. In less that a month, maybe two weeks, I switched from Training to the Compiler Department (Language Products). That was the miracle again. [Ultimately, Sperry Training went away within a couple years.]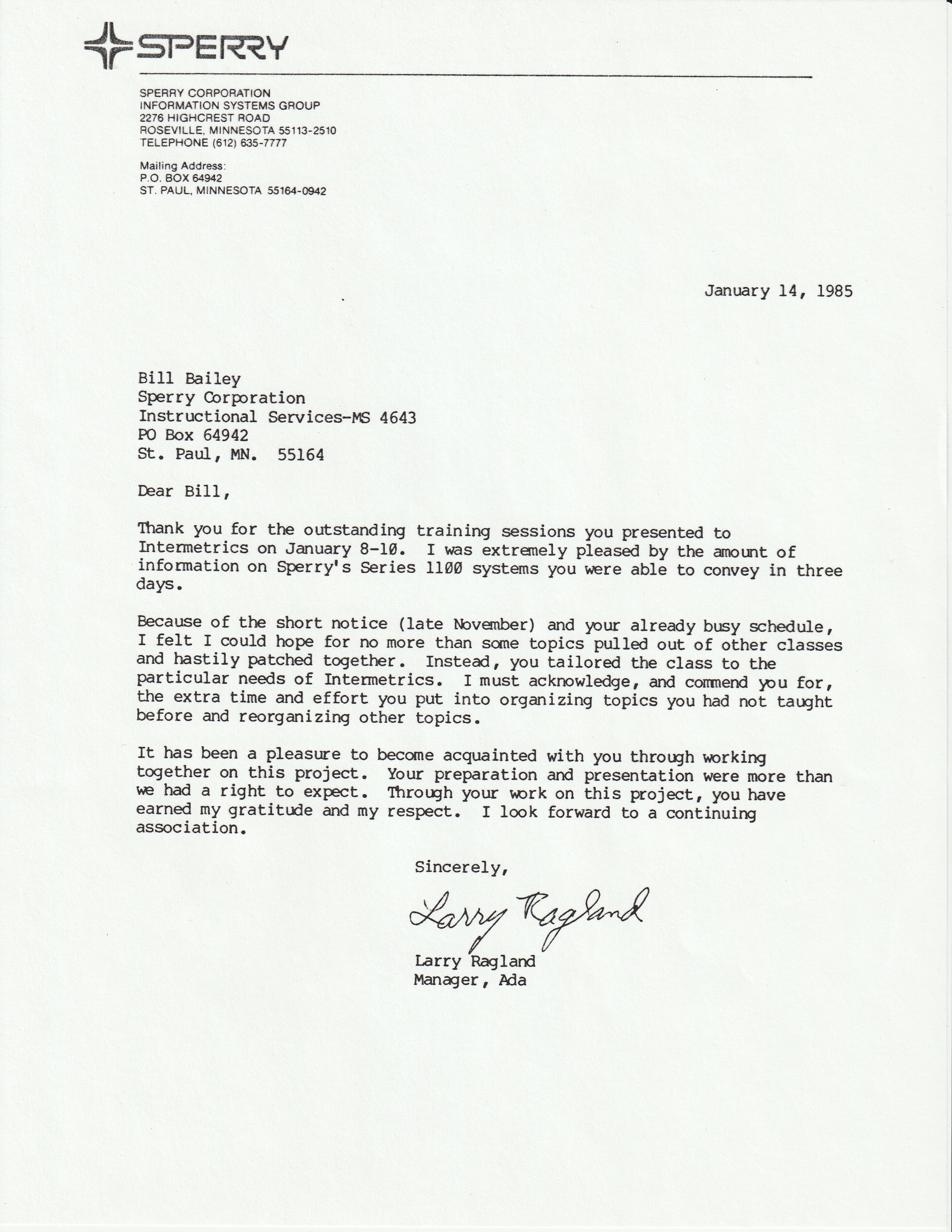 I remember that before I left for Intermetrics my favorite instructor who I supervised told me she was looking for a job outside of training. I was troubled, but understood. The day I got back from my week in Cambridge I told her I was going to get out of training before her. [Smiley face] She also landed another position within a month.
Ragland's kind letter about the Intermetrics training is given here. Within a year, Larry went off to teach at Augsburg and I was a department of one under Jerry Brown. I primarily worked with the Defense Division and communicated with Intermetrics. My 1985 salary letter came from Jerry who is still my close friend. I always had good managers in Sperry, but Jerry was the best. [Smiley face.] My salary increased in 1985 to $40,206.40.
In 1986, I got another letter from Jerry and the salary went to $42,380. By 1986 and 1987, we were traveling to Intermetrics for additional training and multiple code reviews. Our concerns about the Intermetrics product were being ignored by our Defense people. "These Intermetrics guys are from MIT. They know what they are doing." Then sometime in 1987, we decided to scrap the Intermetrics contract. Also, I believe Defense was posturing to be sold off by Sperry. I managed the meetings that accumulated the issues with the contract and ultimately the demise of our Intermetrics Ada. Only $4,000,000 down the tubes.
I had a brief period with no Ada in which worked on Fortran validation and other tasks which I don't remember. But by 1988, the Ada compiler dream was totally housed in Language Products and our Director, Mahlon Randall, started us on a new Ada project. Ada was to be built within Language Products
Ada was being resurrected from the ashes. By now, the true Ada players had surfaced from the companies that had available knowledge and successfully validated compilers. There was a period where we worked on choosing one of the vendors who could provide us the needed technology. Our choice was Alsys from France. I still remember those days before we announced our vendor selection. A California marketing man from the competing vendor kept wanting to "bring our people to Minneapolis" to begin the project. I might have had several weeks or months of manuafacturing "waffle-words" like a politician to keep from revealing that our choice had been made.
Ultimately we began the Ada project. It would grow to consume the work of about 20 people in Language Products. It was beginning just around the time of the Sperry/Burroughs merger (hostile take-over). My 1987 raise letter had Unisys in the letterhead.
These might have been skimpy times. There was no raise letter in 1988. There might even have been layoffs. However, the Ada project personnel were exempt!!! We were untouchable. Having an Ada compiler running on the now-Unisys hardware was a very important "check-off" in contracting with the military -- in particular the Air Force -- to sell hardware.
A salary increase came in 1989. I went to $46,956. If you ever checked it out like I have to write this, the raises were almost always increases in the $60 per week range from 81 to 89. Only in 1987, the increase was only $21 per week.
Very significant to me in those Ada project years was my getting to know the excellent consultants who came with the Alsys technology. First came Francois Chastrette and then came Jacques Brygier. After a few months, Francois went to California and helped us by remote connection. Jacques was my faithful tutor and "genius" of the project for three years in our Roseville facilities. Our original project plan set up an 18 month project. Actually, it took 36 months. Lots of marketing and our optimism went into our first estimate of 18 months.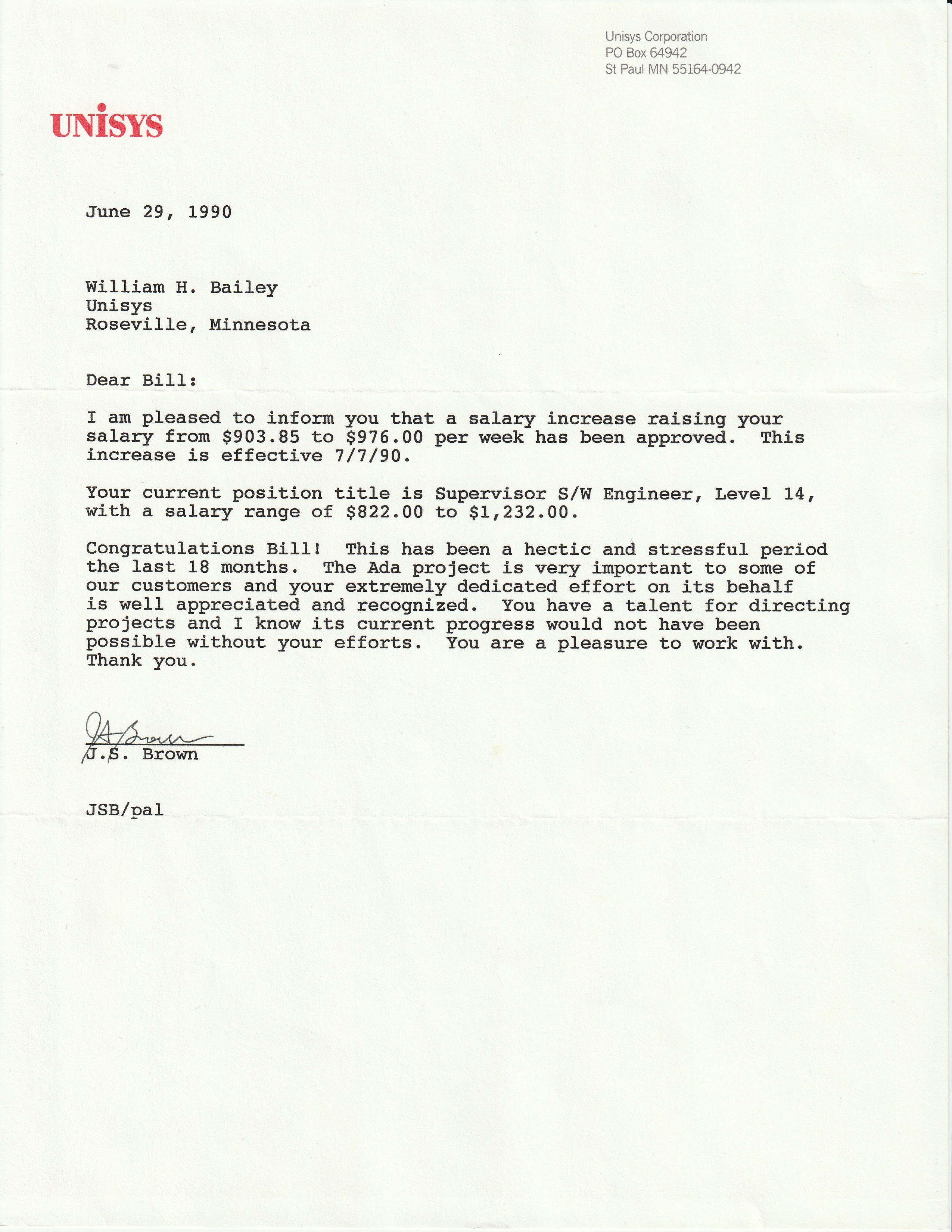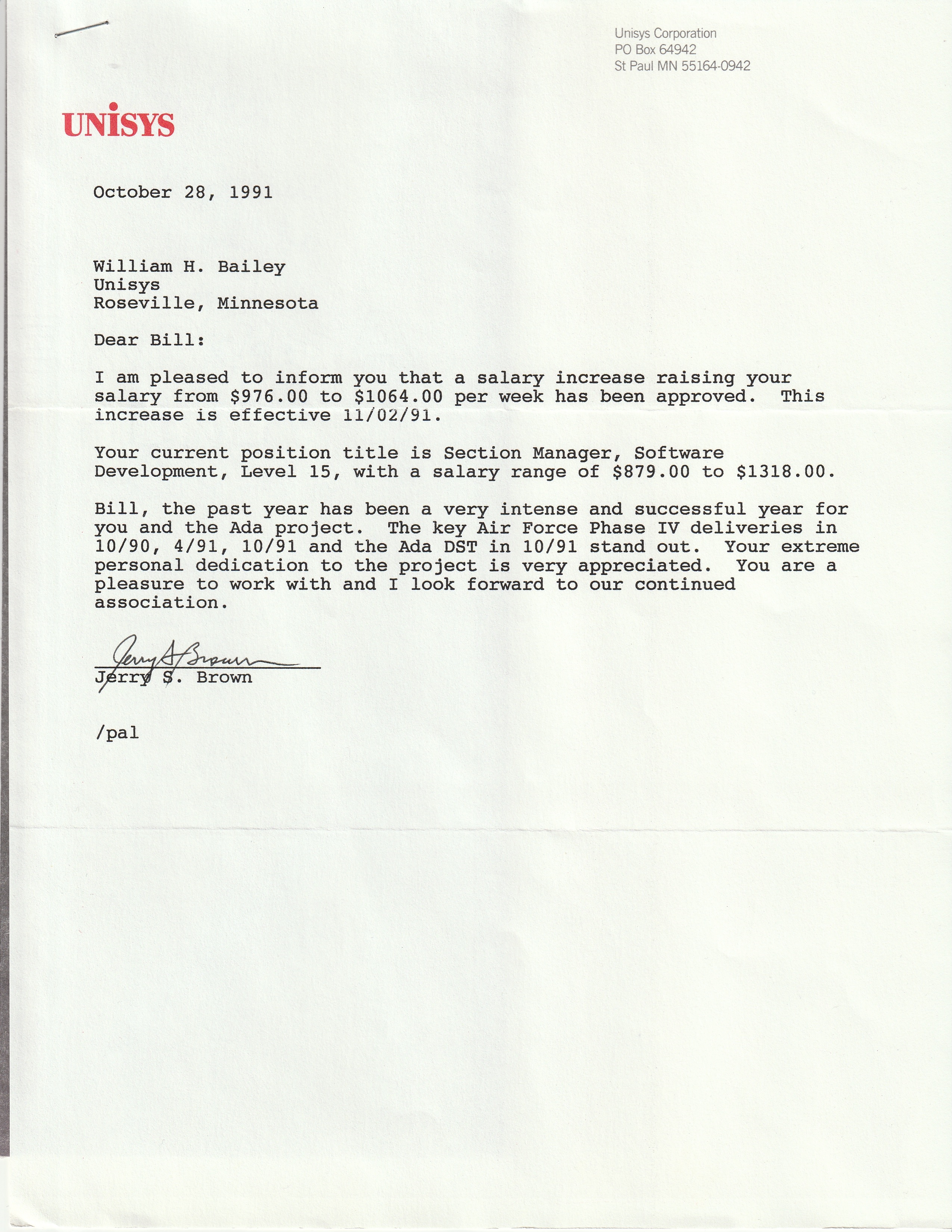 In 1989 the salary went to $46,956. The merger was over. Then in 1990, it reached $50,752; and in 1991, it reached $55,328. About 1991, Language Products made me a manager complete with an office of my own.
From the Post-Project Review, the official validation of the Ada compiler came May 9, 1991. Lots of cheers!! Celebration and champagne!!! Humorous to me now, a couple days after the validation in a project review, Mahlon asked, "What are you doing on performance?" Denny Brunsell had just shown how slow Ada was running. So, off we went to spend another several months improving performance. Strange, periods that I mention seemed so long -- in my mind. But the records show that Project End was February 5, 1992.
The delivery to the Air Force had been made to Air Force Weather in Omaha. They reported that it was the first product they had ever received from Sperry/Unisys where it ran as it was supposed to in its first release. That is largely due to the required validation suite of over 4000 tests -- which was over 4 times large suites for Cobol and Fortran. Final person years that were contributed to the project was 39,9 person years. Project cost was set at $5,000,000.
Somewhere around the end of 1991, Mahlon Randall left Unisys and went to Medtronic. However, he returned to a slot held open for him by VP Dick Ulmer. A significant reorganization had occurred. In fact, I was worried about my position in Language Products since my pet project had completed. What else could I contribute to?
Upon his return, Mahlon came into my office and suggested that I join him as he became a Program Manager. The work of management was split into programs and projects. Programs like System Security required the work of multiple projects. Program managers were the high-level coordinators who were responsible to make certain that the pieces of a program that would come from projects were ready to deliver "out the door" when Unisys delivered to its clients.
So with Mahlon, I sent another couple years as a program manager dealing with the Year 1996/2000 program, Security, and Internationalization of Unisys products. There were two big items along the way. One was the process for measuring project progress within a program. From that system, I generated a document which became, for a short time, a division standard. The other creation was a book entitled: The Year 1996 and How It Can Affect Your Applications. That was a small monograph of about 40 pages telling developers and clients of software issues that would affect Unisys machines in 1996 and 2000. (Remember the famous Year 2000 problem? Our machines had both a 1996 and a Year 2000 issue.)
Again, no raise in 1992.
In 1993, Mahlon wrote my salary letter. The amount went to $58,9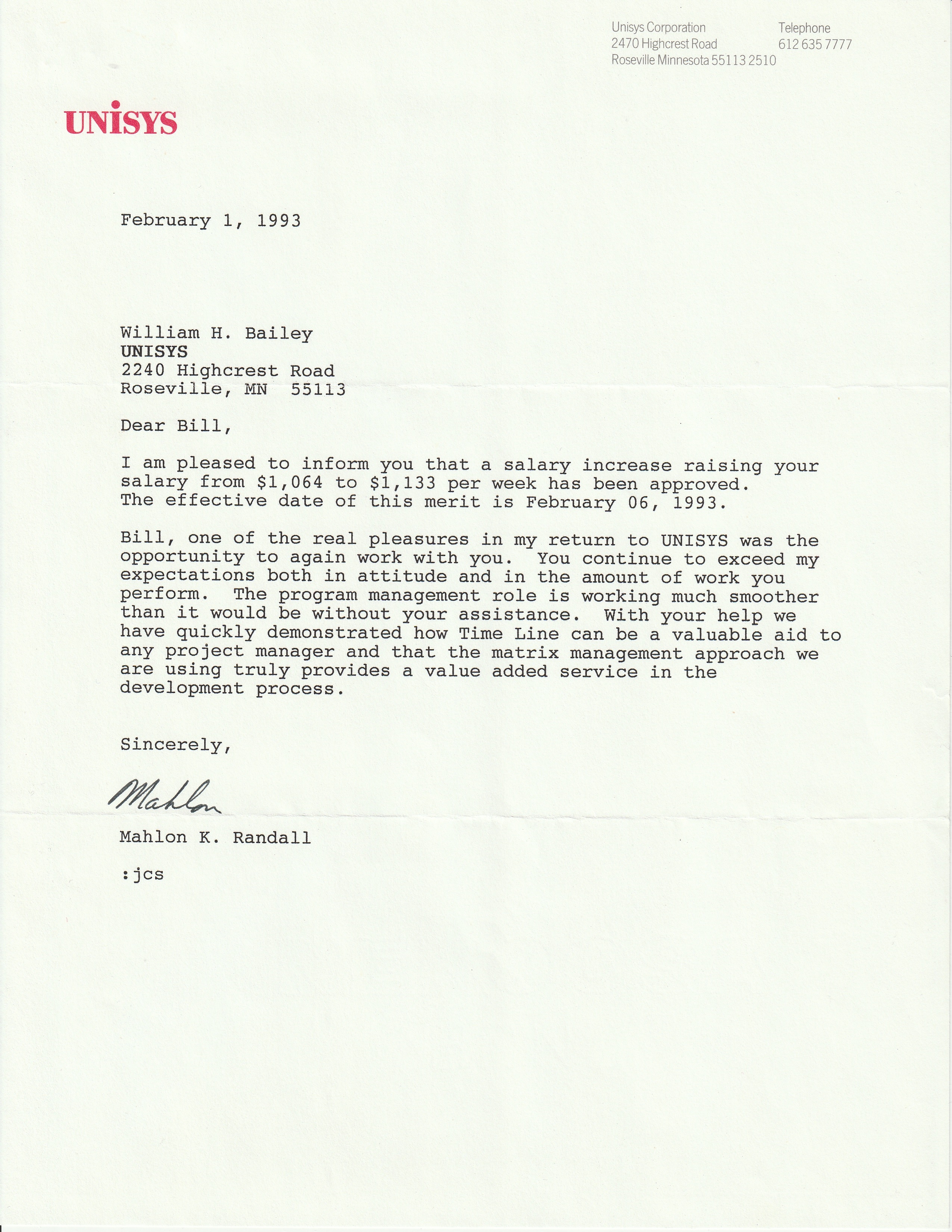 16. We had a good time together, but I don't believe I excelled as a program manager per se. It was work and must people in my role had 20 more years experience in software than I.
Somewhere in a reorganization, I came to work under Walt Burdick and that was okay too.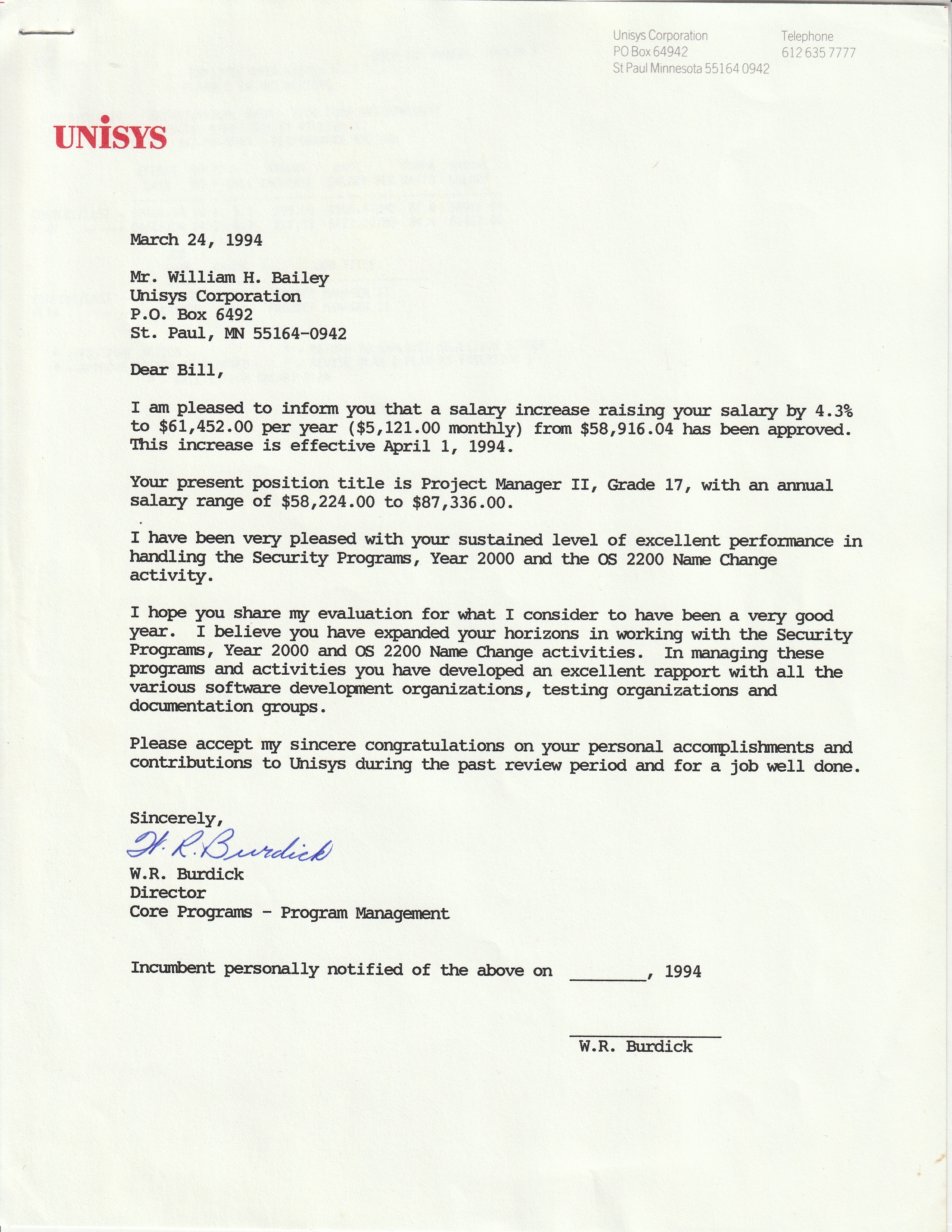 My best memory was Walt coming into my office after he had had a director's meeting with the VP DeSantis. Walt said I had been making him look real good because the program data I was giving him was just the way DeSantis wanted it. I was using the measuring standard that I had written for Mahlon.
That just about does it. In my 1996 letter from Walt, I moved to $61,452. Sometime in 1994, I remember making a change in the Division budget upon the direction of my new Director (not Walt). It made myself a department of one. All program managers of my rank became line items in the upcoming budget. Hum. Turns out that in January at least I and another program manager now working for our new boss were laid off. It was a big down-sizing for Unisys -- not the first and not the last.
I remember when it happened. I wish I could remember the name of the Director who laid me off. On that day, he showed up at my door. He came in, sat down, and started to cry. I asked him to close the door and we talked. Jerry Brown told me that it was the most difficult part of the job that he had for the last ten or twelve years. With all the layoffs, it fell to him to choose who would go from his department. (Jerry ended his career as the head of the Unisys Database organization.)

That is it for raise letters. I don't know if I'll come across any more. A third miracle was my layoff period where I enjoyed working for Stratasys in Eagan. I was paid for building and maintaining Excel spreadsheets for Finance and Sales. Lots of fun.
Then in 1998 Unisys came to me and offered me a job!!! Maybe that is the fourth miracle. How often do you hear of a laid-off person being rehired? I got to work in UCON -- a software development group that we put out software models of our hardware products to be help sales and marketing to build an order and bill it correctly. So after nearly twenty years at Unisys, I programmed for my salary. Before that, I taught, tested, and managed. Bizarre.
Ultimately, I retired from Unisys in late 2001. My retirement was based on 22 years of service. Believe it or not, that included the three years I was laid off!!!
Within about 4 months in 2002, I began working at First American Title Insurance where I worked until retiring in September, 2011.